There are a wide array of things about the Mandaeans in this post – video of a lecture, an audio podcast, Mandaean art with explanation of what it depicts, and more. Let's start with the recording of a guest appearance I made in Deb Saxon's class on "Heresy" (extracanonical texts, Gnosticism, and so on):
I also recorded an Academic Minute podcast about the Mandaeans. You can listen to it and/or read a transcript on The Academic Minute website.
A Mandaean acquaintance (Facebook friend) shared this image with me, depicting the Mandaeans' very different view of the death of John the Baptist than what one reads in the New Testament or Josephus. It is accompanied by the further information about the story behind it which I will include below it.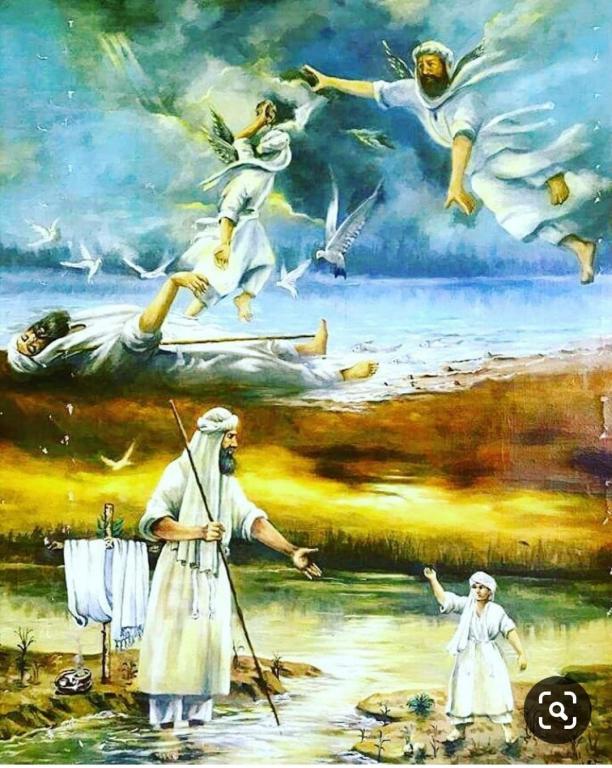 There is an image of our prophet John the Baptist, whom we call Yahya Yohanna in Mandaean. This image shows a view of what the Ginza Rba talks about, when John was baptizing about 400 hundered people during that time, a 4 year old boy came who was in fact Menda id Hayii (which is what we call God). God came to John in the spirit of and the body of a young boy. He asked John the Baptist to baptize him. Before the baptism the sky grew dark with clouds and it began to thunder, and rain began to hit the river, the trees started to move left and right, birds began to preach in the name of the child, fish began to leap out of the water. And then the boy asked John to baptize him, so then the boy came to the river. But then John the Baptist realized it was the almighty God because when the boy entered the river that boy became light, a very strong sparkling light, and the water in the river became shiny and sparkling as well. John the Baptist held the boy's right hand so he can baptize him in the river, and the boy became light and the opened the sky and John the Baptist's body sank under the Jordan River and was buried. And his Spirit went to the sky with God.

The artist drew this image back in 1997 in Baghdad, Iraq, as well as one of a Mendi (Mandaean place of worship) and was put in the Mandaean magazines and newspapers.
Of related interest: