In Journeys of Faith: Evangelicalism, Eastern Orthodoxy, Catholicism, and Anglicanism (Zondervan, 2012), here is how my contribution to the book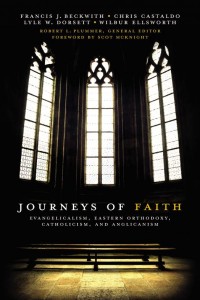 begins:
I was baptized in the Catholic Church as an infant, several weeks after I was born on November 3, 1960. In January 1967, our family moved to Las Vegas, Nevada, where I received First Holy Communion (May 1968) and the Sacrament of Confirmation (May 1973).

It was soon after my confirmation that I became intensely interested in the person and work of Christ. I had come across a copy of the Good News for Modern Man version of the New Testament that a family friend, Frank Strabala, had left on our kitchen table after he talked with my parents one evening about his renewed Catholic faith. Not knowing at first that it was the New Testament, I began reading it. I was drawn to the Jesus of the Gospels. I really did not know what to do. So I called up Mr. Strabala and asked him some questions. He invited me to a weekday service at a local "Jesus people" church, Maranatha House. It was there for the first time that I came in contact with Christians from a variety of Protestant denominations. They, along with the Catholics on hand, were part of the burgeoning "charismatic movement," a renewal movement that emphasized the baptism of the Holy Spirit and spiritual gifts. There were none of the accoutrements of Catholic liturgy at these worship services. Rather there was Scripture reading, expository preaching, and contemporary and expressive worship. For a young Catholic interested in following Jesus more deeply and authentically, this was profoundly attractive.
I have had in my personal library for nearly four decades several editions of Good News for Modern Man, including the almost impossible to find "Las Vegas edition," which has on its front and back covers a collage of Las Vegas hotel marquees that include the names of many famous entertainers. Among the names is Pupi Campo, the late Cuban-American bandleader whose children attended Bishop Gorman High School with me in the 1970s. In any event, after years of searching, I finally found excellent photographs of the iconic covers. Here they are: [Update: I also found a picture of Maranatha House, which is directly above the Good News photos]