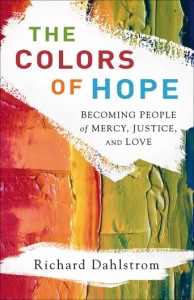 The Colors of Hope: Becoming People of Justice, Mercy and Love
"All of us are looking for hope, because God knows despair is easy enough to find without any looking at all: Relational struggles, addictions loneliness, weariness, physical afflictions—various shades of gray that dampen hope.  But suppose your eye catches something different by painting with the colors of hope. What might it look like to become to embody the hope of Jesus and paint with the vibrant colors of God's good reign onto this world's canvas?  To be painting pictures of justice, mercy, love, hospitality, celebration and, yes, hope. That's what I invite everyone to ask and dream and imagine for yourself—and your world—as you read The Colors of Hope."
— From the "Introduction," The Colors of Hope: Becoming People of Justice, Mercy and Love
More on The Colors of Hope:
BUY THE BOOK: Amazon.com | Barnes & Noble

Booksellers: Please contact Baker Books: 1-800-877-2665
ISBN-978-0-8010-1356-0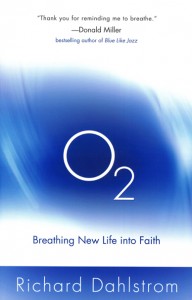 O2: Breathing New Life Into Faith
Starred Review. Dahlstrom, a Seattle pastor and international speaker, is an original and welcome evangelical voice of reason who offers skeptics and Christians alike compelling advice on living out their faith, Jesus-style. Where, he asks, is Christians' passion for Christ? Do their beliefs make any substantive difference in their daily lives? In 1984, Dahlstrom realized that his own spiritual well was dry, so he moved with his wife to an island where he learned to breathe again—effectively balancing inhalation (prayer, solitude, Sabbath rest, Scripture study and contemplation) with exhalation (service, outreach, hospitality and generous giving). In this book, he gives Christians tools to achieve spiritual balance by integrating these inwardly and outwardly focused spiritual practices. Dahlstrom's tenderness is deeply stirring, as is his tough stance in confronting modern believers' unwillingness to follow in Jesus' stead by serving sacrificially, reaching forth in love and spilling out their lives for others. Dahlstrom's approach balances gentle compassion with fierce assessments of problems in the church today, making this an excellent guide to soul renovation.
–Publisher's Review, July 2008
Copyright © Reed Business Information, a division of Reed Elsevier Inc. All rights reserved.
ISBN-13-978-0736922142