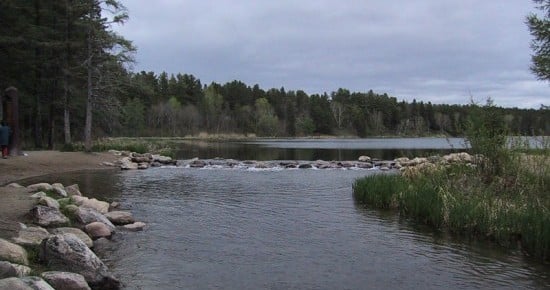 Welcome to Across Rivers Wide. This is my first official post for this new endeavor, and as such, I think I owe you, Dear Reader, an introduction and an explanation.
My name is Galen Broaddus,¹ and for the past several months, I've been something of a digital vagrant around Patheos. I can't say that I'm new here — my first post on Patheos was a guest contribution in May of 2015 — but I've wandered around a bit. I've contributed to Ex-Communications and The Secular Spectrum, as well as providing a few guest posts for my friends Kaveh Mousavi of On the Margin of Error and Neil Carter of Godless in Dixie. Across Rivers Wide now marks the fifth (and possibly last?) Patheos blog where my writing has appeared.
Some other random facts about me:
My formal, post-secondary education is in English education, and I taught high school English for five years. During my preservice training, I wrote an education blog called Docere Est Discere, for which I was recognized by Scholastic as "Best Student Teaching Blog" in 2009.
I am a certified Secular Celebrant with the Center for Inquiry.
I have moonlighted (and sometimes still do) as an amateur activist.²
I am presently a web developer by trade. (Of course, all opinions herein are mine unless otherwise stated and not that of my employer, etc.)
My wife and I have two boys, and she is also a Christian. (No, that isn't a problem.)
I am a multi-instrumentalist and have been playing music for almost my entire life. I've also been writing songs since I was in my teens.
I sometimes write poetry and have a special place in my heart for the Poetry Out Loud competition for high school students.
Now, about the name.
I am, as the title suggests, a metaphor junkie. I am obsessed with metaphor and analogy, and my mind often goes to metaphor to explicate concepts. My very first post at Patheos, in fact, was an extended metaphor for leaving religion.
The river as a metaphor is one that I have thought about quite a bit since my deconversion. After all, crossing a river is a metaphor often used for religious conversion, such as the phrase "crossing the Tiber" for conversions to Catholicism. (I'm still in the market for such a tidy phrase for deconversion, in case anyone has any creative ideas.)
Likewise, rivers are, I think, implicit in the metaphor of "bridge-building," which is practically a cliché for interfaith dialogue and openness to understanding new or different perspectives.
Both of these metaphors speak to major purposes of mine in this blog: I intend to write more about my deconversion from Christianity and my exploration of life after religion — life on the other side of the river, if you will — as well as my efforts to find some understanding of other perspectives and to hopefully bridge that gap with those on the "other side" where possible.
They won't be the only subjects I'll write about here, certainly, but they will be focal points of sorts for my thoughts. I may write about literature or education or music or politics (probably not that one much, though) or parenting, but they won't be the meat of the writing here.
I'm thrilled to have this opportunity and space here at Patheos to explore these topics, and I look forward to engaging with you, Dear Reader, on the journey ahead. (And if you plan to jump into comments, I would recommend reading the comment guidelines.)
If you want to keep up with my writing and work, please like Across Rivers Wide on FB, and you can follow me on Twitter @ILSecCelebrant.
Image by Christine Karim via Wikimedia Commons (CC BY-SA 3.0)
---
¹That's pronounced /ˈgeɪlən ˈbrɔdɪs/. Click here to find out how to read IPA symbols in English. ^
²Maybe at some point I'll get to discuss some of that activism here, but I'm getting ahead of myself. ^