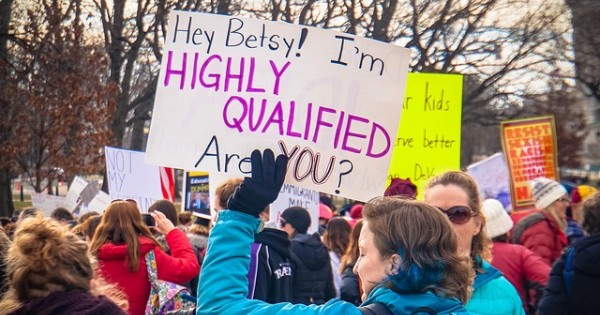 Back in November, right after the dust had started to settle on the general election here in the US, speculation began about who Donald Trump would pick for various positions, especially in his cabinet. For almost any other presidency, the attention would fall on the individuals most likely to have widespread impact on policy: Attorney General, Secretary of State, Secretary of Defense, etc.
So I was rather surprised to find that some of the earliest speculations about nominations focused on an unlikely position: Secretary of Education.
Longtime readers might remember that I'm a former teacher, having taught for five years in a small, rural high school in downstate Illinois before leaving the profession. I'm severely cynical about education policy, though, since it seems that we have a congenital problem, irrespective of party, of refusing to listen to actual experts on the subject.
I was initially encouraged when then-Senator Barack Obama had Linda Darling-Hammond as his education policy advisor in 2008 and had hoped that he would pick her as his education secretary, only to see him pass her over for Arne Duncan. I was also not impressed by Duncan's tenure, specifically the Race to the Top program, which could not produce the predicted results and essentially built a few layers of scaffolding onto the utterly failed structure set forth by No Child Left Behind.
If Obama, someone who was at least listening to a real expert at one point, could not manage to fill this position with someone who could make positive change for education, I was of course not optimistic to see who Trump would tap for it. I could not have possibly imagined how bad it would be.
A number of names were thrown out early on, including Liberty University president Jerry Falwell Jr. and former Chancellor of DC Public Schools Michelle Rhee. But by far the most galling suggestion coming from the Trump camp for this position at that time was Ben freaking Carson.
Falwell would have been an unremarkable pick for Trump — that is, terrible, but in a fairly predictable way — and Rhee, while not a good pick on policy grounds, was at least qualified. But Carson was just a laughable suggestion, the kind of thing you would expect to hear as a punchline on SNL.
The motto of the Trump administration, though, seems to be Whatever you expect, we will come up with something far worse, and so of course Trump instead nominated Betsy DeVos, a billionaire from Michigan whose personal hobby seems to be undermining public schools.
I hardly know where to start on DeVos's background in education reform, which is heavily weighted toward support for vouchers and charter schools. DeVos has said that her passion for "school choice" stems from her religious belief that it will "advance God's Kingdom." (DeVos is a Reformed Christian.) Unsurprisingly, DeVos and her husband have donated huge sums of money to Christian school organizations — in the neighborhood of $8.6 million. Her efforts to push school choice in her home state of Michigan have resulted in increased segregation but no discernible improvement in Michigan's schools, even according to pro-charter advocates.
DeVos is also a longtime Republican Party activist, having served as chair of the Michigan Republican Party twice, and her family has donated (according to her Senate testimony) somewhere around $200 million to Republicans and Republican causes, including to senators who will vote on her confirmation.
But outside her policy leanings, DeVos is also immeasurably unqualified for the position. DeVos has never attended public schools or even sent her children to them, instead preferring private Christian schools; DeVos admitted in her Senate confirmation hearing that she has never had to take out student loans for herself or her children (the Department of Education oversees federal loans and grants); DeVos has no experience in or knowledge of school administration, instruction, pedagogy, or even basic educational philosophy.
And that was incredibly clear during her confirmation hearing, which went in quick-fire rounds because of time limits set by the committee chair, Sen. Lamar Alexander (R-TN). Sen. Al Franken (D-MN) questioned DeVos about the difference between growth and proficiency — literally an Ed 101 topic — and DeVos floundered like a student who didn't study the assigned material.
Sen. Tim Kaine (D-VA) asked DeVos whether any school receiving federal funding should be required to meet the same accountability standards regarding the Individuals with Disabilities Education Act (commonly known as IDEA), and she first replied, "I think that is a matter that's best left to the states," before Sen. Maggie Hassan (D-NH) reminded DeVos that IDEA is a federal law. (As the parent of two children whose right to an education is guaranteed by IDEA — which would not be the case if they attended private schools, as DeVos advocates — I cannot possibly convey my anger at this gap in DeVos's knowledge.)
Sen. Bob Casey (D-PA) tried to get DeVos to commit to upholding an existing Ed Dept. policy regarding sexual assaults on college campus and Title IX reporting requirements; she wouldn't. Sen. Chris Murphy (D-CT) quizzed DeVos on guns in schools, and she suggested that a school in Wyoming might have a gun to protect against grizzly attacks (fact check: they don't).
To call this confirmation hearing a farce would be to demean the good name of farces.
A party line vote got her nomination out of committee, and now DeVos faces a potential tie in the Senate, with Republican Sens. Lisa Murkowski (AK) and Susan Collins (ME) saying that they will vote against DeVos's nomination. If no other Republicans defect, the tie-breaking vote would go to Vice President Mike Pence, which would make DeVos the first cabinet nominee ever confirmed after a tie. That vote could happen as early as today but is likely to happen on Tuesday.
When it was looking like Ben Carson would be the nominee, I made this promise on Twitter:
If Ben Carson becomes SecEd, I will set something on fire. Namely, my teaching license. https://t.co/6rlvXumE8M

— Galen Broaddus (@ILSecCelebrant) November 10, 2016
Carson isn't the nominee (well, not for that position), but since DeVos is — incredibly! — a worse choice, my promise stands.
If the Senate votes to confirm Betsy DeVos as Secretary of Education, I will burn my teaching certificate, publicly, on Facebook Live.
Because there is one message to take away from her confirmation: If an utterly unqualified nominee who wants to burn down our public education system and send that money instead to private and charter schools can manage to be confirmed, then the credentials that certify public school teachers as "highly qualified" to educate students aren't worth the paper they're printed on.
If you'd like to support writing like this and my other work, please consider supporting me on Patreon.
Across Rivers Wide no longer hosts comments. See here for ways to provide feedback.
---