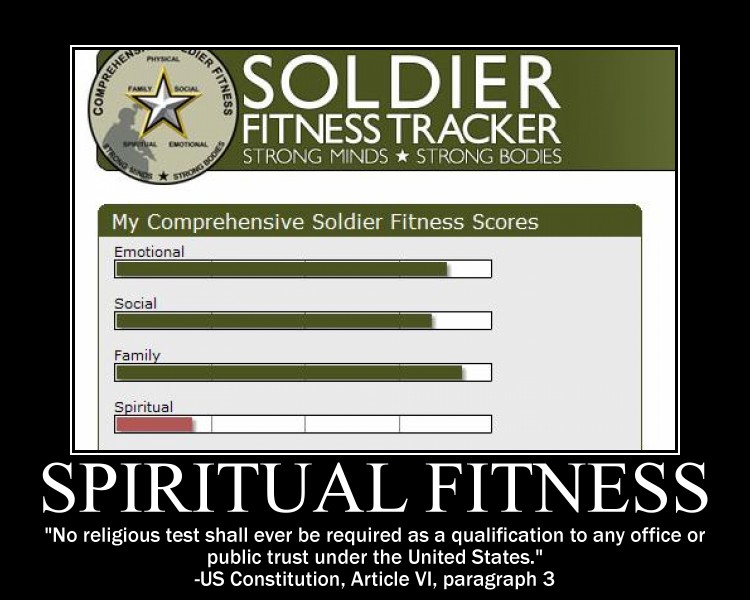 My (civilian) wife just took the controversial Global Assessment Tool / Soldier Fitness Tracker survey a few days ago, and she, like myself and hundreds of other foxhole atheists, failed the Spiritual Fitness section based on her honest answers. My wife did screen captures of all of it and I think you should see some things that got by the initial MAAF-leak (denoted with *).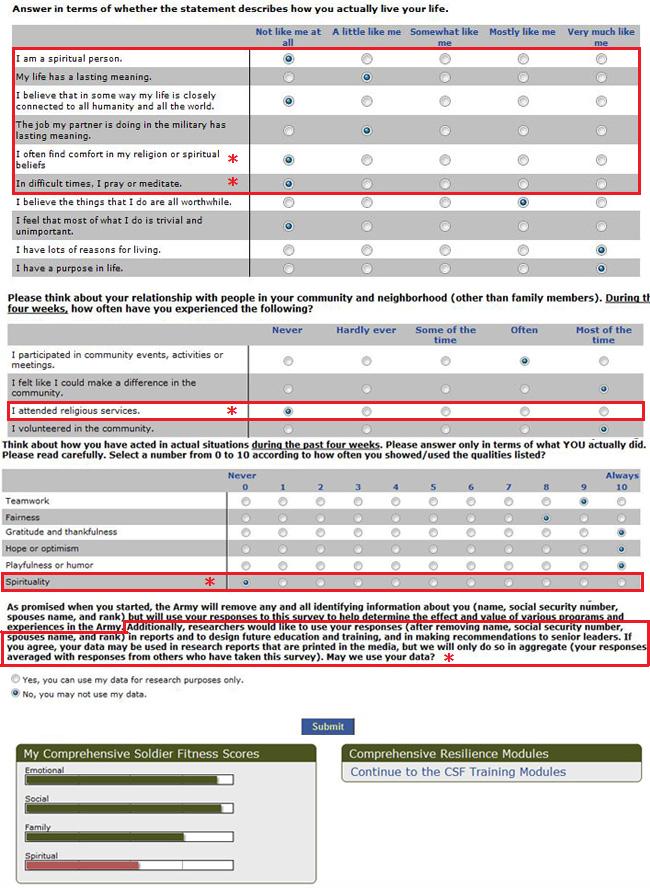 There are some major problems with the new data. The new 'Spiritual' questions are much more offensive than the first 5.  They are also much more of a smoking gun.
[on a scale from 1 – 5] :
1) I often find comfort in my religion or spiritual beliefs  – This completely shatters the smokescreen / illusion that spirituality is the concept of "team spirit" or "being spirited / excited". This is a smoking gun if I ever saw one. And I saw more than one.
2) In difficult times I pray or meditate – This suggests that you need to pray or meditate during difficult times. I understand that there are exceptionally rare instances of atheists who meditate, but in this sense it is clearly being used in a religious context. Don't see the connection? In one of the extremely lengthy training modules for the Spiritual Fitness section that the wife and I both failed, they linked to this page to describe how to meditate.
3) I attend religious services – This is just a blatant 'Screw you, people who respect the constitution' variation of the "I am a spiritual person" smokescreen version of the question that I reported when the story broke.
Waiver to use our results –
Cryptic as this is, I am extremely uncomfortable with our spiritually unfit results being used to design future education and training, and to make recommendations to senior leaders. The
SFT user-guide
's FAQ section says:
Q. What happens to the information I provide by completing the GAT?

A. It is stored electronically and confidentially.  Aggregate information will be used by the Army to make HR decisions.
FYI: HR means Human Resources. This means they are definitely allocating humans and/or resources based on these results. Even though my wife chose not to let the army use her data, many atheists did (including me). So, money is being ear-marked for the Spiritual Fitness concept based in part on the data coming from MY answers, not to mention the hundreds of other foxhole atheists who have started to come forward since I broke the story. This is absolutely infuriating.
Results
My wife's scores were different than mine, but one thing is for sure on this capture. Despite what the CSF suggest, there is absolutely no indication that the CSF Training Modules are optional at all. After you finish, it just shows your results and gives you 1 option: "Continue to the CSF Training Modules". I'll be back next week with my take on those. Somehow they are even more offensive!