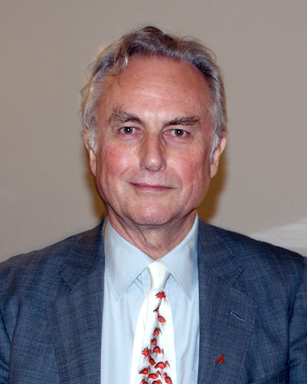 Richard Dawkins is arguably the most well-known advocate for evolution, biology, and atheism in modern times. We are extremely pleased to announce that Richard will be speaking at our festival on post at Fort Bragg, this Spring.
We've certainly come a long way since September 25th, when Franklin Graham (already banned from the pentagon) rolled through Fort Bragg with his Rock the Fort series of events. Our all volunteer group has accomplished much, and at each step we've been excited to break through to the next level.
With the addition of Mr. Dawkins to the lineup, we have reached a certain peak. We know that the world cares about us.
Foxhole Atheists are an extremely under-represented minority within the military. It's touching to have had so many people championing our cause from the beginning, including just about every major secular organization from the top down.
He is perhaps best known these days for his groundbreaking book, The God Delusion.
This book has directly lead many people to question their faith, and ultimately leave their faith. In my opinion, his tour de force was The Ancestor's Tale. This book felt like a monumental breakthrough in meshing the worlds of art and science in a fantastical and poetic way. The book was set up as a travel through time, in reverse chronological order that guided the reader ever-backwards towards the common ancestor. Amazingly, along the way he approximated the number of "great-great-great-grandmother's" the human race had at each stop (chapter).
Richard's Out Campaign has been so influential in what we are doing that it is hard for us to mentally divorce our motivation and goals from it.
In 2002 he spoke at the prestigious TED conference, where he announced the Out Campaign as part of what is often referred to his finest speech. Here it is, all 30 minutes of it.
If that half hour speech is too lengthy, or too brainy for your entertainment tonight, might I recommend something a little shorter, and a little less tasteful?
Here is Richard reading his 'hate mail' to the masses. The following video is Not Safe For Work, as he does quote the raving madness of some pretty out-there theological 'adversaries' (term used loosely) word-for-word.
We can't wait to see what Richard has in store for us this Spring!
I was actually being interviewed by FrostCall's podcast when I heard about the final confirmation of Richard Dawkins to our lineup. You can hear the excellent (as usual) episode in full at their site. There was quite a bit of excitement towards the end of this episode as I was finally able to announce his participation publicly. Wendy and Tom, of FrostCall, are both former Christians who have recently made the emotionally draining journey from 'born-again' to 'atheist' while married (and at different paces). They offer a unique insight that captures that initial 'super-motivated' state that many of us felt when we de-converted, balanced with the brutal honesty and self-awareness that comes from shedding your belief system for something more tangible. Science.