The Freedom From Religion Foundation (FFRF) initiated a Freedom Of Information Act (FOIA) request when the controversial Rock the Fort concert came to Fort Bragg, NC.  FOIA requests understandably take some time to process. However, we are excited to finally get an inside look at exactly how much support the Billy Graham Evangelical Association was given in order to evangelize as many soldiers, spouses, and civilians from the local area on stage. That was their stated purpose, and of course that drew a lot of attention from many secular organizations.
FFRF has a great news release (here). I'd like to share a few highlights:
"While we do not feel we received a complete response to our FOIA request, a number of documents reveal a high degree of impermissible Army aid to 'Rock the Fort,' " said Annie Laurie Gaylor, FFRF co-president.

Disclosed Army expenditures for "Rock the Fort" totaled $52,475.80, but FFRF estimates the undisclosed personnel costs to be much higher.
Here is a sample from the Rock the Fort – Spiritual Fitness event expense report: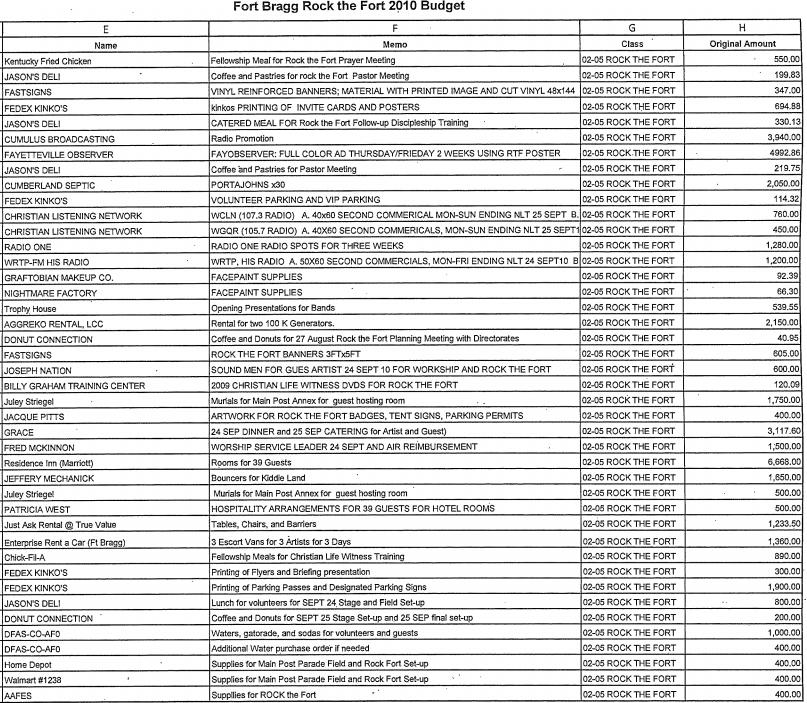 Some of the documents illustrate other costs that weren't included on the itemized expense report. Such as the $29,000 for extra gate guards and security details. Not even mentioned in the documents is the Golden Knights Paratroopers participation, or liability insurance costs, which could easily put DoD costs well over $100,000.
FFRF continues:
The Billy Graham Evangelical Association, with reported net assets in 2008 of $171,527,885, is clearly not in need of taxpayer subsidy, charged Gaylor.
That is quite shocking, that the BGEA would even ask for a single dollar for their event, when they have that kind of money. Rock Beyond Belief has struggled with an all volunteer force, operating at a loss, and trying to gain 501(c)(3) status for a long time. Our team is very dedicated, and I am so proud of all of them, but we can't even think of competing with that kind of budget. Luckily, as the FFRF point out, we shouldn't have to.
A soldier is organizing a "Rock Beyond Belief" festival, planned for April, to counter "Rock the Fort," and to test whether the Army will lend its support to a festival celebrating nonbelief. Speakers tentatively include Richard Dawkins and FFRF Co-President Dan Barker, among others.

In a response to the original letter FFRF sent objecting to Army involvement in "Rock the Fort," Commanding General Helmick wrote that he is "willing to provide similar support to comparable events sponsored by similar non-Federal entities that address the needs of the Soldiers on this Installation."

Gaylor's Jan. 25 response: "Our preference is for Fort Bragg to refrain from hosting any religious (or non-religious) events of this nature, as beyond the constitutional limitations and purview of the Army. However, given your earlier response and the Army's repeated sectarian advancement of evangelical Christianity, it would appear incumbent that Fort Bragg must now offer the equivalent support and assistance to an alternative nonreligious event."
We couldn't agree more with their assessment of the situation. Annie Laurie Gaylor, co-president of the FFRF, wrote a thoughtful letter to LTG Helmick about the situation, and I'd recommend everyone taking a look.
If you would like to pour over the lengthy documents yourself, the Foundation has them up on their site here. They contain a lot of military jargon, but the pages are quite eye-opening. We look forward to receiving the same level of support, and have submitted our request for that support. We feel that an 'apples-to-apples' approach is warranted here, and we expect to receive good news in the very near future. Stay tuned.