Perhaps due to the recent public pressure the Comprehensive Soldier Fitness department of the Army has been facing, they have opened a Virtual Spiritual Fitness Center. You should remember that their controversial Soldier Fitness Tracker is mandatory for all Soldiers, and was not available to the public.
The new Virtual Spiritual Fitness Center is very much available to the public.
(*** UPDATE: If the link is not working for you, here is a snapshot from google cache ***)
According to the interviews and media from CSF, and the answers I have received from them, they claim that the Spiritual Fitness concept has nothing to do with religion at all. I've heard that it has to do with 'Human Spirit', or 'being spirited'.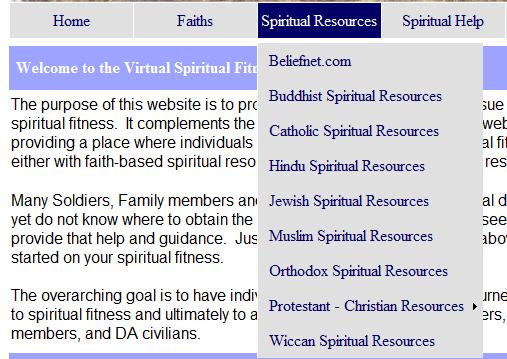 I think these statements are more than a little disingenuous. And now their own Virtual Spiritual Fitness Center is proving my point. They list several religious resources, and go out of their way to be inclusive all religions in their efforts to promote and define spirituality. It's like they didn't get their own script about spirituality meaning 'Human Spirit'.
The site is also being populated with the latest headlines from Beliefnet, a specifically Christian religious mega-blog. Chicken Soup for the Soul is prominent, as is the 'Biblical Hotline'. There are several links to contact Chaplains all over the world, as well as guides on 'How To Become A…' Christian, Muslim, Jew, etc. As hilarious as that sounds, the attempt to be all-inclusive of every religion fumbles even harder when it reaches its logical conclusion: Atheism is a Faith, just like all those other religions!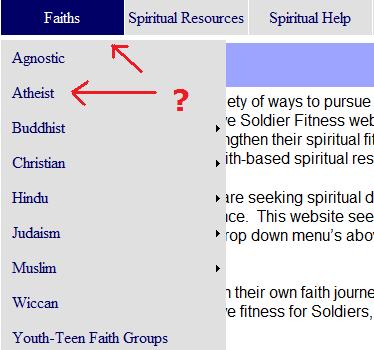 Well, I guess that settles it, right? Atheism is now officially a 'faith' or a 'religion' right? Of course not.
Most readers are familiar with the following classic responses:
"If atheism is a religion, then not collecting stamps is a hobby."
"If atheism is a religion, then bald is a hair color."
What is your favorite way to respond to this common derogatory accusation? I hear it all the time, and while these examples are classic and funny, I know there are others just like it.
Perhaps you have a totally different approach to answering this question, and if so, please comment.
Either way, the Comprehensive Soldier Fitness department of the Army seems to be digging further and further into the hole when it comes to defining 'Spirituality' or 'Spiritual Fitness'. This is exactly what we all know they are talking about: religion, faith, gods, deities, souls, theology.
The thin smoke-screen of an excuse 'Human Spirit, not religion!' that keeps popping up in the media is also now, on their training materials for the Soldier Fitness Tracker. They use the 'Human Spirit defense' to ward off the (truthful) perception that Soldiers 'fitness' levels are being evaluated based on religion. Not to mention, 'spiritually unfit' Soldiers are then being forced to sit through mandatory Spiritual Fitness remedial training, equally religious.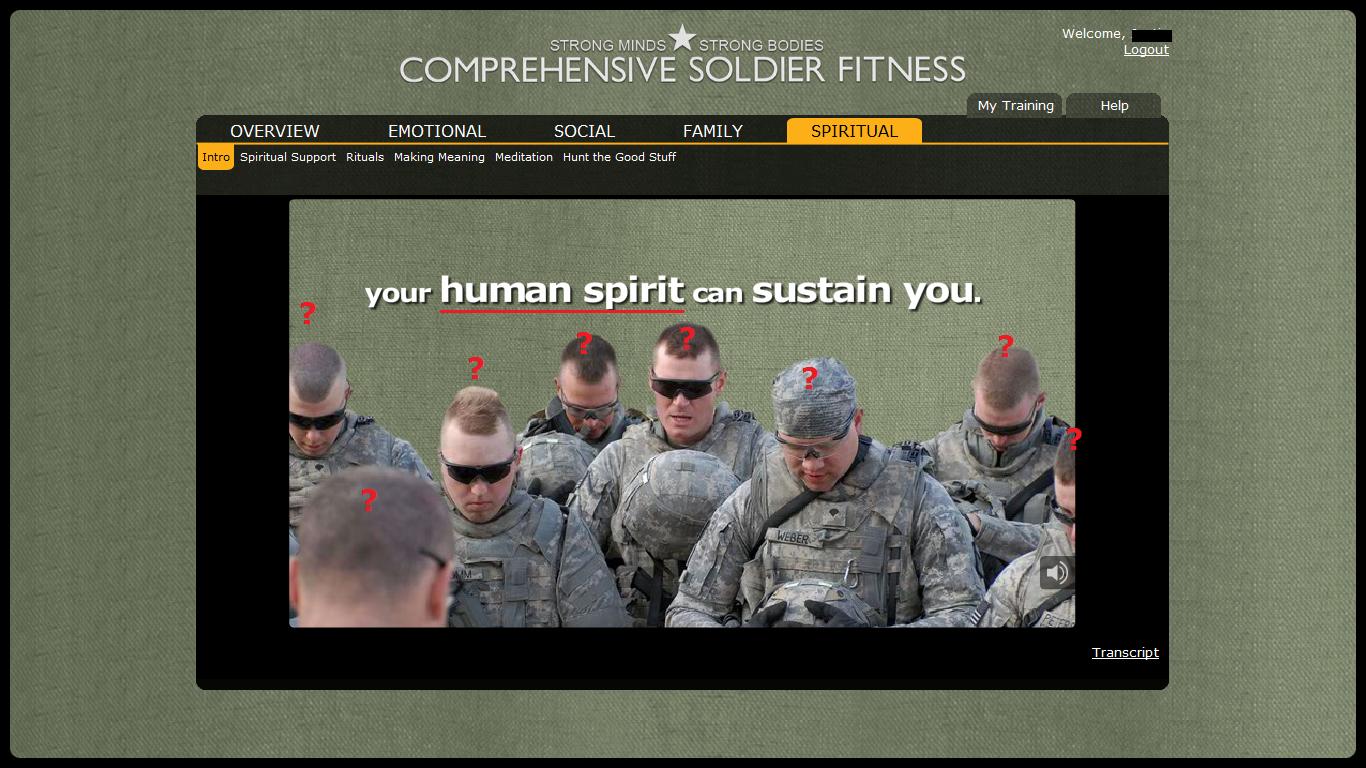 The Virtual Spiritual Fitness Center has a way that you can contact them directly. You may be interested to let them know your opinion about atheism being referred to as a 'faith' or a 'religion'. Please, if you do contact them, keep it civil and respectful.
While the virtual center appears to be very new, the real life counterpart is a $28 Million project built on Fort Hood, TX. Chris Rodda explains:
To date, the Fort Hood "mega-church" project has received over $28 million in earmark funding, $17,500,000 for its chapel complex and religious education center, and an additional $10,800,000 for its "Family Life Center."

In addition to this extravagant new chapel complex, which is currently under construction, Fort Hood also recently opened its new "Spiritual Fitness Center," a facility created by extensively renovating one of the post's existing eleven chapels. While the military insists that this Spiritual Fitness Center is not religious, but merely spiritual, the renovations of the existing chapel resulted in a building that is indistinguishable from a chapel, complete with its Christian themed stained glass windows.

httpv://www.youtube.com/watch?v=b8_JlKYFIgQ