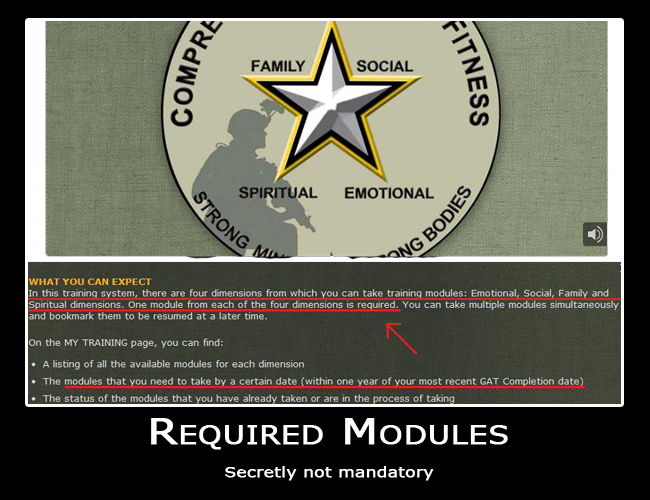 The screen capture above is dated 13 February 2011.
Compare to last month's quote from the people behind this test:
[The upper leadership behind the Soldier Fitness Tracker] says the training module only offers ideas for developing one's spiritual side. It is not mandatory and has no effect on one's career. – 13 January 2011. [Source: NPR]
Keep in mind, even if this training was optional (which it decidedly does not appear to be), the offensive test itself is not. After you complete the test, you are 'treated' to an informative results screen that says this:

If the above statement was true, the training should be mandatory! Additionally, if the goal of this test is to reduce PTSD and suicide rates, then it should be mandatory. Also, it should be explicitly inclusive of the thousands of foxhole atheists in the army, or the countless number of soldiers who don't think that religion has any place in judging how 'fit' or 'resilient' a person is.
If you were to scrap all the theological / meta-physical / quasi-religious / explicitly religious verbage from the spiritual fitness remedial training, you wouldn't be left with much substance. Whatever scraps are leftover could easily fit into the reality-based sections: Emotional, Social, Family.
Preventing suicide, and dealing with PTSD are very serious and noble goals. That is exactly why this test and training need to strive to do this right. As it stands, the Spirituality component to the Comprehensive Soldier Fitness program can and does lead to very dangerous situations for our nation's warriors. Do you remember the soldiers who were forced to see their Chaplain because they failed this test? The Chaplains told the soldiers that it was an opportunity to get 'born again'.
This is more than a hypothetical slippery slope. This is a very real avalanche, and this program is still in its infancy! Imagine what would happen if this was legitimized with years of mandated use, becoming an irreparable establishment of the status quo. How many more similar situations would arise?
Hopefully in the end, they will do more than just a lipstick on a pig treatment of slight alterations.  Let's all hope this thing gets fixed, in a real and meaningful way.