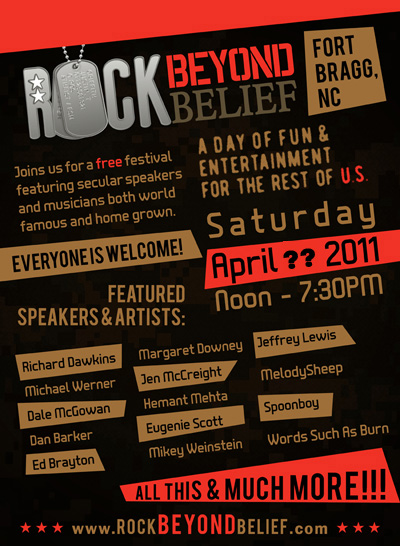 This week will bring big news that will keep our all-volunteer staff busy for a while. It has been  nearly 5 months of learn-as-you-go grass roots activism that has paid off in spades. When we first approached several entities on Fort Bragg, we were how shall I say this? 'Politely laughed away'. Now, when I walk into an office, I'm asked why I didn't start planning this earlier! To which, I point out, "I had trouble getting by that guy at the front desk over there, the one who was politely laughing in October."
Rock Beyond Belief is now approaching 'crunch time'. Our latest version of our submitted packet has only two signatures left until we lock in the date that we have been requesting, which is pretty impressive. The final signature will be the Garrison Commander, but he really can't do anything until the legal department finishes picking over our lengthy request for support with a fine-toothed comb. Of course, this is completely understandable.
Which brings me to my latest announcement: the legal department is expected to finalize their recommendations today, if they haven't already. My sources tell me that they are recommending that Fort Bragg does indeed honor the pledge to provide a similar level of support as the controversial Rock the Fort event.
This is exciting news, because we have been stringing along a dozen or so speakers and musicians since late September, dangling a cool opportunity in front of them. We haven't even publicly announced the date yet, which is troubling to many of them trying to plan their touring schedules around our event that frankly might not have even fully materialized when we first locked them in. Not to mention the amazing team of volunteers that I have had the extreme pleasure of sharing a grass roots movement with. Despite the uncertainty, they felt compelled to give up a large amount of their free time and impressive skill set, something that touches me deeply. Lastly, we have been gathering a real momentum of non-theists who have been enthusiastic and supportive, with our FaceBook page reaching 2,350 + Fans! Seriously, thank you, everyone out there in the nontheist community, we clearly see that you 'support the troops'.
Now, we are fairly certain that we can pull this off, pending the Garrison Commander's approval. And you can expect a huge update as soon as we can provide any more details.
Oh and on a personal note, I'm becoming a father today!
BRB, Fatherhood
Zoë Madalyn Griffith will be born tomorrow (Wednesday, 16 February) at Womack Hospital on Fort Bragg, NC. Tianna is now 42 weeks pregnant with our first child, so they are going to induce her in the morning at 0530 (eastern). We will put up pictures / measurements / details as soon as possible, so look for frantic FaceBook posts in the very near future!
-Justin Griffith
***UPDATE 18 February***
Zoë was born at 1:06PM (Eastern) on Thusday, 17 February, and weighs in at 10 Lbs, 9 Oz (!!!), 22 Inches long. Tianna, Zoë and I are still in the hospital, so expect a little bit of delay in correspondence. Our daughter is beautiful, and we are very happy. Thanks for all of the kind words!