Last week, the Garrison Commander at Fort Bragg placed crippling last-minute restrictions on our event, effectively forcing us to shut down.
These restrictions are clearly breaking their promise to provide an equal level of support to the controversial evangelical Christian membership drive known as Rock the Fort. This promise has been repeated to me at every step of the 5+ months of planning, and even publicly repeated by the Garrison Commander's own legal staff (17 February 2011).
Why did they (pretend to?) offer similar levels of support? Basically, they were (are?) bound by this regulation:
The applicable section from DoD Directive 5410.18:
4.2.9. Selective Benefit and Preferential Treatment. Community relations activities shall not support, or appear to support, any event that provides a selective benefit to any individual, group, or organization, including any religious or sectarian organization, ideological movement, political campaign or organization, or commercial enterprise, to include a shopping mall or motion picture promotion. When DoD support is provided to one non-Federal entity, the DoD Component commands or organizations providing such support must be able and willing to provide similar support to comparable events sponsored by similar non-Federal entities.
It also says the same thing in the section regarding use of facilities:
4.2.4.1.5. The DoD Component command or organization is able and willing to provide similar support to comparable events…
Apparently this, and many other regulations go out the window for Rock Beyond Belief. Here are just a few examples of Fort Bragg not being able and/or willing to provide similar support to our festival.
1) No funding for hotels (Evangelical Christians: $6,668 for rooms. $500 for room service)
2) No funding for transportation (Evangelical Christians: $1,360 for 3 vans for 3 days, $1500 for 'Air reimbursement')
3) No funding for A/V support (Evangelical Christians: over $7,000)
4) No funding for meals for performers (Evangelical Christians: over $7,000)
5) Must put warning label on posters/flyers/adverts about 'Not associated with Fort Bragg' (Evangelical Christians: ringing endorsement from Public Affairs, Chaplaincy, IMCOM. Advertised as an official Spiritual Fitness Event!)
6) Denied use of the parade field, the only venue large enough for us (Evangelical Christians: got to use it for their membership drive)
7) Golden Knight Paratrooper Jump denied (Evangelical Christians: approved)
8) Denied venue on the basis of musicians not being 'chart-toppers' (Evangelical Christians: didn't have any either)
9) No funding for or venue appropriate for 'Kiddie land' (Evangelical Christians: Rock Climbing, Face Painting, 5 Bounce Houses)
10) No funding for advertisements (Evangelical Christians: $12,620)
"We will provide similar levels of support to any other group… as long as they are evangelical Christians."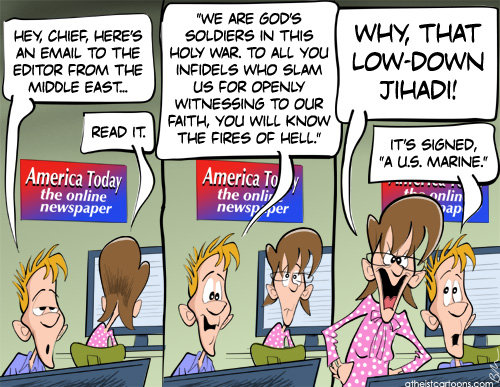 ***Update 10:30AM – 7 March, 2011***
If you want to see how you can help the non-religious soldiers at Fort Bragg fight back, please read this post.