After last week's hey-maker from Fort Bragg, we were devastated. It was shocking to learn that our festival had been crippled with last-minute restrictions that forced us to shut down.
Now it's time to fight back.
Please help us stand up to the discrimination facing the non-religious military community. That was the whole point of our festival, and Fort Bragg just took a giant step backwards by reinforcing existing prejudices. They legitimized the proselytizing efforts of the Evangelical Christian membership drive known as Rock the Fort (which Fort Bragg officially co-sponsored). Their stated goal was to convert as many Soldiers, family members, and civilians to (their version of) Christianity. They even bragged about how successful they've been at this, converting 500 Soldiers at one event, and 200 at another.
Over $100,000 of government controlled funds (both appropriated, and non-appropriated) were spent on the Evangelical Christian event. Dozens of Soldiers worked on the event during the duty day, many for over 6 months. Many organizations called for the leadership at Fort Bragg to cancel Rock the Fort. They didn't.
Instead, they released a statement explaining that they wouldn't be cancelling the evangelical Christian festival because: "[Fort Bragg] would be willing and able to provide the same support to comparable events…" – Lieutenant General Frank G. Helmick
Sadly, this turned out to not be true.
The Military Religious Freedom Foundation (MRFF) has offered to litigate for our cause in federal court. But there are many things that you can do to help as well. We really appreciate the outpouring of support we are getting, so please take a look.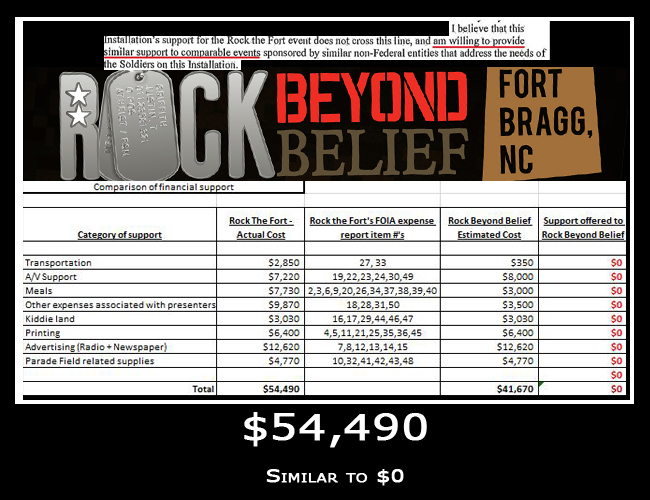 How you can help out:
Please contact the following people respectfully expressing your outrage at the discriminatory policies and command decisions at Fort Bragg.
U.S. Congressman Larry Kissell
8th District, North Carolina
Member, Armed Forces Committee
Attn: Caseworker
325 McGill Ave Suite 500
Concord, NC 28027
Phone: (704) 786-1612
Fax: (704) 782-1004
contact
U.S. Senator Kay Hagan
North Carolina
Phone (919) 856-4630
Fax: (336) 333 – 5331
contact
Lieutenant General Frank Helmick
XVIII Airborne Corps and Fort Bragg
2175 Reilly Road, Stop A
Fort Bragg NC 28310
E-mail address unavailable
Col. Stephen J. Sicinski
Garrison Commander
XVIII Airborne Corps and Fort Bragg
2175 Reilly Road, Stop A
Fort Bragg NC 28310
E-mail address unavailable
Honorable John McHugh
Secretary of the Army
1400 Defense Pentagon
Washington DC 20301-1400
E-mail address unavailable

Ben Abel
Public Affairs Officer
Fort Bragg
benjamin.abel@us.army.mil
(please request that your email gets forwarded to the commanders at Fort Bragg as well)
Contact the Media: The FFRF has graciously put up an Action Alert with contacts at the local papers, but the sky is the limit for media outreach. Similar to FFRF's suggestions, please feel free to BCC me on all emails to journalists / government officials. (jgriffith |AT| rockbeyondbelief |dot| com).
Join a M*A*S*H meetup group – If you live anywhere near a military base, please join / help start up a MASH meetup group. (see below)
Spread the word – Do you write a blog? Write about your take on the recent developments. Copy and paste something from here if you are feeling lazy! Do you Reddit / Stumbleupon / Digg / FaceBook / Twitter? Those buttons at the bottom are probably the quickest and most painless method of supporting us.
Donate to the Rock Beyond Belief Legal Fund –
The only way to really make something stick is to take the issue to federal court. The 2010 Nobel Peace Prize Nominated Military Religious Freedom Foundation (MRFF) president and founder, Mikey Weinstein has been offering us pro bono support from the beginning. Now that litigation is almost a certainty, he is locking in co-counsel from the nation's most prestigious law firms. Much of our case is going to cost money, and there is no way around that. Air travel, subject-matter experts, Mikey's research department, paralegals, etc. Even a pro bono representation isn't free, and the co-counsel hasn't even promised that yet! If you have the money, please click the button below.

Petition [***New as of 13 March 2011***]
Our supporters have been extremely helpful, and one of them took the Action Alert from the Secular Coalition of America, and turned it into this excellent petition. All you have to do is type in your information, so this is extremely painless. And it doesn't matter if you are 'late to the game' in helping us. There is no such thing here, we need all the help we can get!
Soldiers
All of the above are painless ways to support us without risking your neck, or outing yourself as 'non-religious' in your unit. We do understand that some people are in actually in physical danger, so please use discretion when contemplating the following additional ways to help.
File an official congressional complaint – Every member of the military has the right to communicate individually with anymember of Congress for any reason. Though servicemembers may be told otherwise,commands cannot limit this right or require prior notice or approval. Please click here to get started. This is a good resource to learn more about the process.
File an IG/EO Complaint – (Fort Bragg only) This is the most effective internal administrative remedy we have. Talk to XVIII Airborne Corp's IG/EO representatives about the opportunity that was taken away from you by the last-minute restrictions. There are numerous regulations being broken by the discriminatory lack of equal support given to the 'no religious preference' and atheist/humanist/secular/nontheist etc. demographic. We account for 18% of Fort Bragg's population, putting our numbers second only to Christianity. Without some sort of action, Fort Bragg will remain a climate of special favoritism for the evangelical Christian membership-drives, and reinforce existing prejudices against us. Consider this option if you are very comfortable and confident with your 'out' status.
Contact the Military Religious Freedom Foundation (MRFF) – Talk to them about joining up with any pending litigation efforts. You don't necessarily have to be co-plaintiff, even a well-written letter can do wonders. This is the most effective external administrative remedy we have. Hopefully we wont need it, but we aren't holding our breath. Contact Mikey Weinstein here.
Join / Start a MASH Group (Civilians too!) – The military is so dismissive of us because we don't stand up and organize. The Military Atheists & Secular Humanists movement is starting to spawn chapters at every post. The Fort Bragg M*A*S*H group is finalizing the steps necessary to get on the master list of 'services' that Fort Bragg sends out to all 50,000 troops. Our goal is raising tolerance and awareness for non-religious Soldiers, and the visibility we are going to get from that is vital. Once we succeed at Fort Bragg, we will empower all the other chapters with a step-by-step process. Fort Bragg is the trial balloon, and you already see what (*almost*) happened when local members networked and organized. In a few months we will be standing up proper groups with literature, financial support, and of course the backing of the long-running Military Association of Atheists and Freethinkers (MAAF).