This week was exceptionally busy for us at Rock Beyond Belief. We are still dealing with the fallout from the cancellation of the festival. We don't know exactly what lies ahead for the festival, but April 2nd is a definite 'No-Go'.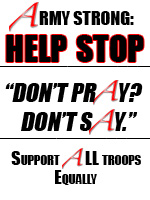 "Don't Pray? – Don't Say!"
We find ourselves in the curious position of being on the front line of two types of war. One is tangible and you see it on the news every day, the other is the subterranean ideological battle that unfolds as the evangelical Christian groups work against the separation of church and state.
We are not going away. We are at a cross roads here. More and more people are coming forward, sticking their necks out just to say "I am not religious. Respect me equally." I'm optimistic for the future, despite how rocky the situation is now.
Though much of what we are doing is very much behind the scenes, I'd like to bring you up to speed on the things we are visibly working on. We've already compiled a list of ways you can help non-religious soldiers demand equal treatment.
SCA Action Alert
The Secular Coalition for America (SCA) has put out an Action Alert on our behalf. They are perhaps the strongest lobbying effort to preserve the separation of church and state. Based in Washington DC, they represent a body of member organizations. They've sent out quite an effective alert, because we've been receiving notices that some officials seem to have changed their email addresses! [note: Rock Beyond Belief did not supply those email addresses, they were dug up independently.]
Sign the Petition
It takes 30 seconds.
I would like to extend a sincere thank you to Kevin J. from Asheville for setting up this petition from change.org This online petition site already claims 100 victories. Please don't just dismiss it. We will never know the behind-the-scenes effects of all of our efforts, unfortunately. But this only takes 30 seconds, so please sign it and pass it on to your friends.
Freethought Radio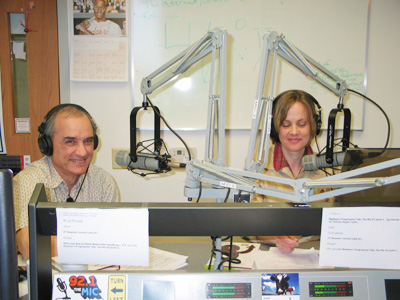 In addition to their own widely seen Action Alert, the Freedom From Religion Foundation's radio show interviewed me for Saturday's show. Dan Barker and Annie Laurie Gaylor are Co-Presidents of FFRF, and co-hosts of Freethought Radio. What a thrill to talk to my heroes! And just to let you know, FFRF has been right there fighting this fight with us from the beginning. They have been instrumental in battling the controversial Rock the Fort evangelical Christian membership drives, often in a behind the scenes fashion that you will never know about.
Freethought Radio airs live on Saturdays, so you missed it! But archived podcasts of the show hit every Monday. You can expect this week's episode here very soon.
Also worth reminding people about:
God Discussion
has announced an
upcoming 24 hour rapture telethon
on May 21st with Rock Beyond Belief as the benefactor. We have a target goal of $5000, and on the first podcast mentioning it,
we raised $300 in a single hour.
And as always, Tom and Wendy over at Frostcall beat everyone to the punch. They interviewed me for 10 minutes right as we were announcing the bad news about the festival. This up-and-coming podcast is one to take note of, as they even have Nate Phelps fson of Fred Phelps (God Hates Fags / Westboro Baptist Church) as a guest tonight. Just click the Frost call logo on the side bar to pop out a player, so you can continue to browse while you listen.
YouTube Channel launch
We launched a YouTube channel, For the first video(s) we set the conservative talk radio show that interviewed me to relevant documents and pictures. We've got some pretty sweet videos already in the works. Additionally, Rock Beyond Belief is now on StumbleUpon, for all you stumblers out there.
Side note: For a while now we've had the pretty active Facebook page for the festival, but a few people have been asking to connect with me personally. Click here for that.
Soldiers: Update your MAAF membership details
There is only one non-theist military organization, the Military Association of Atheists and Freethinkers (MAAF). Membership is completely free for everyone. You don't even have to be a military member yourself. In fact, we need civilians just as badly to help anchor our community meetup groups. If you already a member, please re-join anyway because we really need an accurate database right now.
I've mentioned these before, the Military Atheists & Secular Humanists (M*A*S*H) groups are the upcoming implementation of the MAAF network. We are launching them all over the globe over the next few months, with a few brave groups already popping up while we are still in 'beta'. Please join or start a MASH group in your military community. If you live anywhere near a military base, please support these groups as they spring up!
And finally… I'll leave you with a comment from one of our supporters that I found to be extremely well put.
In 1588, Catholic King Philip of Spain sent his huge naval fleet to destroy the Protestant Queen Elizabeth's navy. Picture the sailors and country men from Spain and England each praying to their God for victory that summer. God had nothing to do with the outcome. Weather, military strategy and the best trained sailors on ships with guns determined the defeat of the Spanish Armada. Why does the military still cling to these ancient concepts? Modern soldiers and sailors know better. Isn't it time to acknowledge this? Give our military men and women the best equipment, generals, protective gear and detailed intelligence and let them decide for themselves which religion or no religion they will follow. It's their personal choice to make. Good luck to Rock Beyond Belief. –Edward B.