***Attention Readers*** The following is my reply to Colonel Sicinski, the Garrison Commander at Fort Bragg. He had commented on this website two weeks ago, and I've now received assurance that I would be able to post and respectfully reply to it without fear of repercussions. I maintain the utmost respect for my entire chain of command, and appreciate this opportunity to clear the air about some complicated issues.
—-
Sir,
I really appreciate that you reached out to me and the readers here. You commented on a post about the hour I spent on Talk Radio, and I finished the post with the following:
The opportunity to interact with the 'talk radio' crowd was certainly unique, and I'd do it again for sure. I think I started out a little tense, but I think it quickly started going my way. What do you guys think? How did I do?
I did not expect a reply to that question from you on my own website. I'm extremely grateful for the opportunity to clarify my position, as I feel prompted to do so by the contents of your message, sir. Every bit of my reply is coming from the utmost respect for you. I trust that you will forgive following your lead with the mutual abandonment of AR 25-50 for the sake of effective communication in this setting. I am going to be referencing the Rock the Fort Freedom of Information Act (FOIA) documents heavily in my reply, but for ease of reading, I have extracted and embedded the relevant sections.
Thank you for your feedback on the Rock Beyond Belief event at Fort Bragg. We value your feedback as we continue to strive to improve our relationships with all Americans whom we serve. I'd like to provide you some information to help clarify some of the inaccuracies reported about the Rock Beyond Belief event.

I approved the Rock Beyond Belief event. However, the event organizer cancelled the event. There were some misunderstandings on the part of the organizer during the planning process which unfortunately continue to be propagated in the news media. Fort Bragg has stood by its promise to "provide similar support to comparable events sponsored by similar non-Federal entities that address the needs of the Soldiers on this Installation." Fort Bragg supports diversity–racial, ethnic, gender, religious, ability–and has been forthright in providing information to the event organizer and the public.
Sir, at no time did I say in that interview that you cancelled the event. Respectfully, I would like to add that I had carefully explained what happened regarding the cancellation early on in the interview. I stated that your last minute restrictions that cut our lodging and meals budget made our event impossible for us to afford. That unexpected change forced us to cancel. You did not cancel our event.We had been assured at every step in the approval process that the promise to provide similar support would yield every bit of what we asked for.
The very first person to indicate that much of that similar support was in jeopardy was yourself, nearly five months into the planning process, and one month before the event was scheduled. Your own legal section, who reviewed our packet for a month, had stated to me that they recommended that Fort Bragg provide in full everything we asked for. The language in LTG Helmick's letter promised as much.

Sir, this statement was made to the head of a well known non-theist organization, Annie Laurie Gaylor of the Freedom From Religion Foundation. It follows that this promise of being 'willing and able to provide the same support to comparable events' was most certainly inclusive of non-theist events.
This language appears to be coming from JE 3-211, which is directly quoted in the FOIA documents in the section marked "Policies that apply to this event".
3-211. Logistical Support of Non-Federal Entity Events

a. The head of a DoD Component command or organization may provide DoD employees in their official capacities to express DoD policies as speakers, panel members or otherparticipants, or, on a limited basis, the use of DoD facilities and equipment (and the services of DoD employees necessary to make proper use of the equipment), as logistical support of an event sponsored by a non-Federal entity, except for fundraising and membership drive events, when the head of the DoD command or organization determines all of the following:

…

(5)The DoD Component command or organization is able and willing to provide the same support to comparable events that meet the criteria of this subsection and are sponsored by other similar non-Federal entities;
If Fort Bragg were to truly apply an equal level of expectation for all of our responsibilities, and not show favoritism for the Evangelical Christian event, you should task Rock Beyond Belief with the same responsibilities as assigned to the Billy Graham Evangelical Association. Everything else should be provided by Fort Bragg for Rock Beyond Belief, just like with Rock the Fort. (see below, and compare to the tasks/responsibilities assigned to Fort Bragg)

Fort Bragg's Religious Support Office / Chaplaincy provided lodging for Rock the Fort ($6,668 for hotels, $500 for room service), as the FOIA documents clearly show as support given by Fort Bragg. Additionally, lodging was offered to the Billy Graham Evangelical Association 5 months before the event (see below). Sir, we could not afford Rock Beyond Belief because you specifically cut this from your offer of support.

Fort Bragg's Religious Support Office (RSO) was specifically tasked with providing lodging and meals, a level of support we had rightfully counted on. Even the legal review of our packet said as much.
Though we had approached and re-approached Fort Bragg several times many months out, it is indeed a complicated issue. The Chaplains Tithe and Offerings Fund's (CTOF) community sub-account, apparently used to provide half of the overall funding, is the main complication. But, respectfully, I put forth that the real burden lies with Fort Bragg here. The promise for an equal level of support rings empty if we are unable to tap into the Fort Bragg community account. It seems that you are neither willing or even able to provide this level of support, thus illustrating perfectly the unethical favoritism being shown to the evangelical Christian membership drive.
"]

It is also quite curious that the itemized expense report suffers from poor bookkeeping, and if you add up the totals given, a different sum is reached than the one listed by a significant margin (over $2,000; see line 51, below). Additionally, it is unclear why the CTOF fund would appear to pay thousands of dollars to itself (line 50, below).
Lastly, the Sergeant in charge of the fund specifically annotates the only expenses that the Billy Graham Evangelical Association provided: Flights, Performance Fees, and Stage Costs (line 53, below). Respectfully, it is clear that Rock Beyond Belief should only reasonably expect to pay for those exact same costs for our event. The rest is up to Fort Bragg to figure out a way to match (as promised) their previous and extensive monetary support for Rock the Fort.

My unit's chaplain (a friend and mentor), walked me through how this was funded way back in early January. I am well aware that this CTOF is a non appropriated fund (NAF) that mostly does not rely on taxpayer dollars (certainly the above regulations seem to leave room for appropriated funds to be incorporated though).
Mitigating the Non Appropriated Fund (NAF) issue.
Furthermore, we approached you with an open ended mindset on this matter. We not only illustrated this problem (before Rock the Fort even happened), we approached your staff with a set of possible solutions to how Fort Bragg could reasonably fund Rock Beyond Belief. I'll elaborate on a few viable approaches.
The CTOF community sub-account is for community-wide events. When sectarian use was authorized, that seems to necessitate it's use for all sects. However, we are flexible enough to allow for many other ways you could provide a similar level of support, yet possibly from a different 'bucket' (appropriated or not).
The Morale Welfare and Recreation (MWR) already has a NAF for very similar purposes. I was told by MWR that they could solicit enough funds for us to make this happen.
The DoD has an incredibly vast  "Operations and Maintenance Budget" that has already funded tens of millions of dollars of 'Spiritual Fitness' events and concerts.
For instance, at Fort Eustus alone, $680,000 in contracts were awarded for the Spiritual Fitness concert series. Invariably, these events are evangelical Christian oriented, and are actual appropriated funds. I suggest that there are many commanders that would jump at the opportunity to use these types of funds on a secular themed event, if for no other reason than to 'prove that the Army isn't playing favorites'.
Fort Bragg's own 19-component 'Spiritual' development funding could be tapped. We don't like the concept of 'Spiritual Fitness' as it implies that we are unfit without spirituality. Additionally, though the Comprehensive Soldier Fitness claims that Spiritual Fitness is about 'human spirit' or 'team spirit', time after time they are demonstrably wrong. But this could be an interesting opportunity for 'Spiritual Fitness' funding to go towards raising awareness and tolerance for the non-religious Soldiers. [Click on the image below to explore the rest of the 19 'Spiritual' offerings at Fort Bragg.]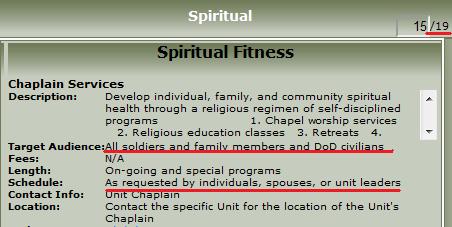 Finally, it's entirely clear that funding was 'handled' by Fort Bragg. We don't necessarily need the exact same approach, but a similar level of support is obligatory, in accordance with LTG Helmick's promise of an equal level of support. "The Moneys issue is something Mr. ??? is working with command on." [see below]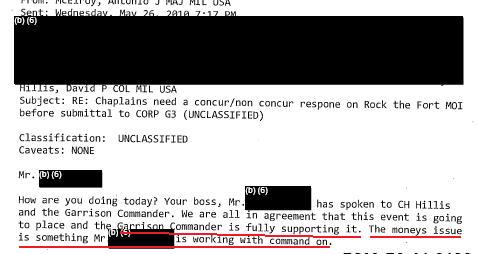 That statement clearly indicates that Fort Bragg financed this, with the help of the command.
The event organizer requested the use of the Main Post Parade Field.
Sir, this venue is exactly the same that Rock the Fort used. Your staff approved the Main Post Parade Field for the evangelical Christian membership drive (XVIII Airborne Corps, G3 – see below). The venue had been approved by your staff long before the lineup of Christian artists were assembled. Well after the Main Post Parade Field had been locked in, the entire lineup changed according to the e-mail traffic in the FOIA documents.

Additionally, the FOIA documents show that CH Hillis had briefed you about Rock the Fort by May 27, before the MOI or other important documents had even been fully formed. You pledged your full support, which necessarily included the Main Post Parade Field.
Our analysis of the programmed speakers and bands indicated that the event did not meet our minimum threshold of 5,000 Soldiers and family members in order to host the event on the Main Post Parade Field. I approved the use of a theater on post which adequately supported the anticipated Soldier and family member attendance at the event. The event organizer chose to cancel, not Fort Bragg.
Sir, there are quite a few issues that I feel need to be raised with regards to the above statements.
Rock the Fort did not have 5,000 people in attendance. Below is the most optimistic estimate of turnout, and comes from the FOIA documents as well. (Garrison Chaplain, CH Hillis is quoted below, on the day of Rock the Fort)

Pictures make it look a lot less crowded than that.
Equal level of support for any other group is impossible with an arbitrary 5,000 minimum . The very idea that an event needs a target audience in order to get funding for their promise of equal treatment for all other groups goes against said promise. There is no level and open playing field at all if we are going by that standard. This would unfairly set up an overwhelming advantage for a single religion, counter to the promise for an equal level of support [a promise made to a secular organization to explain why the then-upcoming evangelical Christian event wasn't going to be canceled]

The analysis for Rock the Fort was severely flawed. FOIA documents show that the media analysis for projected attendance for the Christian event was 10,000. That is a colossal error in judgement.
The analysis for Rock Beyond Belief was severely flawed. Richard Dawkins alone draws several thousand people everywhere he speaks. The interview with conservative talk radio hosts that you commented on raised this issue. The analysis for our event stated that only a few hundred would show up. When I repeated the Fort Bragg statement on this issue, the host laughed at the suggestion. Even though he was on the other end of the spectrum ideologically, he knew that was obviously false.
Additionally, when I asked to see the analysis during our last meeting, I was told that it did not exist on paper. Naturally, I asked for the electronic version instead. I was then told that it did not exist electronically either.
Much of the draw for Rock the Fort revolved around the Parade Field. During our face to face meeting on March 2nd, your staff concurred with the assessment that much of the turnout was due to the nice weather, the location, the 'kiddie land', and the Golden Knights paratrooper jump. Obviously the $12,000 in advertisements helped.
When the venue was changed to much too tiny of a location, we lost half of that appeal. It is my sincere hope that you will reconsider your position on all of these things as we resubmit our packet next week.
Fort Bragg Morale Welfare and Recreation sponsors and funds only one to two events per year such as our Independence Day celebration which draws over 30,000 participants. Private organizations may request to conduct events that support Soldiers and family members on Fort Bragg at their own expense, with the installation providing only the location and required security, if approved. Funding to cover the production costs of private organization-sponsored events on Fort Bragg is provided by the event organizer.
The Billy Graham Evangelical Association is a private organization, and they received an overwhelming amount of logistical support, borrowed military manpower, and funding from a government controlled NAF. The sheer amount of man hours involved from the high ranking officers who worked on this event during the duty day is tough to quantify in a dollar amount.
The Billy Graham Evangelical Association was tasked with very little, and funded only flights, performer fees, and stage costs. All we are asking for is the same treatment, and level of support. If that is not possible, then I suggest that Rock the Fort was illegal, unethical, and violated many of the rules that you spelled out in your comment. Rock the Fort was justified based on the promise Fort Bragg made to support any other event in exactly the same way.
Fort Bragg will consider any private organization hosted event that benefits the military community at Fort Bragg. Venue decisions for proposed events will be based on an analysis of anticipated attendance and the type of entertainment.
I steadfastly disagree with this statement. You had signed off on Rock the Fort before a media analysis was done, or signed off on an extremely faulty media analysis. The FOIA documents show this to be the case. I understand that it is difficult to remember in great detail every little facet of every event that crosses your desk. You are an important man, and I respect you both in rank, and as a hero who has served this nation for decades. I'm simply unable to overlook the disparity between the situation you describe in this letter and the situation that played out nearly a year ago as evidenced in the FOIA documents.
I approved the Rock Beyond Belief event for April 2nd at a post theater based on anticipated attendance and the type of event. However, the event organizer chose to cancel the event.

I value your input and support of the Soldiers and Families assigned to Fort Bragg. Further input should be directed to the following e-mail address: braggpao@conus.army.mil. An excerpt from my letter to the Rock Beyond Belief event organizer is posted below.

Thank you.

COL Stephen Sicinski

"I have reviewed your request for installation support of the April 2, 2011 "Rock Beyond Belief" event. I have approved the event being conducted as requested, with the exception of the venue. As your planned program consists primarily of speakers and musical performers (who are not chart-makers), the venue for the event will be the Main Post Theater or the York Theater. You should coordinate with the installation action officer listed below to schedule visits to the facilities to help you decide where you would like to hold your event."
Sir, it is my feeling that the excerpt that you chose to post here incorrectly glosses over the other things 'excepted' in your approval. The general public might get the impression that you had not also added several other exceptions in the very next paragraph.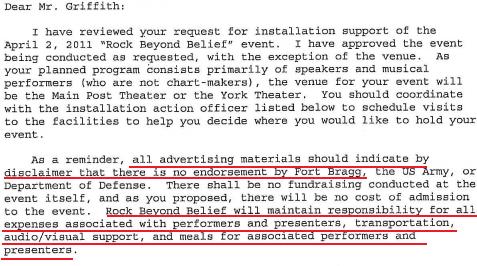 These exceptions are important. They included the funding we needed to even afford to put on Rock Beyond Belief, as well as adding a 'warning label' that the evangelical Christian event did not have to provide. It is my opinion that we can talk this over during the next few weeks and try to come to a mutual understanding that allows for a truly equal level of support.
I love the Army, I love Fort Bragg, and I really appreciate the opportunity to do this right. Non-religious Soldiers at Fort Bragg are proud to take you up on the offer for such an awareness-raising event on this scale. I think the negative publicity that has flooded Fort Bragg during the last few controversial weeks can be turned around, and we can avoid litigating over this.
You are probably unaware of this, but there is a non-religious member of the Golden Knights who very much wants to jump at our event, after being ordered to jump at the Rock the Fort event. There are a lot of non-theists who are worried for me, as I have stuck out my neck. I tell them that I look around and don't find an axe approaching. I appreciate the opportunity to answer your comments in such an honest and open way, and I'm extremely moved by the outpouring of support that we've been getting. Sir, I think this is the perfect opportunity to turn the overwhelming momentum we have into a positive ending. I look forward to the conversations we will surely have over the next few weeks.
Very respectfully,
SGT Griffith