This is another entry in the The Great Rock the Fort Swindle – exploring the disparity between the support for Rock the Fort and the Rock Beyond Belief.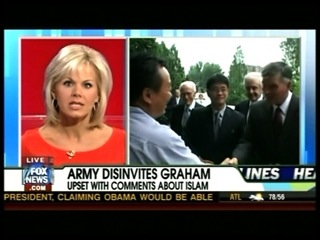 Franklin Graham is the driving force behind the Billy Graham Evangelical Association, who co-sponsored (along with Fort Bragg) the Rock the Fort event. He has previously been banned from official Army events before, and it makes me wonder why his organization was given so much support. In comparison, nobody on our lineup, or on the Rock Beyond Belief staff has been disinvited from an Army event before.
Ray Garton described the situation:
He's the messenger of Christ's love who recently said that Islam is "a very evil and wicked religion," and who took a nasty little stab at the Hindu faith– as well as every other faith that isn't his own particular brand of Christianity — when he told USA Today, "No elephant with 100 arms can do anything for me.  None of their 9,000 gods is going to lead me to salvation.  We are fooling ourselves if we think we can have some big kumbaya service and all hold hands and it's all going to get better in this world. It's not going to get better." That Franklin Graham.  I share these quotes only to give you some idea of the spirit of the organization behind this rally.
httpv://www.youtube.com/watch?v=04rpb0iVFmU
Billy Graham any better? (Spoiler alert: No.)
Billy Graham was recorded in Richard Nixon's office making some very harsh and anti-semitic remarks. Both men were obviously heavily influenced by Zionist beliefs. As a former evangelical Christian myself, I am familiar with the mindset. I used to look forward to the end time prophecies being fulfilled, specifically that the Israeli people needed to rebuild the Temple in Jerusalem.
httpv://www.youtube.com/watch?v=P1hl2jdfIiA&start=186