Dr. J Anderson Thomson's 2011 book Why We Believe In God(s): A Concise Guide to the Science of Faith is getting noticed in all the right circles.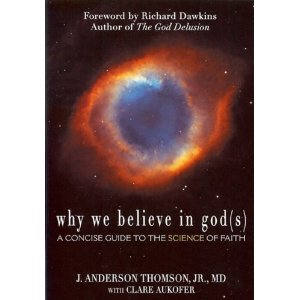 "This book about the evolutionary drivers of religiosity would have delighted [Darwin]…. One by one the components of religion receive the Thomson treatment. Every point he makes has the ring of truth, abetted by a crisp style and vivid imagery. Andy Thomson is an outstandingly persuasive lecturer, and it shines through his writing. This short, punchy book will be swiftly read—and long remembered."
—Richard Dawkins, author of The God Delusion,
"Andy Thomson, with Clare Aukofer, has written a wonderfully concise introduction to our growing scientific understanding of religion. If you would like to learn, in the span of an hour, why we have every reason to believe that God is man-made—this is the book to read."
—Sam Harris, author of the New York Times best sellers The Moral Landscape, Letter to a Christian Nation, and The End of Faith
Supporting the troops – it's a no-brainer
Dr. Thomson has graciously agreed to speak to the local Military Atheists & Secular Humanists chapter of Fort Bragg on Sunday (May 15).  Join us for a fascinating session with Dr. Thomson as he introduces us to the growing scientific understanding of religion and the evolutionary drivers of religiosity. If you live near Fort Bragg, North Carolina click here to sign up! Once again, the secular community has really been kind to us – Dr. Thomson has waived his honorarium, so this event will be 100% free. His books will be on sale at the event, and you can purchase here ($10 via Amazon) if you are unable to make it out.
You've got brains anyway, let's use them!
His book
"Why We Believe In God(s)"
provides a brief and accessible guide to the exciting new discoveries that allow us to finally understand why and how the human mind generates, accepts, and spreads religious beliefs.
J. Anderson (Andy) Thomson Jr., M.D., is a psychiatrist in private practice in Charlottesville, Virginia. His current research interest is evolutionary psychology and using its principles to understand depression, suicide terrorism, and religious belief. He has publications on narcissistic personality disorder, post-traumatic stress disorder, the psychology of racism, religion, psychobiographical essays on Robert E. Lee and Lee Harvey Oswald, depression, bipolar disorder, and forensic psychiatry.
Andy's website offers much more in-depth information on all of his projects.
Don't worry – there will be jokes and cartoons too.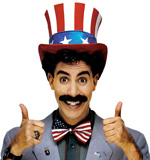 Don't be intimidated by the heady subject matter, he's a natural speaker and breaks it down. Science is cool and interesting in its own right. But it's even better when a lecturer is charismatic and engaging. Even Richard Dawkins points to the oratory skills of Dr. Thomson as an excellent way to cut through the complicated subject matter.
I've set this video to start at particular point of levity that I found amusing. (approx 25 minute mark)
[Taken from the American Atheists 2009 convention – video uploaded via Richard Dawkins]
httpv://www.youtube.com/watch?v=1iMmvu9eMrg&start=1512
Very nice.