Almost 45 days after the last-minute restrictions forced us to cancel our first approach, a fresh comment appeared on that announcement awaiting moderation. I was blown away at what I saw. Read the original wall of text in its embarrassing entirety here. **Update: Cleaned up formatting of this post can be found here**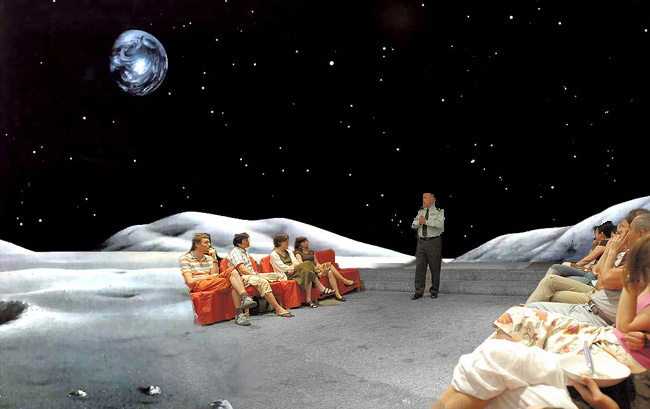 This is a letter from a (very recently) retired Chaplain, Lieutenant Colonel David Druckenmiller who worked on the controversial Rock the Fort event at Fort Bragg. It's mean and spiteful, and illustrates perfectly the problems we face as the military's community of non-believers.
This letter is really shocking – so please stick with it.
Rock for TRUTH!
I am writing this response to rebut the ongoing untruth spoken to your audience! You should be ashamed of yourself for lying! Oh, maybe you think it is ok to lie and twist truth because you do not believe in God.
What? That's a pretty messed up thing to say. Normally I wouldn't lash out, and certainly not first.
Are you telling me that the only thing that keeps you from lying is your religion? Similarly, you seem to suggest that morality only comes from belief in God. If your faith is the only thing keeping you from raping and murdering, I'm going to have to ask you to stay very far from my wife and daughter. I don't want you to have a brief moment of 'backsliding' or accidental ungodliness near them.
There is a God, His name is Jehovah. He created all things and you will bend a knee someday and your foolishness will be your folly.
I respect your beliefs, and I fight for your right to have them. Pro-tip: "foolishness will be your folly" is redundant. It's like saying this: "Repeating the same thing gets repetitive."
fol·ly/ˈfälē/Noun
1. Lack of good sense; foolishness: "an act of sheer folly".
2. A foolish act, idea, or practice: "the follies of youth".
I consider you and those you mislead either willingly ignorant or aggressively misleading!
I consider you to be willfully ignorant of Ritalin and other medicines for Attention Deficit Hyperactive Disorder…!!!!1!!11!1!ONEONEONE
Calm down, Dave.
Your stand is against the Constitution of the United States of America.
Wow. I wear the uniform proudly, and I would give my life to protect and defend the US Constitution. That document defines the modern concepts of freedom and democracy. Though I would like to point to democracy as a driving force away from repressive theological concepts in the Western world (oligarchies, or even monarchies with their 'divine right of kings' etc.). I'd also like to point to the promising youthful democratic revolutions playing out across North Africa and the Middle East – perhaps playing 'ideological catchup' with us as they slowly shed their religiosity. However, the truth is that I know that every Soldier I serve with is a hero, patriot, and defender of the US Constitution – no matter what their religion is.
Atheists can love America too, okay?
I just retired from military after serving almost 34 years. The last 21+ years I served with honor as an Army Chaplain.
Thank you for your service – and I'm not being the least bit sarcastic. I feel that you have certainly earned the right to throw that weight around.
I just retired from Fort Bragg and I was one of the leading chaplain staff members that organized and supported "Rock the Fort!" Yes, I was there and I am aware of the issues.
I am now just an American Citizen (Retired) that is concerned about the pervasive misleading and twisting of facts to support your agenda. You sir, are lying to others! Shame on you!
I never lied about what happened. Telling people that I lied seems… dishonest. I hope you get to the part about these lies soon.
The fact is that the American Constitution is clear about the government not establishing a specific religion but allows freedom of religion.
Oh boy. The SCOTUS rulings have firmly stated that the government can't promote religion over non-religion as a part of the establishment clause.
See WALLACE v. JAFFREE, 472 U.S. 38, 53 (1985)("[T]he individual freedom of conscience protected by the First Amendment embraces the right to select any religious faith or none at all"); see also County of Allegheny v. ACLU Greater Pittsburgh Chapter, 492 U.S. 573, 589-94, 598-602 (1989); Texas Monthly, Inc. v. Bullock, 489 U.S. 1, 17 (1989); Torcaso v. Watkins, 367 U.S. 488, 495 (1961).
Every religious person has the right to practice and express individual and corporate faith. The Supreme Court verified in 1985 that Chaplains are required to serve in the military because Soldiers give up certain freedoms and voluntarily place self under the authority necessary for military operational needs.
Why are you defending the Chaplaincy's right to exist with me? I even try to work with Chaplains all the time. I am glad I never walked in your office and asked you for help.
However, the Constitution is clear about the government not restricting the free exercise of faith. Because the Constitution clearly states that the government cannot establish a specific faith and it cannot restrict the free exercise.
I am familiar with the Army Regulation (1-165) that covers the Chaplain Corps.
1–6. The Chaplaincy and the U.S. Constitution.  The First Amendment to the U.S. Constitution prohibits enactment of any law "respecting an establishment of religion "or" prohibiting the free exercise thereof." Congress recognizes the necessity of the Chaplain Corps in striking a balance between the establishment and free exercise clauses.
It's complicated – and Chaplains are urged to be mindful of respecting both clauses – striking a balance.
Rock the Fort is an unprecedented instance of the US Government actively promoting the conversion of people to a particular religion (Christianity), and on a massive scale.
This is not in a deployed situation where Soldiers find themselves in some country with no churches, or in the field away from the various chapels that populate every base (they are everywhere, like Starbucks).
The only truth that applies is that no religion has the right to violate moral law! Government cannot make laws against religious faith! Government cannot restrict the practice of faith! This means anyone!
It seems like you need a lawyer more than I do. Sue the people that made the following restrictions on the practice of faith – you know them, you used to work for them.
DOD Directive 5410.18:
4.2.9. Selective Benefit and Preferential Treatment. Community relations activities shall not support, or appear to support, any event that provides a selective benefit to any individual, group, or organization, including any religious or sectarian organization, ideological movement, political campaign or organization, or commercial enterprise, to include a shopping mall or motion picture promotion. When DoD support is provided to one non-Federal entity, the DoD Component commands or organizations providing such support must be able and willing to provide similar support to comparable events sponsored by similar non-Federal entities.
Or this one, which becomes important when you understand that Rock the Fort was designed with stated goals of converting as many people as possible to Christianity, and increasing local church attendance (unquestionably, it was designed as a membership drive).
Joint Ethics 3-211

However, no person has the right to violate the moral laws that we swear to protect and defend in the Constitution. The enemies of the Constitution are always trying to restrict and change the intent.
That's crazy talk. The enemies of the Constitution are always blowing themselves up in crowded areas, or flying planes into buildings.
I'd appreciate it if you didn't insinuate that I am an enemy of the constitution just because you disagree with me (and SCOTUS).
As an Evangelical, Ordained Baptist Pastor, I have the right to practice my faith, even when I was on Active Duty Military. I preached the Gospel of Jesus Christ, Immanuel = God with us, every Sunday and opportunity I could.
I have no problem with your religious beliefs, or that you practice them on active duty. I'm confused that you earlier you said god's name was Jehovah, and now his name is Immanuel – but what's in a name, anyway?
As long as you aren't targeting people of other religions (or non-religion), or trying to convert them away from their religious preference, we have no problems.
I shared my faith and I intellectually challenged others to consider the message of the Gospel!
Swing and a miss. Should have seen that coming…
This is a primary tenant of evangelical faith!
If so, then it has no place in a government setting – do it on your own time.
I keep picturing a guy desperately trying to get your attention making the throat-slitting hand gesture, signaling to you a plea not to spill the beans.
I never forced anyone to believe and I never coerced any one to attend a program. Only invitation and discussion was used to share with others. Evangelicals have this right just like anyone else! In fact the largest demographic of religious faith in the military and in the American civilian world is Christianity based upon Evangelical Faith. Baptist alone, when all Baptist groups come together, is the largest by far. Our Catholic brothers and sisters of Christian faith normally make up about 20+% of any given military community. Baptists are normally above 50+% and other Evangelical Christians such as Pentecostal and some Protestant denominations raise the average Christian population by name to over 80%.
80% – It doesn't seem like you need a huge membership drive. Why waste all that time?
There is a category called "No Religious Preference" in the military used in the ADHOC report.
On Fort Bragg, No Religious Preference is about 18% of Soldiers, since we are talking numbers. (source: S-1 Query in Oct 2010)
This is not an atheist category, but might include some atheist. The truth is many in this category do not want to share what his/her faith denomination is, but more often the person is of Christian background.
So by your estimate and logic, nearly 98% are already Christians. Why the massive membership drive? Is that why you guys targeted civilians in a 90 mile radius?

What kind of person believes in Christian concepts like Jesus, Satan, angels, demons, spirits, miracles, talking serpents, talking burning bushes, virgin birth, salvation through faith – while answering "No religious Preference" when asked? What a bizarre usage of the word 'no'.
All other faith groups break down into a small percentage. Even atheists who are not religious because they do not believe in God or any higher power, are only a fraction.
On Fort Bragg, atheists outnumber all non-Christian groups. This doesn't even include the No Religious Preference demographic you mentioned earlier.
In fact, my opinion about this new group trying to obtain religious status in the military as Non-Theists, is wrong.
"In fact, my opinion"? That's cute.
"In fact, my opinion about X, is wrong" That's classic. Self-defeat in a single sentence. I agree with you that your opinion is wrong.
Atheists do not believe in God!
Christians believe in God!
They are trying to redefine religion as only philosophy and ideology without the presence of the divine.
"Not only is it not right, it's not even wrong!"
Atheism will never be a 'religion'. Look, we are a 'religious preference' (the Army's term). Even 'no-religious-preference' is still a preference. As a great man once said (in a really high voice) "If you choose not to decide, you still have made a choice."
We all still have the same urges to share personal experience and interact with others who feel the same way about important things. Non-religious Soldiers are just as passionate about deep existential questions as our theist counter-parts. You may call this 'fellowship' – around here, we call it a MASH Meetup.
We seek equality, respect, tolerance, acceptance, and an overall embrace from the US Military. We want the same opportunities that would be otherwise afforded to any other religious preference. A good way to start down that path would be to simply acknowledge that we are good people and good Soldiers, despite not believing in god – and supporting Rock Beyond Belief would accomplish that.
There is no such thing as Non-theism as a religion. Historically the word religion meant that there was a divine presence or God. Religion = "people's beliefs and opinions concerning the existence, nature, and worship of a deity or deities, and divine involvement in the universe and human life"
Though I agree that atheism is not a religion (but is a religious preference). I'm not sure what part of this we can't satisfy though. I have opinions concerning the existence, nature, and worship of a deity…
"an institutionalized or personal system of beliefs and practices relating to the divine" Encarta Dictionary.
Non-Theism is really "Self-Theism." You think you are your own god. I look forward to this debate later.
I dare you to make less sense, Dave. Is that like how Jesus is his own dad? I look forward to this train wreck later.
Returning to the original purpose for my address! You have not spoken the truth. The money spent on the Evangelical program, "Rock the Fort," was money that was given through the Christian Chapels as offerings. The primary funding was donations by Evangelical Christians, to include the "Billy Graham Association." (BGA) Many of the Evangelicals associate and fellowship with Billy Graham.
You are commenting on a single article that is relatively old. Even then, I've been clear and consistent about the funding being from the Chaplain Tithes and Offerings Fund – a fund we desperately want to use (deposit and withdraw) but are not allowed.
It's clear that the money raised through the "Christian" Chapels did indeed come mainly from evangelicals who associate, fellowship with, and are employed by Billy Graham. Minor correction: it's Billy Graham Evangelical Association (BGEA).
This program, "Rock the Fort," was sponsored by the Fort Bragg Chaplains! It was a Chapel program – not a Billy Graham program.
Rock the Fort was CO-SPONSORED by Billy Graham Evangelical Association and Fort Bragg's Religious Support Office (RSO). Rock the Fort wouldn't exist without BGEA, unless you are telling me that Fort Bragg Chaplains also put on the Rock the Fort events at Fort Jackson (South Carolina) and Fort Leonard Wood (Missouri).
Your statement is dishonest at best. Even my Chaplain said as much:
"Rock the Fort! was this last Saturday at Fort Bragg.  It was a wonderful success, and quite a few came to know the Lord.  It was conducted by the Billy Graham Evangelistic Association. We spent 6 or 7 months in preparation for this."
As a civilian Evangelical organization, the BGA volunteered to assist and support. So your statement to your audience about federal money spent is not true.
Two types of funds were spent, one type was without a doubt taxpayer dollars ('federal money'). If you claim otherwise, you either don't know what you are talking about or are lying.
Tens of thousands of tax-payer dollars were most certainly used. Things like security costs ($30,000 right there), significant manpower, insurance, Golden Knights paratrooper team's jump etc. Total: easily $50,000, but figuring in the dozens of on-duty officers who worked on this during the duty day for 6 months (a luxury I'm jealous of) and the other personnel costs… the total begins to skyrocket.
Raise your own money! Instead you are trying to take money donated by Christians to promote your ideology. Raise your own money. To do anything else is stealing!
Raise our own money? You mean like this? ($50,000 ready to go.) How does your foot taste?
Now, it is true that support services were provided to make this event safe! Military police were on duty to ensure security and safety of the participants. However, the list of money you show in this format I address tries to show tax money being used and this is not true. Shame on you!
Shame on you for claiming that tax money wasn't used.
Let me rephrase that in terms you seem to prefer: You are a shameful liar! You stole! Raise your own money! Your statement about federal money spent is not true! You use way too many exclamation points and make very charged statements that you are unable to back up!!!!
Also, the idea which you try to portray to others, the same as some liberal media agenda, that Soldiers were coerced/forced to attend this program is a lie.
Nobody ever claimed that this particular Spiritual Fitness event had soldiers forced to attend. That happened at a different Spiritual Fitness Christian Concert on another base. Did you wrongfully call me a liar instead of wrongfully calling them liars?
As CNN twisted the facts by using all photos from other posts and programs to portray the Chaplains at Fort Bragg as building an Army for God against Islam. Not one photo used was from Fort Bragg when CNN interviewed the Garrison Chaplain. In fact, I refused the interview with CNN because I have never trusted their reporting.
I'm pretty sure you are talking about this report:
I didn't hear any mention of building an Army for God against Islam in that report. It does sound kind of familiar though…
Oh yeah! That's right. You must be thinking about Franklin Graham (who runs the BGEA, and is the driving force for Rock the Fort).
[Franklin Graham is] the messenger of Christ's love who recently said that Islam is "a very evil and wicked religion," and who took a nasty little stab at the Hindu faith– as well as every other faith that isn't his own particular brand of Christianity — when he told USA Today, "No elephant with 100 arms can do anything for me.  None of their 9,000 gods is going to lead me to salvation.  We are fooling ourselves if we think we can have some big kumbaya service and all hold hands and it's all going to get better in this world. It's not going to get better." That Franklin Graham.  I share these quotes only to give you some idea of the spirit of the organization behind this rally.
This got him banned from other Army events. That ban was put in place by Army personnel, and it's shocking that he was allowed to sneak back in – especially on such a massive scale.
The program, "Rock the Fort," was a concert sponsored by the Chaplains at Fort Bragg to celebrate our faith. Everyone was invited!
So why would you oppose our event? You're invited!
Even local churches were invited because the majority of our Soldiers do attend off post churches.
90 Miles away?
This was an opportunity to share with our local ministries and to provide information to Soldiers and Families about services provided – to benefit them!
Don't you think an email could do that? I got your posters, flyers, messages, Chaplain announcements regarding this event. I'm pretty sure you can reach people who actually want to 'hear the gospel'. Even that is really proselytizing though. Why don't you just provide information to those who seek it out?
When a person hands me a religious pamphlet it's like they are saying to me: "Here, you throw this away." Keep it to yourself, or leave it on a table somewhere. If I'm interested I'll take one. Every unit chaplain worth his salt makes his presence known. You know where to find him.
Benefit the Soldiers who sacrificially serve this great nation!
My sacrifice doesn't count? I have a 3 month old daughter. I have a wife. What about their sacrifice? Don't they get an event too?
I was the Chaplain that walked around to every booth set up to make sure that no one was violating the policies. No one was forced to listen or to take information. Almost every organization was giving things to Soldiers to be a blessing!
Prepare to receive similar 'blessings' from several atheist organizations. Once you realize that non-religious Soldiers are good people you will realize that our event should be thought of in an equally positive light.
Issues you state and my rebuttal:
1. You were not able to use the same funding as Evangelicals. If you think that you can use donated offerings given in Christian Worship services to promote your atheism, you are diluted. In fact this would be illegal! Raise your own support.
We have just as big a purse as you did – we just need a place to deposit the check. I'm still not sure how this means that I am watered-down / diluted.
2. The restrictions you speak of were also placed upon the Evangelical Christians! The staffing of this event did go through some transformation from concept to execution and the great commanders at Fort Bragg were directly involved and the chapel staff did everything right. This means even the adjustment of ideas and proposals from concept until the first moment of engagement. In fact just minutes from the first concert performance, the commanders gave clear guidance on mission intent and purpose, which everyone involved in this event followed.
I do want to say that the XVIII Air Born CORPS Commander and the Garrison Commander are both great men and great leaders!!! They did what a commander should do! I am disappointed at higher levels of leaders who cow-towed to the forces that want to stop the freedom of religious expression in any area of society. These more senior leaders should be taking the stand to protect the Constitutional Rights of Soldiers and Families in the military.
The restrictions I spoke of did NOT apply to your event. Your festival was not forced to put warning labels explaining that Fort Bragg was not associated with or endorsing your event. Your festival was not denied the use of a big enough venue, or even an outdoor venue (necessary for a kiddie land, or a Golden Knights jump, or food vendors, etc… things that bring a crowd.)
3. You were given the same opportunity as the Evangelical Chaplains. You just did not raise your money.
We hadn't expected to need to. Probably something they could have told us from the beginning. In fact, they told us that they would be handling this – at every step up to and including our strenuous legal review. We could have raised the funds in the six months since we started.
"Lessons learned" – we have the money now. Let's go forward. I'm proud to say that our second attempt at filing for approval is going much better, and I'm actually optimistic for the first time since March.
The FOYA information is twisted by your group.
How? Photoshopped? You are the one who twists even the spelling of FOIA. Maybe you got some bad yinformation.
No Federal tax money was used for the program.
Repeating a lie doesn't make it true. The point is moot anyway, as long as Rock Beyond Belief gets the same treatment, we have no problem with this. We'll pay for the same things that the Chaplains 'paid' for.
Only support that would be given any program on post approved by the commander, which is security and transportation of the already chapel programs and chaplains.
Federal Tax Dollars at work!
Your group was offered this and you could not come up with your support money.
Due to the last minute nature of being denied a similar opportunity to raise funds on-post (via CTOF or MWR's special events solicitation… etc.)
Take an offering from your atheist friends!!! Raise your own money. Do not steal from others!
Pete and Repeat are sitting in a boat. Pete jumps out. Who is left in the boat? (Hint)
4. Your statement about the legal recommendation is also light years from telling the truth. I sat in briefings with the legal officers as this was discussed.
I use the phrase "against the legal recommendations of his own staff" based on how the news was broken to me by officials at Fort Bragg about the Commander's Decision Letter. They were just as surprised as I was, and were familiar with the legal review.
The same treatment is the same treatment. If you hade the support from your atheist buddies and could raise the money like the Evangelical Christians, you could have had your concert. What is it called? "Rock Beyond Belief," or maybe "Rock in Stupidity."
Good one. At least I'm not as Dumb as a Rock the Fort.
Thank you thank you, I'll be here all week.
The scripture declare that the fool says in his heart there is no God. (Psalms 1)
Well, if you put it like that… You are absolutely right. I was wrong. I'm now a Christian. I mean how could someone resist such a compelling argument?
Scripture has been and still is the best seller!
I bet. Christians buy them for me all the time.
More good is accomplished by people of faith than those who are self-theists = atheist.
My career has not been affected negatively, or made more dangerous by the actions carried out in the name of atheism.
What about theism?
Well I could go on and on.
You did, Dave.
I am sure I will because my faith calls me to a public voice.
You simply must have callouses on your throat.
Shame on you and all those who are deceiving others into believing anything but the truth.
Pete and Repeat are sitting in a boat…
Your false agenda will catch up with you when you stand before the God of Heaven who spoke and the world was created.
There is a God and you will answer to Him someday.
What a strange threat. Why would I worry about 'answering' a guy who seems to burp up worlds when he talks? And seriously, does this tactic work on you when people from other religions say the same thing to you? Am I on a prank TV show?
Your phone book length, yet grade-school quality rant serves only to insult you. You served your country for over 30 years and this type of bigotry and hateful rhetoric sullies that reputation. Despite your clear bias, I'm proud to know that not every Chaplain is like you. Some of them actually give a damn about people who may not share their particular faith.
I have had no problem meeting your attacks head on. We are sick of the hostile climate that people like you worked hard to foster for decades. I always make it a point to treat all people with dignity and respect (no matter what their religious preference is) – until they give me reason otherwise. My destruction of your letter was a direct response to your words.
I bet if you had met me in person, or done your research, or not commented on 2 month old posts… the conversation would have gone differently. You would probably even like me.
Chaplain (Retired Army) David Druckenmiller
"The truth will set you free!"
To our readers: I'd like to mention one thing really quick. There are many Chaplains that work closely with me on other projects such as establishing the first atheist groups to seek official support and recognition from the Chaplaincy. I am proud to say that I consider a few chaplains to be mentors, and I would even use the word 'friend' to describe them.
This was quite an unexpected an eye-opening comment.