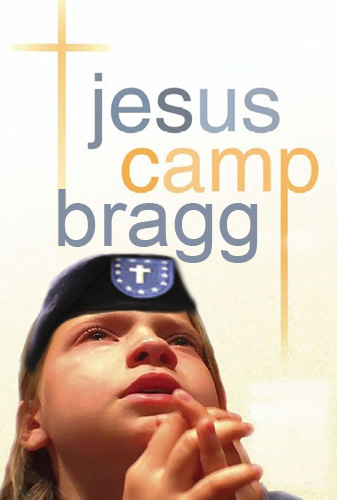 Earlier this month, all 50,000 troops stationed at Fort Bragg received a message from our Public Affairs Office. It was a brief announcement for the Annual Garrison Chaplain's Vacation Bible School.
The annual Garrison Chaplain's Vacation Bible School (VBS) will be held at Gordon Elementary (Linden Oaks) June 16-17 from 9 a.m.-noon and Devers Elementary (Ardennes) June 20-24 from 9 a.m.-noon. VBS is available for DOD Family members who have completed kindergarten through the sixth grade.
Okay, so there are some obvious issues already. The government is funding a religious summer camp for youths (why?). Public school buildings are hosting religious activities, albeit it seems to be during 'summer break'. Don't forget the raw marketing power of a huge user base for the email message announcing it.
So we are on shaky ground right off the bat. Pink flags are being raised, but then again, maybe I can delete this spam message and chalk this off to awkward efforts to get the word out.
After all… they didn't even directly provide the VBS registration form.
You may obtain a registration form at any one of the chapels, Watters Center or Religious Support Office.
Giving them the full benefit of the doubt – the subject matter may be wince-inducing, but the message was refreshingly incomplete and bare-bones in content. Well, maybe that one message.
I'm all out of pink flags, the next one is bright red. Note: I'm obfuscating some personally identifiable details to protect from possible harassment.
A 12 year old student from a non-religious Fort Bragg family brought home a permission slip for her parents to sign… so she could attend Vacation Bible School.
The student was basically just handed a form, and told to give it to her parents to sign. She didn't even read this one until her mother pointed out exactly what the permission slip was for. This feisty and extremely gifted 12 year old grabbed the paper and crumpled it into a ball, shocked and angry. Her mother later rescued the permission slip from the trashcan for posterity, sensing its importance.
I am fairly sure that VBS is not as disturbing as the notorious Christian summer camp depicted in the heart-breaking 2006 documentary, Jesus Camp. But even just 'macaroni necklaces for Jesus' probably should not be funded and advertised by government agencies. First the DoD / Military angle, then the public school system… I'm very uncomfortable to say the least.
In case you are unfamiliar with just how extreme a Vacation Bible School can get, I urge you to watch the excerpts from Jesus Camp in the video below.
httpv://www.youtube.com/watch?v=LACyLTsH4ac
So, why are they doing a Vacation Bible School anyway?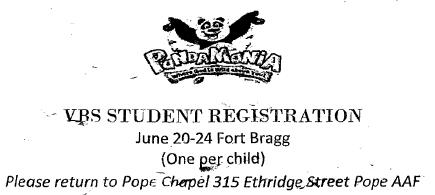 To proselytize and evangelize youths in the military community, unfortunately. Look at the top of the permission slip (right):
See that strange PandaMania logo? Well poke around on the PandaMania website a bit, they don't bury their intentions very deep.
PandaMania VBS is intentionally designed to focus on the things that matter—connecting kids to God—and eliminating the things that don't. It's about preparing each child's heart to receive the gospel message in an unforgettable way. It's about enabling kids to share God's love with others. It's about why you do VBS.
What does the Army say about VBS?
In 2009, Frank Leon – Director of Religious Education at Fort Knox, hosted a Vacation Bible School.
Although the summer activity was only five days longs, Leon said VBS serves a vital function.
"We do VBS to expose children to faith and to strengthen their faith," Leon said. "We join chapels around the world in conducting VBS and we're united with them in this tradition."
Where do we go from here?
If you can't beat 'em, join 'em.
We can easily foresee the same legal justifications used to defend the controversial evangelical Christian Rock the Fort concert also being used to defend VBS. Basically, in response to demands for cancellation they might say: "we would provide the same level of support to any other group."
The foxhole atheists here at Fort Bragg don't have a time machine. We can't go back in time and make them 'do the right thing'. Our only viable option is to take them at their word. At the very least, it is an opportunity to raise awareness, tolerance, and respect for non-believers in the military community.
I called the contacts listed for Fort Bragg's Religious Education office, and they actually seemed receptive to provide such support to the non-theist community. The first question they asked was: "What would an atheist summer camp look like?"
This is what an atheist summer camp looks like.
Camp Quest explains:
Camp Quest is the first residential summer camp in the history of the United States aimed at the children of Atheists, Freethinkers, Humanists, Brights, or whatever other terms might be applied to those who hold to a naturalistic, not supernatural world view.
The purpose of Camp Quest is to provide children of freethinking parents a residential summer camp dedicated to improving the human condition through rational inquiry, critical and creative thinking, scientific method, self-respect, ethics, competency, democracy, free speech, and the separation of religion and government.
Amy Monsky runs the nearby Camp Quest South Carolina. I'm working with her behind the scenes to hammer out the details for a 2012 summer camp with full Fort Bragg support and sponsorship. She is setting up the new location there in SC, and is already a big player in the established Camp Quest location in Virgina.
You may or may not be aware of the epic Camp Quest donor wars going on between many prominent bloggers / activists (a few are on our lineup!) In the last few months, non-believers have come together to raise nearly $20,000 for the overall CQ organization. They could surely use all the help they can get.
If you are able, please consider donating directly to CQ South Carolina.
Simply fill out this form, and please put in the comment box a note indicating your wish to contribute to CQSC. Amy Monsky really supports the foxhole atheist community. She is spearheading something that will have a lasting positive impact, and we salute her.
As always, I'm also going to provide you with a painless way to support this effort. Unable to donate? No problem, I'm in the Army – I know what it's like! But – do you have 5 minutes to spare? Please write an email expressing your excitement / support / feelings about Fort Bragg officials working with us on this project. Please be tactful if you must express your feelings about the VBS situation that sparked this.
Here are the contacts:
jeffrey.nevin@us.army.mil | timothy.s.mchale@us.army.mil