Here is another example of the pervasive and disrespectful attitudes towards atheists. These statements reveal exactly the types of barriers we are trying to break down.
The Q course and the Survival, Escape, Resistance and Evasion (SERE) experience revealed to me that in order for a leader to possess and project the courage expected by his men in combat, he himself must find the means to be at peace with himself. For me, this strength comes from an abiding faith in my relationship with God. This strength allows a person to live one day at a time without fear of death. I have never known an atheist in combat, and I do not ever expect to find one. I do not believe that this is a revelation discovered only by Carl Stiner. Based upon my experience, it is a belief that serves as the inner strength and motivation of the greatest majority of all combat leaders, both officer and enlisted. I do not know of a substitute for this. -General Carl Stiner (Ret.)
This book was published the same year notable foxhole atheist Pat Tillman graduated from Ranger school. He then began serving in the Special Operations Command that General Stiner (Ret.) described as devoid of atheists.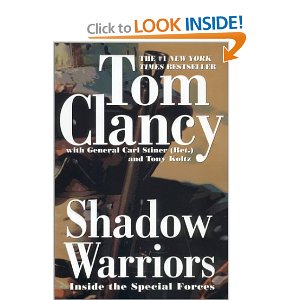 Worth every penny.
This comes from Tom Clancy's "Shadow Warriors: Inside the Special Forces" and is on sale at Amazon for $0.01 (no joke, used copies of Hardback and Paperback are both currently available.)
So maybe it's not worth every penny, but it's damn close. Only off by one. So don't buy it, whatever the price. If you feel the need to part from your money today, please consider the Pat Tillman Foundation.