This letterhead is a surefire way to turn some heads:

The Americans United for the Separation of Church and State, ACLU, and ACLU North Carolina, and are rallying around the Rock Beyond Belief festival. They delivered an impressive letter to Secretary of the Army, and officials at Fort Bragg yesterday, which you can read here [pdf].
They have already recovered hundreds of pages of documents relating to the evangelical Christian festival from 2010, known as Rock the Fort. Their stated goal was to convert as many Soldiers, family members, and members of the public to (their particular version of) Christianity. The festival cost nearly $100,000 in a complicated web of U.S. Government controlled funding. It was advertised in a 90 mile radius, and expected to evangelize 10,000 people.
AU explains:
After studying the documents and doing additional research into military rules, the three groups have determined that officials at Fort Bragg violated several Department of Defense regulations by supporting Rock the Fort.
"Supporting an event designed to increase membership in Christian churches cannot be squared with [Army] regulations, much less with the First Amendment," observes the letter. "Furthermore, based on the Army's own admissions, it is clear that Fort Bragg officials engaged in substantial co-sponsorship and support of Rock the Fort – support that cannot plausibly be deemed 'incidental.'"
Flash point – now is the time to fix this.
The letter states:
…

In response to complaints about Rock the Fort, Lieutenant General Helmick vowed "to provide the same support to comparable events sponsored by similar non-Federal entities."

The documents we have received further indicate that the legal department advised Fort Bragg Garrison Commander Colonel Stephen Sicinski of this equal-treatment requirement. Despite that assurance and advice, Colonel Sicinski refused to provide the same venue or financial support for a comparable atheist event — "Rock Beyond Belief" — that was being planned by Sergeant Justin Griffith and other active duty Soldiers. Additionally, proposed performers for Rock Beyond Belief were told that they needed to provide "statements of intent" [RBB: read them here] regarding their commitment to perform at the event, whereas no such requirement was made of the Rock the Fort performers. The denial of the venue and funding forced cancellation of the then-planned
Rock Beyond Belief event.

The Army's support and sponsorship of Rock the Fort, as well as its denial of similar support for Rock Beyond Belief, conflicts with governing DoD regulations.

…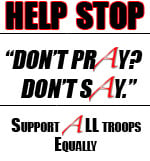 But this is a chance for them to turn the messy situation around
. This is a chance for the Army to embrace its 2nd largest religious preference – non-religion. We have a wonderful event lined up, $50,000 in private donor money, and a whole community of enthusiastic atheists just waiting for final approval.
You should read the entire thing. It's very effective writing, as you would expect from prolific activists and constitutional lawyers. It comes back around to make the case for Fort Bragg to uphold its heavily documented promise to support our event.
We've been in 'approval limbo' for quite a bit of time, but that may be changing rapidly.
As of today, I have received some signs that a final decision is forthcoming shortly. I have no indication as to what their decision will be at all. Nearly 10 months of hard work rests on this last formality. Please keep a very close eye here for more details.
Thanks
On behalf of the foxhole atheist community, I sincerely want to thank the team involved in this.
Ayesha Khan at Americans United,
Katy Parker at ACLU North Carolina,
Dan Mach at ACLU's Program on Freedom of Religion and Belief.
Additionally, I'd like to thank the amazing team of RBB volunteers working tirelessly and invisibly for nearly a year. The public will never know just how difficult this was. Thanks for sticking through such an epic process, and with such style! Thanks to our lineup as well – without you, our plight would have been DOA long ago!
To all of the officials at Fort Bragg who support us, and realize that we just want a place at the table – we know you are out there.
And to the loyal community – thank you for staying interested. If you keep caring, we'll keep fighting.