On March 31st, 2012, Fort Bragg will be hosting Rock Beyond Belief with the full support it was promised. This just might be the turning point in the foxhole atheist community's struggle for acceptance, tolerance and respect. It's an amazing time to be a non-believer in the U.S. Military on the cusp of a major break-through.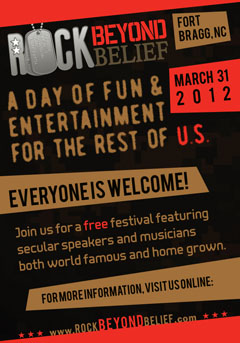 The public is invited, free of charge, to see this revolution begin to bear fruit. Our key-note speaker, Richard Dawkins regularly draws crowds in the thousands, especially in the so-called Bible Belt. On the rare occasions where his lectures and speeches are free, he sells out the capacity even faster than usual. None of this will be a problem for us, as our venue – the Fort Bragg Main Post Parade Field is home to the annual 4th of July celebration, with tens of thousands of attendees. The rest of our equally solid lineup may fluctuate slightly, and details will emerge in the next week or so.
Weather permitting, the Fort Bragg's prestigious Golden Knights parachute team have been requested for an epic jump. I can't say much more at this point, but some atheists may just be falling out of the freaking sky (with parachutes).
A talented singer and foxhole atheist volunteered for the honor of singing the National Anthem. Let us know if you are interested!
Child care is being worked out, and a 'kiddie land' will be available with bounce houses and face painting. Vendors are going to be hawking godless books, stickers, t-shirts and of course food and drinks. No word yet on 'ceremonial beer', I'll get back to you on that! And you can bet on a large presence from just about every large secular organization.
A mystery-celebrity is vowing to throw an unforgettable warm-up party a few days beforehand. (Sorry, can't talk about fight club.)
Hate the game not the changer.
While the fate of seemingly much easier projects still remain unclear, I'm extremely happy to present this news to the world. This is a huge step in the right direction. So much has changed since we began this journey. There is a palpable momentum building, and it's good to finally have a tangible success in our movement.
Colonel Sicinski, Fort Bragg's Garrison Commander has now approved the event in full, and we're extremely grateful to him for this opportunity. Many will remember the tumultuous nature of the lengthy approval process, as evidenced by visible scars on this website. But this is one opportunity to sheath the sword rather than fall on it. Over the next few days, I will be drastically changing much of the contents of static pages like the "about" page, as well as the side-bar widgets to reflect the new situation at Fort Bragg.
I will continue to bring you news of the positive developments on the ground at Fort Bragg. I'll also continue to update you about the rest of the struggles facing the military's secular community. The local group of military/civilian atheists is still banned from even meeting on post by Army regulations until we navigate the increasingly difficult approval process from the Chaplaincy. Now that Marines, Sailors, and Airmen are also beginning to take those mandatory Spiritual Fitness tests (and associated hours of remedial training) – it's clear that we still have quite a lot of work to do.
If it don't make dollars, it don't make change.
Obviously it is possible to affect change. Relentless determination and genuine optimism allowed us to fearlessly step into the national foray like this. Only your continued interest and support can ensure that we do not lose this momentum. Please help us spread the word, and please come out and see us!
Though we can't raise any funds at the event, we are going to be setting up a canned-food drive for the homeless. Many homeless people are Vietnam War era military veterans, often struggling with decades of what is now known as PTSD. Please bring in what you can. More details to come in the next few months.
Take a look at all of the organizations and names attached to the sidebar on the right. Each one of them went to bat for us in various ways. If you're not already a member of a local, or national organization, you should consider joining one (or more!). I was once skeptical of the concept, but I promise you it can be one of the most rewarding things you could possibly do.