Texas lawmakers want Christian groups to be permitted to use Christian themes, prayers, speeches *without seeking consent* in every single military veteran funeral statewide. But that's not how the story is being told.
I love being in the military, and I consider it an honor to serve this country. It makes me sad to hear about something like this. At least three Texas-based U.S. congressmen (all of whom self-identify with the Tea Party) are using military funerals for political gain: Ted Poe (R-TX) and John Culberson (R-TX), and Michael McCaul (R-TX).
And to top it all off, McCaul, Culberson and Poe are lying about it all.
They are 'standing up for' a few private groups who like to officially incorporate their Christian prayer and ceremonies at the funerals of military veterans. The problem is, well… there is no problem! They just need to be absolutely sure that their religious statements are actually welcome.
Basically, these groups just need to have it in writing that the families are Christians and/or willing participants. Then they can actually be a part of the official ceremony, with the cased flag, 21 gun salute, taps, etc. As tough as it might sound for them to get a grieving family to sign a prepared statement, it's all for the sake of upholding the U.S. Constitution that all members of the military served to protect.
""Congress shall make no law respecting an establishment of religion, or prohibiting the free exercise thereof."
So basically, the government can't sponsor unwanted religion in the government-run funeral service. But these groups are most certainly allowed to disregard the wishes of these families by simply waiting until after the short government-run ceremony to use all the unwanted sectarian language they want. This would obviously be disrespectful, but I'd literally fight for their right to do this (hoping they wouldn't actually do such a thing.)
Slippery Permission
The VA has been even more gracious to the groups with a 'default compromise'. They even offered to let these fringe third-party organizations participate in every official ceremony as long as they either: a) do not infringe on the establishment clause, or b) get written confirmation that such a 'free exercise of religion' is actually wanted by the families. Either one!
Quite reasonable. Just get a permission slip! But no… "It's my party and I'll lie if I want to"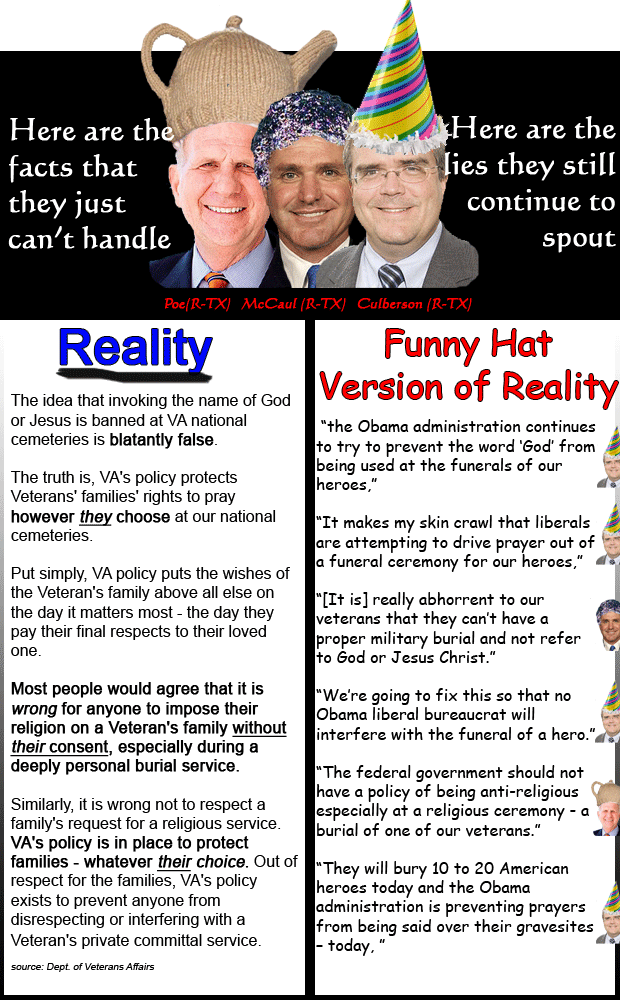 "This is shocking," he said. "[It is] really abhorrent to our veterans that they can't have a proper military burial and not refer to God or Jesus Christ." – Rep. Michael McCaul
Wrong. They can and do have those references. It's abhorrent that Jesus Christ would be brought up at non-Christian veterans' funerals by weird little organizations who clearly can't be bothered to check with families ahead of time.
"The federal government should not have a policy of being anti-religious especially at a religious ceremony – a burial of one of our veterans." – Rep. Ted Poe
My funeral will not be religious. Do I not deserve respect? Does the Constitution I fought for not deserve respect? Nothing is anti-religious about this policy. You are actually anti-consent and anti-permission slip. But that wont sell, will it?
Responding to the astro-turfed faux controversy, the Department of Veterans Affairs annihilated their critics.
The idea that invoking the name of God or Jesus is banned at VA national cemeteries is blatantly false. The truth is, VA's policy protects Veterans' families' rights to pray however they choose at our national cemeteries…

…

Most people would agree that it is wrong for anyone to impose their religion on a Veteran's family without their consent, especially during a deeply personal burial service…
I guess these lawmakers would rather have 'default permission' granted to these Christian organizations. Thus putting the burden on the grieving families of non-Christian or disinterested military veterans. If they even know about it ahead of time, they *might* be able to stop it.
Notably,
Rep. Culberson
co-sponsored legislation
(H.Con.Res.199)
 that would have allowed teacher-lead and coach lead-prayer in public schools. He also voted to
abolish the entire federal public school system
… (!?)
Christian prayer over my dead body.
Worse still, if their efforts were somehow successful, would mean that several Christian groups would have a central part in the funerals of potentially every military veteran. Atheist, Buddhist, Hindu, Jewish, and Muslim veterans being buried in Texas: this means you!
My official military 'home of record' is Texas, where I was born and raised. I may very well end up being buried there some day. As an atheist and as a soldier, I care deeply about our Constitution being subverted like this. I am shocked that Texas' U.S. Reps are attempting to ensure that my funeral is going to feature a state-sponsored Christian message.
I promise you that if my family had to endure this sort of treatment, it would not be a pretty scene. I know my wife and sister would both be quite vocally outraged, and certainly not alone. I doubt they'd get 30 seconds into their ceremony before being shouted down, and rightfully so.
But why kick up an anthill like that anyway? Who the hell do these people think they are? If they really can't be bothered to find out if somebody even wants their goofy ceremony, they should do it after the real ceremony. Or preferably not at all.
Kathleen Johnson – First Sergeant (US Army, Retired) is the former Military Director and current Vice President of American Atheists. She brought this story to my attention, sharing my outrage. Currently employed in Texas, Kathleen is right in the middle of the storm. She's still teaching me the ropes, but these issues are being watched very closely at American Atheists, I assure you.
I don't think they've really even thought this all the way through.
They are arguing for the right of any form of religious speech at state funerals. Rock Beyond Belief was formed partially in response to a "we would support any other group" line of reasoning. I can't imagine that a group of atheists would ever do this sort of thing, despite the Public Forum solution the proponents seek.
I'm aware of a certain group that just might be interested in participating in the funerals of dead soldiers. And they are all lawyers. And they are fresh off a victory in the Supreme Court of the United States about this very topic.
These Texas lawmakers are basically setting the stage for Westboro Baptist Church trolls to not only protest at funerals of dead soldiers, but to be an official part of the ceremony.
These legislators are in virtually vote-proof districts for the most part. But you can still help. Be more informed, and spread the information. Their 'controversy' would be laughable if it wasn't so offensive. Hopefully the journalists over at 'no-atheists-in-Fox News' will get ahead of this and quietly drop it from their talking points.
Or better yet, the rest of the media will start covering the real story. Some politicians want to sneak religion into government, and they want to do it at my funeral on your dime.