Title says it all. This happened a few days ago, and was buzzing around Reddit and Facebook. In case you missed it – click to embiggen.
The one that catches my eye the most is this one: "I love Jesus, and the cross and if you dont, I hope someone rapes you!" by Sindy.

Which of course was subsequently 'liked' by 2 more people. I'm baffled.
You can't live in fear of Fox News viewers, or else the Tea Partiers have already won… or something. Seriously though, what is this? Is this a feeble attempt at humor in the vein of Howard Stern wishing cancer upon people? If so, how warped is your sense of religion and spirituality? Surely this must be what is called "taking the lord's name in vain".
Doesn't Sindy realize that we are going to laugh at her for an entirely different reason? Her comment goes right into the "How Christian of you" flavor of Hate Mail infamy. The kind that Richard Dawkins reads to a room of wide-eyed atheists who can't help but laugh uncontrollably at the bizarre statements.
http://www.youtube.com/watch?v=-ZuowNcuGsc?rel=0
I believe that's the 2nd time I've re-posted that video. Still funny.
Na-Nu Na-Nu
Readers may remember when the Rock Beyond Belief space antenna picked up incomprehensible signals from the moon's chaplain. What motivates people to write about their religion this way? I'm not exactly sure. But a comment on that thread just came in from a person with an epic name.
"Old Chaplain Turned Skeptic" writes

I went through the US Army Chaplain Basic Course with Drunkenmiller back in 1988. He's one of those hyper-extroverted, shallow, know-it-all Baptist preacher types. That was my impression of him back then. From his remarks, I see he has not evolved at all despite his years of military service. Drunkenmiller suffers from a common malady that fundamentalist ministers often have: They are taught- and come to believe – because they "know the Bible" they are experts on everything.

His level of education is very shallow. He is a graduate of Jerry Falwell's "Liberty University" and actually served as one of Falwell's body guards while going through school there. I have several friends who went through Liberty U. and the "education" basically consist of forcing the students to memorize a host of bigoted, ill-informed ideas with no basis in real history or science, and then handing them a graduate degree in theology. Ignorant is as ignorant does.
I also received this email from the same Old Chaplain:
Thanks for your article Justin.  I was actually an endorsed chaplain for The Chaplaincy of Full Gospel Churches, which had as its mission to flood the different branches of the military with hyper-fundamentalist chaplains who would to be missionary to all the lost – and deceived – members who didn't "know Jesus."  I was part of a charismatic-theocratic religious movement whose aim is to take back America from all those godless liberals and "secular humanists" who we saw a ruining our country and turning it away from God. They now control big chunks of The Republican Party.  Scary!  I went through a deconversion experience and now label myself an agnostic. I'd like to see what else "Brother" Drunkenmiller sent you.[*]  Keep up the good work!
[*]
Note: he's referring to a second 8 page email response I got from ex-chaplain, David Druckenmiller. I haven't released it, though I may someday. I promise you, there are many chaplains that are firmly on our side. But I don't want my atheist friends to think that all chaplains are like this. One indecipherable wall of text is enough (for now.)
Kill them with kindness.
But should we, and if so, how should we respond to these vile personal attacks and slurs? I think we should engage in most circumstances. Don't feed the trolls, but silence isn't the only way to starve them.
First, Kill them with kindness. Like the many foxhole atheists who politely informed me that I wasn't the only one to come up with this idea: volunteering for 24 hour staff duty every Christmas.
Second, Rape and Kill them with kindness. Respond with on-topic humor that makes your point. When done right, it can be more effective than the actual logic and reason (hopefully) underlying the humor. Dawkins' hate mail. "No Chaplains in Foxholes", etc. Nearly every picture on /r/atheism, No Atheists In Fox News, etc.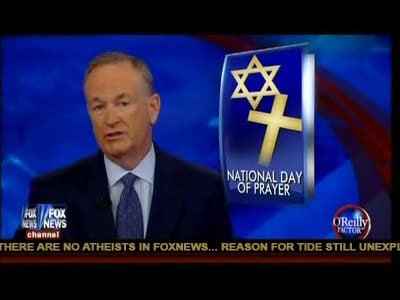 Out of the closet! Tally-ho, and what not!
—-
**Edit: Within minutes of me posting this Gregg B. said: "Cue the "They aren't real Christians" in 3…2….1…." And he is exactly right. The No True Scotsman fallacy seems to be used by some theists against fellow theists sometimes!**
**Edit #2: A few people's troll-detectors are going off with Sindy Clock. Her profile now refers people to a "hopeyougetraped" URL, and the userpic is different. The others are almost certainly not trolls, and inexplicably 2 people some how still managed to 'like' the rape comment.**