In early January this year, a handful of us started the Military Atheists & Secular Humanists (MASH) local group at Fort Bragg. This was our first meeting:
It's open to soldiers, families, and civilians around Fayetteville / Fort Bragg, NC. [Join – free!]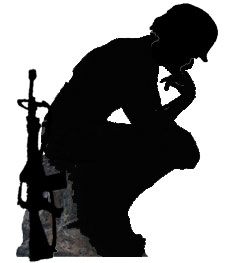 By February we began the process of integrating into the Military Association of Atheists and Freethinkers (MAAF), as Jason Torpy had expressed his long-standing desire to expand his MAAF-Network. So we started working together on expanding the MASH concept for the MAAF organization.
Recently he graciously credited me and this synergistic approach with helping to radically change the approach taken to form local groups – the approach now focuses on gaining legitimacy, visibility, and support directly from the chaplaincy itself.
There are already MASH groups sprouting up everywhere. But for now, I want to concentrate on Fort Bragg.
It's time for a report card.
We just hit over 100 members, larger than many on-post congregations!
The rapid growth at Fort Bragg reinforces the fact that we need chapters across the globe. Unfortunately, we are still banned from meeting on post until approved by the chaplaincy. It's unfortunate, because all we want is a place at the table. Many local atheist and humanist groups across the nation meet in open-minded churches. Like our neighbors in Raleigh, the Triangle Freethought Society who meet at a local Unitarian church.
Guess what? The church doesn't get burned down, and the neighborhood babies don't get eaten. We listen to a speaker, interact with each other. Literature and relevant issues are discussed. Plans might be made about 'billboards' or an online letter writing campaign. Perhaps we'll have a few beers at a pub afterwards.
I know what you're thinking: Shocking! Radical! Maybe they need to be violently stopped!
This month we also said goodbye to a few people, including Audrey, one of our earliest and brightest leaders. Such is the transient nature of military life, and we should expect and plan for this. Every PCS / Deployment is an opportunity to spread the group concept to another location. Luckily, we've welcomed aboard a new strong leader, Ray – who is sharing the privilege with me of being among the first DFGL candidates for official recognition from the Chaplaincy.
Awesome Guests:
Our recent guests included Dr. Andy Thomson, senior fellow at the Richard Dawkins Foundation for Reason and Science, and Author of "Why We Believe In God(s)" Dr. Thompson donated copies of his book, refused to take any money from us, and then donated his speaking fee from another engagement directly to us. That's over-the-top support! His speech was outstanding, and probably the most intellectually stimulating of any of the speakers thus far.
Amy Monsky
, of
Camp Quest South Carolina
gave an excellent talk about all the work she's been doing to provide a faithless and reason-based approach to the summer camp experience. Many of our members have children that are now planning to attend the next round of CQSC camps. We raised some funds on Amy's behalf as she has a tough road ahead of her, this being South Carolina's first year with a Camp Quest.
Amy just recently wrote to me with the following important update:
hoping you can help pass on some info for the CQSC family weekend camp to your MASH group or to anyone else you think may be interested.  Camp is less than 2 months away now and registration closes at the end of the month.  I have to get final numbers to Camp Long by 9/1, so the registration and payment deadline is 8/25.  We've had nothing but positive response so far and have had 5 new families register in the last 3 days alone, not counting those we've had throughout the summer.  I anticipate even more families to register as the deadline approaches and don't want anyone to miss out.  I think the weekend camp is going to, well, rock.  I've attached a flyer that with the basic info.
Atheist Out Campaign at every 5k run.
One of our members, Priscilla , had an ingenious idea. She suggested that we participate in all of the Army / Fort Bragg official events such as 5K runs, and national holiday celebrations (4th of July, etc.) Though we are still officially banned by regulations from meeting on post for our meet-ups, we can still participate in their events. This will have the effect of normalizing the perception of atheist soldiers, in a very friendly yet 'in your face' manner.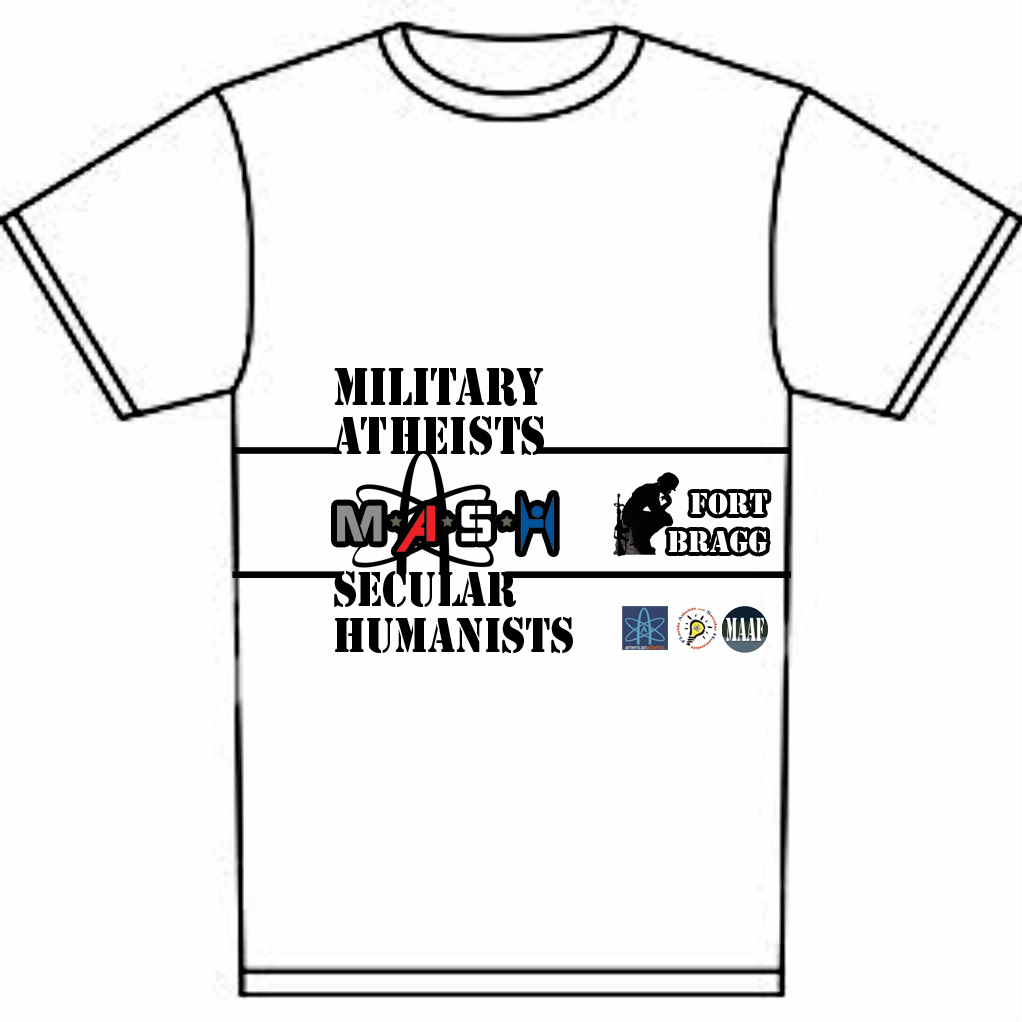 An extra stroke of genius came in the form of getting t-shirts for MASH Fort Bragg. These will be worn at the various events the Army / Fort Bragg hosts, as mentioned above. American Atheists, and their affiliated group FLASH (FLorida Atheists and Secular Humanists) have offered to donate the first two dozen shirts!
This is a relatively expensive undertaking, but I'd encourage all chapters to seek this out once you've stabilized membership and attendance with regularity. Eventually, I'll try to work out a way to bring similar donations to other interested groups.
Both MAAF, and American Atheists are interested in forging a sustainable way to further develop these support concepts in unison. As the new Military Director for American Atheists, I want to pledge my full support to supplementing all interested MAAF-network chapters with whatever we can provide. Just to be clear, there is no 'separate' American Atheists network, but if your MAAF group reaches out for additional forms of support, you can count on it from me in the future. Jason Torpy is doing an excellent job leading this effort, and I will also be here to help or answer any questions!
In fact, our earlier site, "USAMASH" is really no longer necessary. Scott, I owe you a case of beer for purchasing that domain! The integration into the MAAF network is complete, and there is no reason to duplicate efforts.
If you are interested in forming or joining a MASH group, please contact Jason Torpy immediately. You should also be aware that American Atheists, Inc. is going to offer full support to any MASH group that requests it. From the beginning, Jason and I have both strived to remain open to "stacking affiliations" with other organizations. There will be much more support coming down the lines, I promise you.
MASH report card :
A

+

Atta boy!