I just finished reading J. Anderson Thomson's why we believe in god(s). When I saw this, I knew I had to share it.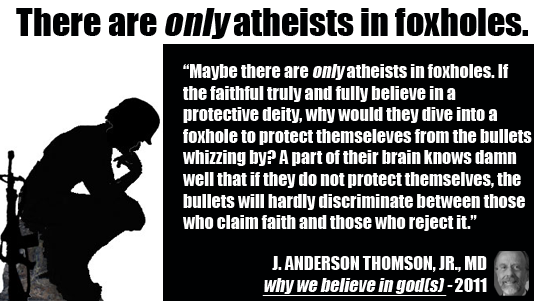 A few months ago, MASH Fort Bragg hosted J. Anderson Thomson for our monthly speaker series. It was brilliant and engaging, and quite a few people showed up.
He didn't even flinch when I told him that our group was forced to meet in our member's houses. We are still banned from meeting on post until approved by the Chaplaincy (now 7 months into the process…) We're being patient, and as always, relentless. If Rock Beyond Belief can get approved, surely this much smaller undertaking can work!
Dr. Thompson really supports the troops.
He gave away all the copies of his book that he had with him.
He refused to take any money from us (not that we had much.)
When our buddies to the north, the Triangle Freethought Society hosted Dr. Thomson, he donated his speaking fee back to our group.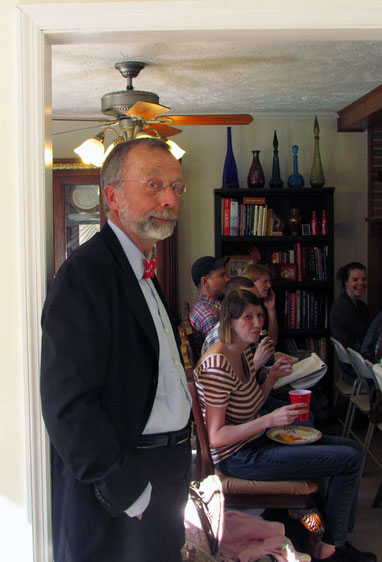 Readers may know that I am currently deployed. Well, I received a care package from the Richard Dawkins Foundation for Reason and Science and MAAF a few weeks back. I was going to do a big post about it, because, you know… AWESOME! But I don't have a camera on this deployment, and I couldn't borrow one.
This package contained all sorts of goodies, including copies of his 2011 book,
why we believe in god(s).
I started re-distributing some of the duplicate goods to soldiers who wrote to me that are also currently deployed (sorry, all out!) I'm glad that Dr. Thompson marked the cover of one of the copies, because I almost sent it to a soldier in Iraq. The inside contained a nice inscription along with his autograph.
"To Justin Griffith – With admiration for your courage on many fronts. Andy Thompson"
What a thoughtful guy! He is not alone in going above and beyond to support the foxhole atheist community. But this is over the top!
Then I read the book, and I stumbled upon the following passage:
"Maybe there are only atheists in foxholes. If the faithful truly and fully believe in a protective deity, why would they dive into a foxhole to protect themseleves from the bullets whizzing by? A part of their brain knows damn well that if they do not protect themselves, the bullets will hardly discriminate between those who claim faith and those who reject it."

J. Anderson Thomson, Jr., MD
why we believe in god(s) – 2011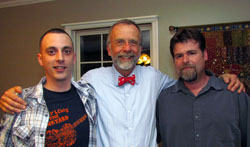 So true.
I can't believe he never mentioned this quote during his visit. I'm very much interested in shattering that offensive stereotype, myself. Dr. Andy Thompson is a Trustee and CFO for the Richard Dawkins Foundation for Reason and Science. So he is quite a powerful ally to have. Thanks Andy, you rock!
You do support the troops… Don't you? 🙂
Ha ha, I love that joke. It sometimes even yields positive results and commitments to help / volunteer. Jedi mind tricks, I tell you.
FYI I'm developing a care package program at American Atheists. But it's not ready yet. Keep an eye out for a formal announcement in the next few months. If you're interested in volunteering and/or donating items please contact me. I'm sure I'll need "envelope-stuffers" (boxes, more accurately). As well as specific items, and of course a small amount of cash flow. I have some logistics to set up first, but you should expect something tangible in the next few months.