"Thanks for having me on the show. As you know, there are no atheists in fox news – so I really appreciate it!"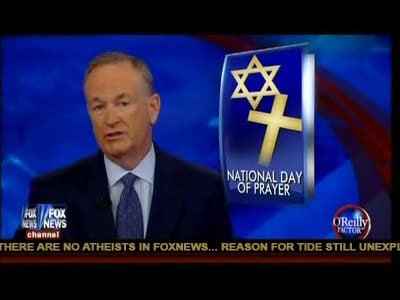 Wistful thinking. Maybe next time. 🙂
Anyway, I really do appreciate the Alan Colmes Show on Fox News Radio for having me on. They were kind enough to send me a copy of the segment.
Alan started off with what many people expect to be a stumper, "I don't think either side should have events…" I couldn't agree more, but I don't have a time machine to stop Rock the Fort from allowing military bases to become limited public forums. We tried to stop them. (2 wrongs don't make a right? That comes up too…)
I think it went well, check it out. (10 minutes long)
I'm also scheduled to return to Raleigh-based 680AM WPTF Talk Radio on Monday (2:00 PM Eastern).
The last time I was on this station, the phones blew the hell up so they kept me on for an entire hour rather than 4 minutes. That was perfect for me, because I could debunk myth after myth. By the end, I think even the host of the program was supportive, as were the last round of callers. I think I've gained a lot more in the way of communication skills since then, but that was certainly a welcomed trial by fire. But do be sure to tune in on Monday, August 15th at 2:ooPM (Eastern) – 680AM WPTF Talk Radio.
Meeting people is easy, and the issues speak for themselves.
Speaking of meeting people, Rock Beyond Belief got a huge mention on the Raleigh based
A-News:
the Atheist Video Podcast
Before they launch into their funny segment on how to meet other atheists, we get big props right at the top of the show.
httpv://www.youtube.com/watch?v=JjYdn2i1IRU
Brian Allen is pretty funny on a consistent basis. Check out Lee Moore for consistent interview skills. The girls are funny, and they debunk some myths. For instance, everyone knows that 'black cats bring bad luck' is a myth. But did you know that this and other cat-based myths are likely responsible for the Bubonic Plague wiping out huge swaths of Europe in the 14th century? Good stuff – keep it up guys.
Also, Lee swears he's not smoking a joint while talking to the guy from the National Atheist Party. Cool story, bro. He really is just smoking a cigarette though, FYI.
A-News are among the first to request media passes, and will be granted them. We are still fully developing the behind the scenes aspects of the program, but many major news outlets have already expressed their intention to film. Of course atheist-based journalists will get a little special treatment, so be on the lookout for some great footage from A-News in the future. 'Guy with a camera' – you don't count, nice try.