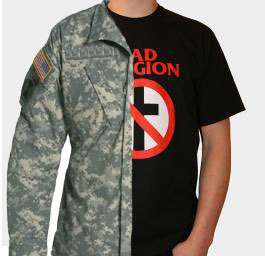 Okay, so you might be able to see this one coming. But I think you should read SGT Daniel Kloberdanz full account of the story.
He's not screaming for anybody's head or making a huge ordeal about it. It just came up in a conversation he and I had about a band we both like. It's worth sharing though, and I really like his take on it.
And most importantly, I like how unafraid he is to be a foxhole atheist. More of this, please.
It started with a common theme I see in my email box, a suggestion for a band. And in case you're thrown off by my photoshopping 'skills', no he wasn't ever attempting to wear a black shirt underneath his ACU's.
It's great to hear that they are actually allowing the show to happen.  It would be really cool if you could get Bad Religion to play, because they are really a good match for a show for the non religious.  Greg Graffin is the lead singer as well as a professor at UC Berkley, and he recently published a book entitled Anarchy Evolution- Faith, Science, and Bad Religion in a World Without God.  He could also be a very good speaker for events, if he has any free time.  But keep up the good work, and I'll continue to tell those that I know, that in order for people to recognize that we are legitimate, we have to raise our voices and drown out the arrogance that surrounds us.
That's a pretty awesome explanation of Bad Religion / Greg Graffin's contribution to the scene. Also, what an eloquent and passionate call to speak up about atheism in the military.
I explained that Greg was kind enough to attempt to make it work, but his schedule didn't allow it. It seemed like a reasonable possibility for a while. I certainly consider them to be one of my favorite bands of all time. Perhaps for the second round of Rock Beyond Belief festivals at the other bases. We'll see…
Bad, Bad Religion
Then SGT Kloberdanz (who of course, does not speak on behalf of the Army), shared a story revolving around his Bad Religion T-shirt.
That's too bad they can't be there, cause I would definitely haul my but from Ft. Carson out to Bragg just to see the play on Post.  They're one the most prolific punk bands and in more ways a positive influence on young people today.  The things that your organization stand for reminds me of this incident that happened to me in Korea.  On the weekends, especially Sundays I chose to dress very casual.  I really have no use for suits.  My favorite Sunday shirt is my Bad Religion shirt, and it really is non-offensive considering that it is a band shirt.

I had worn it into the DFAC plenty of times and the only comments that it had received on those occasions were "Hey cool shirt man" and "Bad Religion rocks."  But this one day I walk in there and get all the way to the serving line and this E-7, that was one of the new shift managers for the DFAC, stops me and says that I need to turn my shirt inside out, or leave.  Or that I could wear one of the lost and foud shirts that they had over it.

I looked at him and asked why, and he said that it was an offensive shirt.  I told him that it's just a band shirt, and he said "Well don't you think that it's offensive to have that symbol crossed out? Don't you think that that means no Christians? I'm a Christian and feel that's what it means."

He was trying to appeal to me on a theistic level, so I told him that I was an atheist and he went from dark brown to a pale grey, obviously I was some kind of evil in his eyes.  I was not going to debate him on the issue because as long as he feels offended he is in the right, and I was not going to change my shirt, turn it inside out, or wear someone left behind nastiness, so I left.

It turned out that all who watched this interaction ended up being more offended by him and his reaction to me, than they ever were by my shirt.  They just couldn't understand how my Bad Religion shirt was so much more offensive than the ones that portrayed gang violence, antisemitism, sexism, and even violence towards women, that he absolutely dismissed and never once checked or call out.  It just shows, that in the eyes of the theistic, of all the terrible things that a person can be, being a good person and an atheist is the most evil.

I swear, that when I told him that I was an atheist, he looked just like someone that had went into combat shock.  He lost the ability to speak coherently, his skin color flushed and you could almost hear his heart beating out of his chest.  His only reaction to me was absolute fear, as if I was going to steal his life, and all I wanted was some turkey and gravy.
Turkey and gravy. Not babies, folks.
I'd like to thank SGT Kloberdanz for sharing this story. I absolutely want to see more foxhole atheists sharing their experiences, be it funny, cool, happy, or even depressing. This one had a little bit of everything, and we hope that he remains safe on his current tour in Iraq. Stay strong, my man.
The truth needs to come out, and so do all the closet atheists. We need to normalize our position, otherwise we don't even have one. In the vein of the Richard Dawkins' Atheist Out Campaign, I'd like to invite any of my foxhole atheist brothers and sisters to share their pictures and stories too. Please indicate how 'out' you are, and your preferred title (if this applies).
Obligatory and relevant Bad Religion video included. "Along the Way" below the fold.
httpv://www.youtube.com/watch?v=F-JB5d8W3Do
Now we grow as we show that the morals we must know
Will be shapen and mistaken by the falls along the way.
But forget, don't regret, to find love and happiness
Unless you're willing to be strong when they are gone along the way.