The Army's controversial mandatory Spiritual Fitness testing and training has left a trail of confused defenders who are not all on the same page. They didn't all 'get the script' when it comes to the constitutional implications of  their program. Some say Spiritual Fitness and its interchangeable pseudonym Spiritual Resilience, is merely referring to 'Team Spirit' or 'Human Spirit'.  Most of its proponents, however, correctly assert that the concept is firmly rooted in religion.
Maybe this will help clear the air?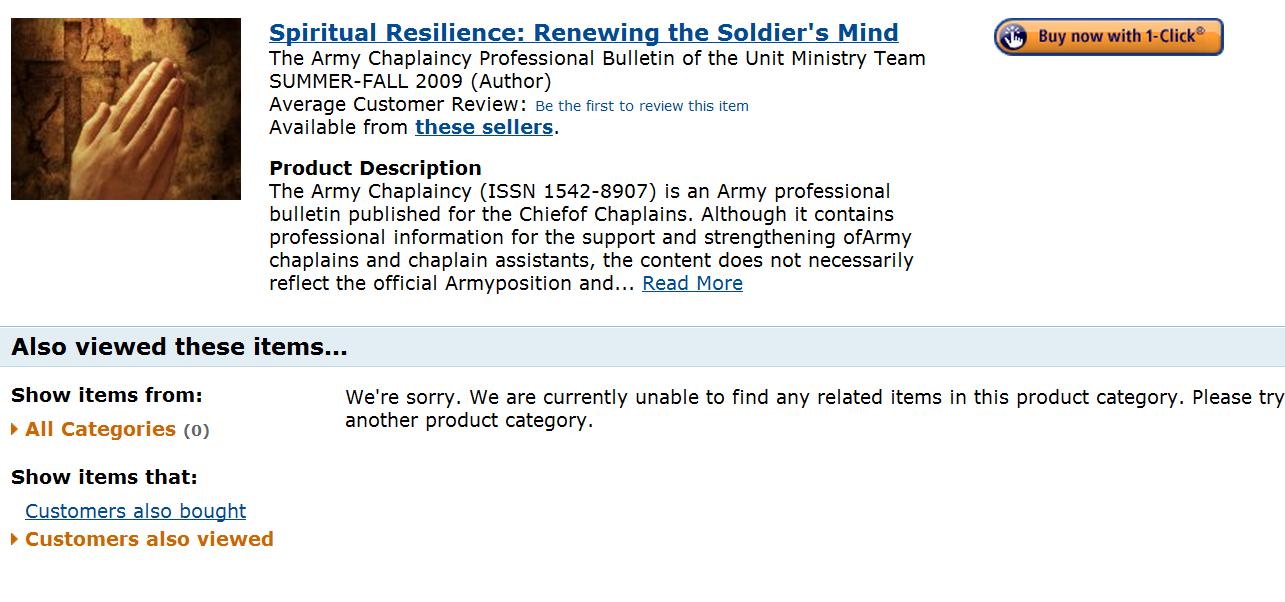 The above is a screen capture of the remnants of an Amazon.com sale for an $2.99 e-book titled 'Spiritual Resilience: Renewing the Soldier's Mind'.
You might notice that there is a warning label stating that this does not necessarily reflect the official Army position. Well, despite being removed from the Amazon market, this document most certainly still exists. And it is available on multiple official Army sites (note: it might disappear). There are several instances of this document containing official seals, signatures, ranks, and insignia. This is certainly Army literature.
This program is complete with an unconstitutional test for religion and hours of remedial training if you score poorly. Interestingly it peels back some of the complicated layers in the early stages of the Soldier Fitness Tracker's mandatory Spiritual Fitness component.
"However,defining spirituality or spiritual fitness and identifying the specific elements that contribute to resiliency is both challenging and difficult to determine." – Chaplain (Lieutenant Colonel) Dean Bonura
"Loss Of Faith" as a symptom of Post Traumatic Stress Disorder.
I think most people can agree that something as serious as PTSD needs to be treated by a doctor. Sure, some religious Soldiers may want to seek out some spiritual guidance on top of that. That's perfectly fine, but we're talking about mandatory testing and hours of remedial training regarding spiritual fitness and resilience for all 1 million + Soldiers.
Air Force, Navy, Marine Corps, you're next.
CH Bonura continues:
"…draws several conclusions that can be useful to chaplains who provide spirituality-based interventions for Soldiers, especially those who suffer from combat-related trauma or stress."
Hefty statements about applicability of Spirituality are thrown around without a citation often sandwiched between heavily sourced quotations for non-religious findings about coping. Like this one,
"…research indicates there are also spiritual effects such as guilt, grief, shame, alienation, loss of meaning, and loss of faith that are spiritual symptoms of PTSD among many others…"
Then anecdotal evidence [read: not scientific] is presented to 'prove' the efficacy of Spirituality for coping. This time all pretenses toward the meaning of the term 'Spirituality' are dropped. Spiritual resilience is now firmly rooted in religion (again).
"…Jack does not suffer from PTSD. His symptoms are lessening and he is able to function well at home and at work. Many factors influence the development of PTSD symptoms.  They include: upbringing, age, sex, social status, education, and previous exposure to trauma. Nevertheless, Jack believes his strong sense of spirituality moderates his trauma symptoms and enables him to cope with his wartime trauma. He comments:

The only way I have been able to get over my experiences is by reading my Bible, attending Bible studies, attending [worship] services, and having a strong family base. A lot of Soldiers I see don't have a deep-seated faith or roots; those are the ones who can't handle it. My faith in God and my leaders help me…I know everything is done for a purpose. God has a plan for my life. I think it [combat trauma] is ultimately to make me stronger"
"Survey Says… BS!"
One group of researchers apparently did a small study on resiliency. Spirituality is the least important of the factors tested for! But look how the data is spun to 'show' the opposite.
In the study conducted by the author, the presence of spirituality played an important role in moderating wartime stress and trauma. Among 165 Soldiers surveyed, 43 percent acknowledged their spiritual beliefs highly enabled them to cope during combat. Other resiliency factors included the support of comrades, support from the home front, mission focus, and unit teamwork. The following chart reflects survey data compared to similar data gathered from personal interviews(N=30) the author conducted as part of the study.
This sample is so tiny that it's results are meaningless. But it did collect some data…
The data demonstrate the continued need for such programs as Strong Bonds, other unit-based spiritual fitness programming, worship services,prayer meetings, and personal worship.
The data demonstrates the opposite, if anything at all. It demonstrates that anonymously, Soldiers rank Spirituality last, and that an even tinier subset of 30 of these Soldiers prove that the entire data set is false or flawed. Or perhaps the interview was coercive, or that people who aren't religious (or less religious) will be honest about it on an anonymous test, but not in a face to face situation. I receive a constant supply of letters from non-religious Soldiers who feel the need to hide their religious preference from their command, so this would not be surprising.
An 'interfaith approach' to Spiritual Fitness.
They lose their veil of confusion when repeatedly pretending that Spirituality was referring to 'team spirit', and similar variations of word games. For instance, Jewish Chaplain, Chaplain (CPT) Henry C. Soussan reinforces the Constitutional problem with government mandated Spiritual Fitness testing and training.
Like exercise and physical fitness, spiritual fitness requires a routine. According to a Talmudic tradition,when a man is brought to his Maker to give an accounting of his life, one of the first questions he will be asked is: "Did you set aside time for daily Torah study?"

In other words," Did you take time out to fortify yourself by listening to God's instruction, wisdom and knowledge?"
Muslim Chaplain, (LTC) Abdul-Rasheed Muhammad says,
"It has been shown through research that the very act of believing (in a Higher or Supreme Authority) adds to our resilience."
No. It does increase your chances of going to prison or getting divorced (in the US), however. Interestingly, research has also shown that a democratic nation's percentage of atheist citizens rises depending on that countries GDP. The wealthier / healthier one is in these nations, the more likely one is to be atheist.
Chaplain (LTC) Abdul-Rasheed Muhammad continues,
"Like emotional resilience, spiritual resilience grows when shared. I would also add that, not only those that have accepted the existence of a Supreme Being as a guiding, omnipotent force in their life, but also those who respectfully fear his displeasure, will find themselves being more resilient, especially during times of uncertainty. Therefore, if one relates this process to spiritual resiliency, one might expect a Muslim, Christian, Jew, Buddhist, Hindu, or other followers of religious doctrine, to demonstrate a greater capacity to withstand most crises or life-altering situations, particularly those individuals that practice their faith on a regular basis. It is here that the Arabic term taqwah finds its established context in Islam"
This is saying that not only do you have to believe in a god, but you have to fear him to be more resilient. Despite not really applying to a large portion of the Buddhist or Hindu belief system, the sentiment is applied to protect them from the real jab. The obvious target here is the atheist. The interfaith approach still fails ethically, and constitutionally.
Spiritual Misfit
I would have little problems with these sorts of statements being said by the chaplaincy in their chapels, within their congregations. Chaplains minister according to their ecclesiastical endorsements. And in their weekly sermons, they can reasonably be expected to make statements that are sectarian [e.g. "You must accept Jesus Christ to go to Heaven," implying or even saying that Muslims, Jews, Buddhists, Wiccans go to hell for eternal torture.]
As an atheist seeking a Chaplain-endorsed leadership position, I'd reserve the right to make statements critical of religion to the local Military Atheists and Secular Humanists (MASH) group I organize, and on non-theist blogs (like this one). The remedial Spiritual Fitness training even suggested that 'creating an online blog' would improve my Spiritual Fitness.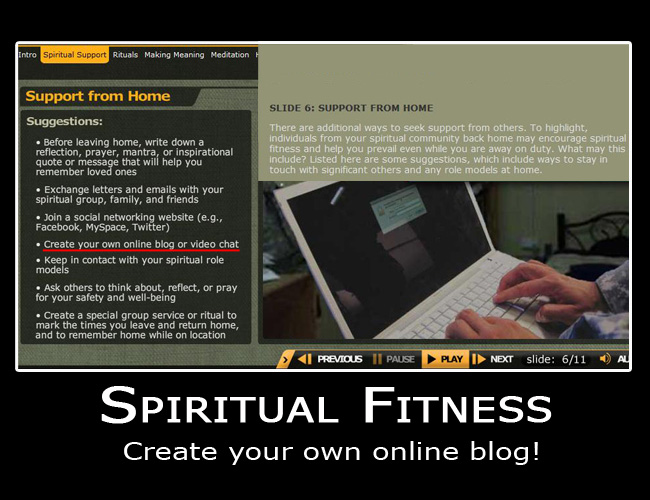 So, just as a Christian chaplain would likely tell his congregation that accepting Christ is the only way to heaven, and that non-Christians are going to hell – I too should be officially recognized by the chaplaincy with the understanding that my in-group speech is sometimes critical of out-groups.
As a former Christian, I understand the importance of pastoral care to a believer. If a Soldier seeks spiritual guidance from a Chaplain, he or she should expect theological conversation to follow. That's what the Chaplains are there for, and they tend to do a great job at it. This works because the Soldier actively sought out religious guidance, and it wasn't pushed on the Soldier. However, this Spiritual Fitness stuff is *mandatory* in both the testing and remedial training for all U.S. Soldiers. Not only is this stuff 'pushed' on Soldiers, it is required under threat of serious punishment.
The testing and training is part of a larger set called Soldier Fitness Tracker, which aims at reducing suicide. It's pillars are Emotional, Family, Social, and Spiritual Fitness. Even if the Spiritual portion was simply made 'optional', it still sends a bad message: Less religious people are going to kill themselves unless they "get right with God".
It needs to disappear. Just like the mysterious Amazon.com e-book for sale in 2009.