Pleased to meet you, FTB!
I'm a foxhole atheist. Though I do not speak on behalf of the DoD in any way, I am an active duty Sergeant in the U.S. Army, currently deployed.
We are the last untapped demographic in the Out Campaign. The negative stereotypes, myths, and misunderstandings that are universally applied to atheists in America are even more intense in the military. It's because many of us have been too afraid of retribution, and jeopardizing our careers to even come out and say "I am an atheist." This silence has lead to an unchecked growth of fundamentalism for decades. Enough is enough and it's time to come out, and come out swinging if we have to.
I receive regular threats of violence. Our children are even on the receiving end of expensive proselytizing efforts. Hundreds of millions of your dollars are being spent on attempting to convert people to Christianity. Just a few days ago I leaned about a Marine getting arrested (albeit briefly) for not going to Church. Within an hour of posting three more Marines contacted me saying the same thing had happened to them.
The Army has even started testing us for Spiritual Fitness on annual basis. I failed, so they provided me with a 1-800 number for a suicide hotline, and pointed me to the mandatory remedial training modules. That's where I found this: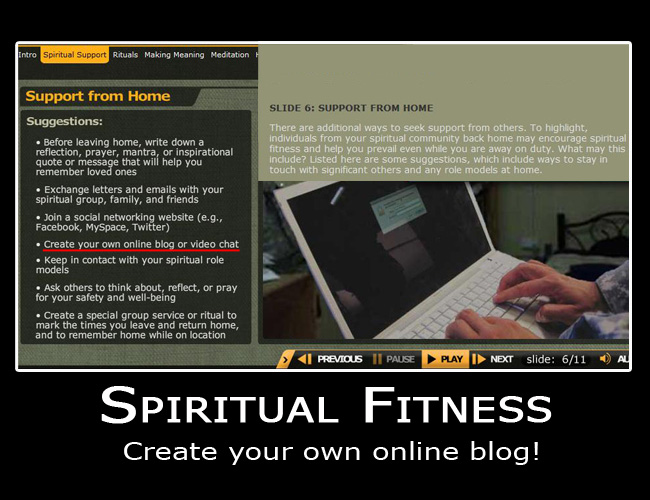 Don't mind if I do… don't mind if I do. Thanks for joining me on my amazing Spiritual Fitness journey – right here on FreethoughtBlogs!
Anyway, I'm sick of it. I'm doing my best to change things on many fronts. Speaking as the Military Director for American Atheists, you civilian-types can actually help out quite a bit. Trust me, I'll let you know how and when. Here are some of the things I've been working on. It's a good introduction anyway.
Rock Beyond Belief
On Sep 25, 2010 Fort Bragg was 'treated' to an evangelical festival, billed as a Spiritual Fitness event. Their stated goal was to convert as many soldiers and civilians as possible to their version of Christianity. I personally received dozens of fliers, posters, and official mass-emails. This thing was over the top, with rock climbing, bounce houses, and even para-troopers jumping in (at least one of whom was an atheist).
Nearly every secular organization demanded the cancellation. A common tactic is to issue a phantom offer promising to support 'any other group'. Within a few days, I was proud to be the first one to take them up on this offer. They laughed us away until we started getting traction from people like Richard Dawkins, mainstream press, and a flood of letters on our behalf from the atheist community. It was an extremely rough battle, but we've now secured the full support that we were promised.
Now, our event is poised to be a catalyst for real change in the military. On March 31st, 2012 the Rock Beyond Belief festival will be taking place at the Main Post Parade Field on Fort Bragg, North Carolina. It's free, and we've secured the post's open invitation to the public.
RBB is right after American Atheists, Inc takes over Washington D.C. with their convention and of course the Reason Rally. You do love 'merica, don't you? I'll see you at all three.
Spiritual Fitness
The Army's new mandatory Spiritual Fitness testing and training is shameful and un-American. When I broke the story on December 22nd, 2010, my website crashed as millions of people tried to access it. I've relentlessly kept the public informed and engaged the media directly. I'm currently involved in the upcoming litigation against the Army's Spiritual Fitness component, and continue to carefully exhaust all administrative remedies at great cost in time and effort.
You should really check out the ghastly Virtual Spiritual Fitness Center. Also, take a look at an example from the training I received – it taught me how to fold the American Flag!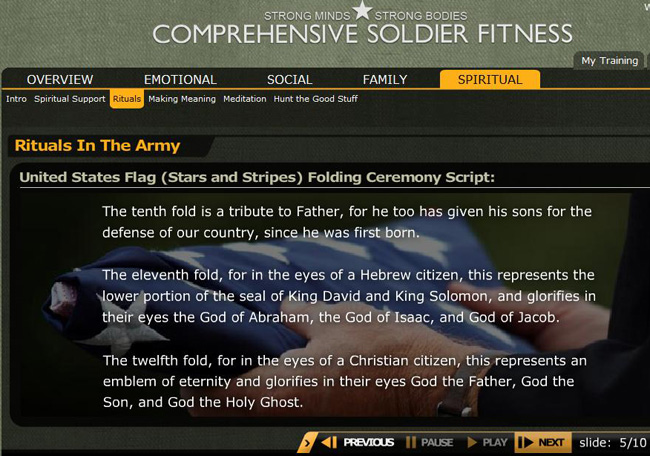 What the shit!?
If that doesn't make you angry or depressed, something is wrong with you. Perhaps you should read this story about what happened to a group of soldiers who were forced to see a chaplain to get 'born again' when they failed the test.
M*A*S*H Fort Bragg
Military Atheists & Secular Humanists (MASH) Fort Bragg is the local group I started back in January. We now have over 100 members, and have filed all the paperwork necessary to become the first group in the country to get recognized by the chaplaincy. We're in a weird holding pattern right now. Worse, we're actually banned by U.S. Army regulations from meeting on post, even in a gazebo!
There are some who must think that we are going to burn down the chapels, and then go out and eat all the neighborhood babies. Not so. Many large atheist meetup groups meet in Unitarian churches in my experience. It's a bizarre situation, but the efforts at MASH Fort Bragg are paving the way towards a lasting solution to the problem.
MASH Fort Bragg has been donated T-Shirts by FLASH, an affiliate of American Atheists. We may be banned from having official meetings, but we can still participate in all of the 5K Runs, and other family-oriented events Fort Bragg holds every month.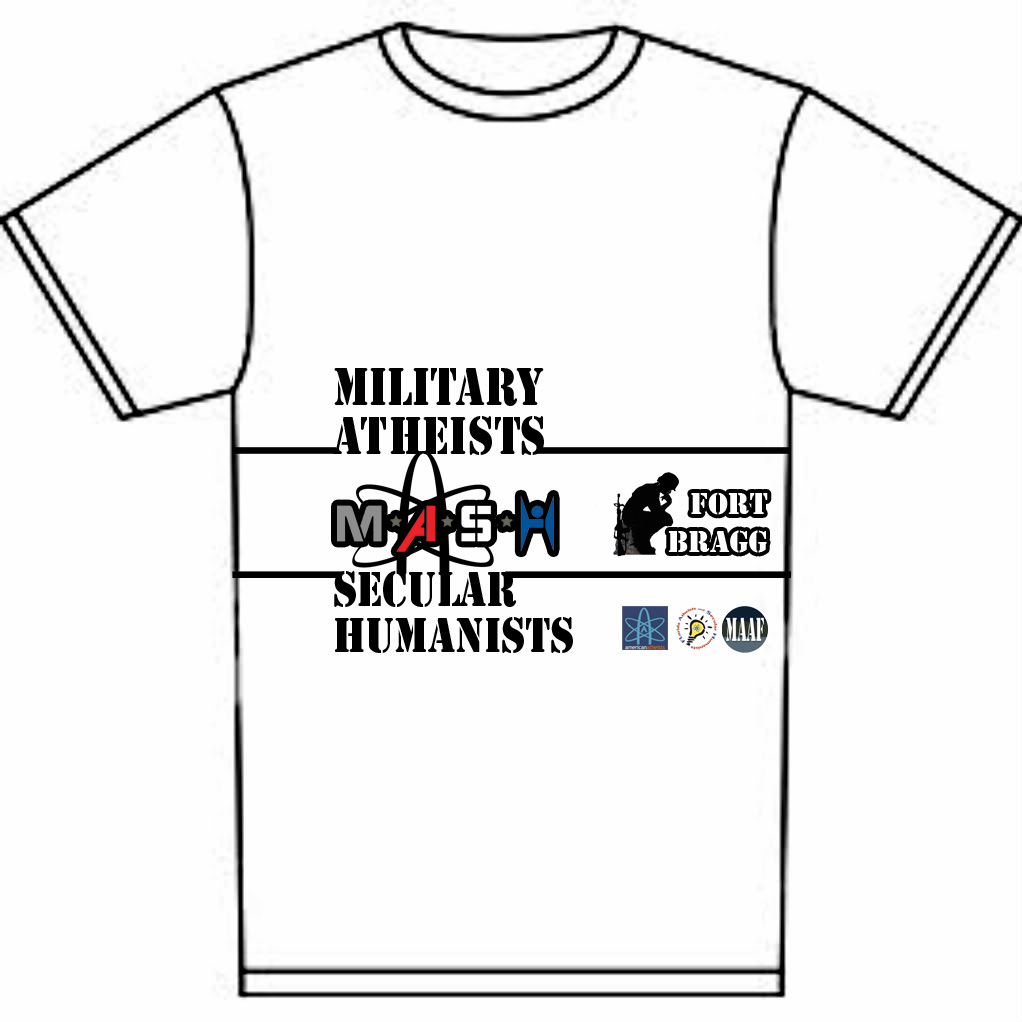 MASH Fort Bragg has inspired many other groups, and Jason Torpy at MAAF has absorbed the national effort. If you're local to Fort Bragg, we desperately need you (civilians are more than welcome). Join us! If you are near another military base, join or start another chapter – Contact MAAF.
Well I'm excited to be here on Freethought Blogs. I'm excited to be in the military right now, on the cusp of a very real change. I've felt an incredible amount of support coming from the atheist community. Please continue, it's actually starting to work.