The following is sent in by David Z. – A former Marine Corps NCO. My contributions are clearly marked. Last week, David told us about his experience in boot camp and advanced training where he was briefly arrested for not attending an all-faiths religious service.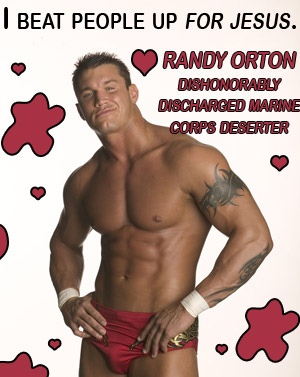 Taking shit from dishonorably discharged WWE Wrestler Randy Orton
Shortly after the public conversation, I had an encounter with another recruit.  I am not sure if you watch WWE wrestling.  I don't but if you do, you might recognize the name Randy Orton.  He was one of the squad leaders in my platoon.

I am a rather small guy, even more so back then.  I was probably about 5'8″ and 120 pounds.  Double Rats recruit FTW [JG: this means he got to eat twice as much food, civilians.]

I was doing pull-ups on the quarterdeck during some free time.  When I hopped off the bar, I turned to find this huge future wrestler glaring and blocking my path in an imposing manner.

He uttered the words, "You better believe in jesus, boy."  I was shocked.  I wasn't sure if he was trying to make a rational argument, or if he was trying to bully me into Christianity. Whatever it was I decided it was the worst attempt I had ever faced.  Instead of engaging him, I just laughed in his face until he walked away.

After boot I hear he received a Dishonorable Discharge for going UA and telling his CO to fuck off. [JG: I confirmed the discharge. He received a short prison sentence for his crimes in the Marine Corps followed by a bad conduct dishonorable discharge.]
Coupled with the rest of his experiences in Boot Camp, this is unfortunately a pretty typical experience. Within an hour of posting the story of his brief arrest last week, three other Marines wrote in saying they had similar experiences.