Jason Torpy, president of MAAF, sent out a request for some visibility on his remake of the Army's insane Virtual Spiritual Fitness Center. I thought that was a pretty fun idea.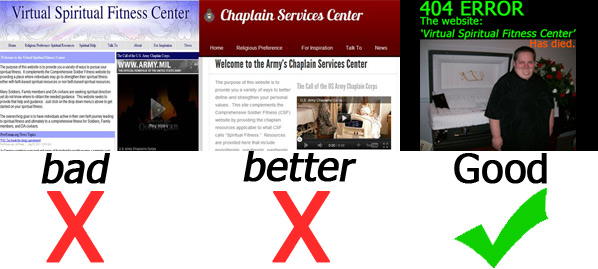 I remember telling Jason in late March about the ridiculous website. We both kept finding more and more crazy stuff. Remember, this is brought to you by the same department that brought you the *mandatory* Spiritual Fitness testing and remedial training. You, remember… the stuff that has 'nothing to do with religion' and is 'about team spirit and human spirit'.
I demanded they close the ghastly thing, and frankly I thought they were going to out of sheer embarrassment. Anyway, Jason and I also blasted them about many things that needed to be corrected for the sake of logic. For instance, I pointed out that atheism is a religious preference but is not a religion or faith. They recently changed the 'Faiths' tab to say 'Religious Preferences'.
That's nice… all better now. Or not.
Jason Torpy's version: give it to the chaplains.

Much better, but it fails to address the issues of it's existence being justified by MY Spiritual Fitness test results! Also, this approach fails to address the REAL WORLD versions. Like the one in Fort Hood that costed you taxpayers 30 Million dollars.They already have chapels, this is something new. This needs to be stopped!
The whole website is dedicated to helping U.S. Soldiers increase their religious fitness based on an unconstitutional test.
Justin Griffith's version: 404 – Kill that website right now.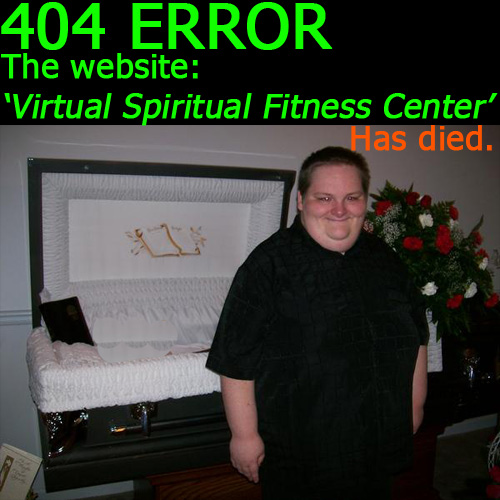 No idea who this kid is, but somehow he captured my sentiment perfectly. Such a disturbing picture, no?