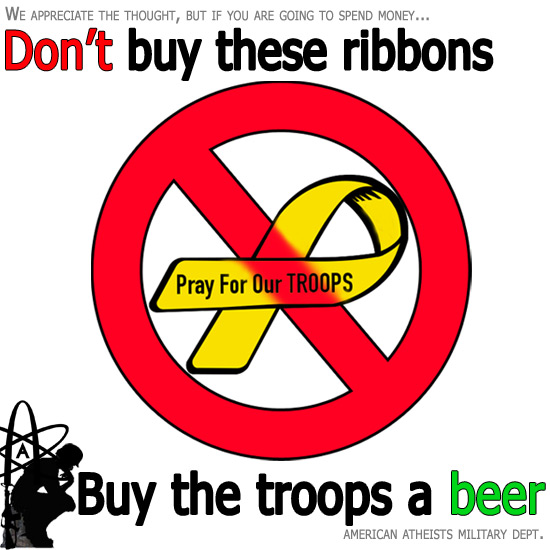 …
Seriously.
The "Pray for our troops" ribbons, stickers, and magnets have only proven to help the makers of ribbons, stickers, and magnets. For the same price, you can just buy one of us a beer.
I showed a few (religious) soldiers this today. Typical reply: "Hell yeah!" We already have armor and technology to protect us. We have doctors to mend the wounds that can be healed. Some still wont make it, and the ones that do will proudly raise a glass in their honor.
I haven't had a beer in several months as deployed troops are forbidden to partake. I'm actually much more excited to see my family, friends, and just get back to America. But man, a beer sounds pretty good. I get asked 'can I buy you a beer?' quite often. YES!
How do I buy the troops beer?
In person:
We're not hard to spot if you live near a major airport or military town. Look for the haircut, really. All you have to do is just buy that service member a drink. Or give him or her two bucks that say "I was going to waste this on a sticker, now I want you to waste it on beer – enjoy!"
It will make their day, I promise.
Also in person:
At the Rock Beyond Belief festival – Fort Bragg, NC. There'll be a ton of us on March 31st, 2012, and it's totally free. This may only happen one time, and it might be the most important freethought event in a decade (totally pulled that out of my ass though haha.) You can get your picture taken with us, or the secular 'celebrities', or the Army's Golden Knights Parachute team (weather permitting). Also, free childcare, and free admittance. Bring a blanket.
I want to donate my $2, but troops are so far away. Can't I just click on something?
Yes, but you might as well get a six pack. We're thirsty! If you do click on the donation link for American Atheists (I'm the Military Director), be sure to mention it during the typing/clicking phase of the transaction. Dave Silverman says I can't really spend the money on beer. But on the upside, 100% of the money will go towards activism.
But for now, please spread the image as you see fit. It will get a lot of 'likes' from actual troops. Hit those buttons at the bottom if you use that stuff. That type of support is even cheaper than a beer!