This one is a bit of a head-scratcher.
There is a Christian themed Japanese 'manga' (comic book) now frequently offered up to soldiers.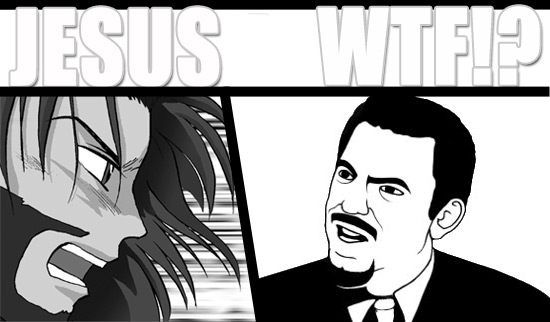 Yeah. Luckily the David Silverman 'WTF Guy' meme was ready to go. I have 'no idea' where all the extra copies might have come from… How did this thing not sell out!?!?!
Look, they totally nailed it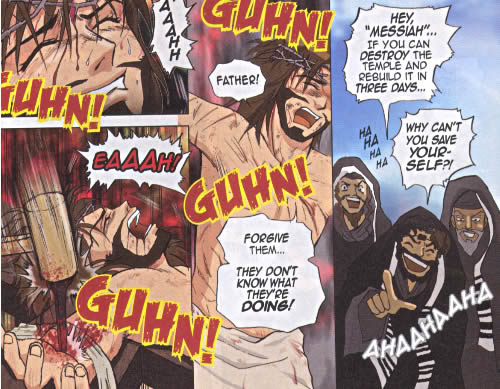 That's a scene from The Messiah from NextManga. This 54 page full-color 'authentic Japanese' manga does a decent job as far as the artwork is concerned. Noticeably, it reads left-to-right, like American / Western books.
However, I can't help but use that super-sped up voice acting a la Speed Racer dubs when I read each person's line. Try it! It's kind of how I read these stories now anyway.
"HAHAHA – WHY CAN'T YOU SAVE YOURSELF, HA-HA!"
"HA HA HA HA!!!! RACER X WILL DESTROY YOU IN NEXT WEEK'S RACE, HA-HA!!!"
I suppose there's nothing wrong with these things existing or being offered at the chapels. It just seems self-defeating to call to attention just how hokey the story kind of boils down to. You should see the "but, but, but… I'm a VIRGIN!" panels of Mary.
Part of me wants to defend this thing because it's aimed for younger audiences (another part of me actually hates that). But then again, if it's designed for children – why the hell is it out here in the sandbox?
I'm just sayin'…
EDIT:
This is almost certainly the same Anti-Semitic manga comic that has been circulating in Uganda, and other areas.
It is being funded by international anti-gay anti-Jewish evangelists. Read this article for an early warning that apparently went ignored. 
"…An astonishing 17,000 visitors were attracted to the Megumi Chalet mountain resort for the special light display. Campaigners distributed over 12,000 candy canes, 25,300 tracts and 1,300 copies of the "Manga Messiah," a popular Japanese-style comic that details the life of Jesus. Fifteen Singaporean participants had raised approximately 3,800 Euros (5,000 USD) to help fund the purchase of the illustrated books…"

Is the "light of Jesus" tinged with anti-Jewish hatred ? The OM article implicitly raised the question as it enthused, "Pray that everyone involved will keep Jesus' light shining in their lives, and that more evangelistic and mission efforts will take place in Japan."

But, the distribution, in Japan, of Manga Messiah represents only a tiny fraction of the global effort to spread the anti-Jewish Manga comic. In Uganda, over 400,000 full length copies of the 360 page-plus color comic book have been distributed to Ugandan schoolchildren, by the Ugandan government and with the endorsement of Uganda's first lady, Janet Mouseveni. The plan, reportedly, is to distribute another 400,000 (at least) but the Ugandan (Anglican_ Church, under Archbishop Henry Orombi, also known for  his virulent tirades against homosexuality, plans to distribute ten million abbreviated copies of Manga Messiah (pared down to a cheaper 64-page version).

Henry Orombi has claimed, in a June 13, 2007 public address in Uganda, that "Acts of homosexuality and lesbianism have infiltrated our schools, especially secondary schools." The Archbishop went on to declare that he has "personally joined the war" against the alleged 'invasion', which Orombi associated with the "moral decay of society." Orombi's statements about the alleged threat have included the suggestion that gay assassins might be plotting to kill him.
Read the full 2oo9 article at Talk2Action for more. I'm shocked that I've got one in my hands. Seriously.