The University of North Carolina at Greensboro campus has a very active Atheists group. UNCG- Atheists, Agnostics, Skeptics are a chapter of the Secular Student Alliance, so it's not surprising to hear that they are up to some meaningful activism.
They have attracted some veterans of their own, and decided to actually do something meaningful on Veteran's Day.
Veterans Day is an opportunity to honor our servicemen and women who have fought for our right to organize apart from religion.  So we feel immense gratitude to be among the honored when we spent Sunday night with Disabled AmericanVeterans, the official organization that provides tireless representation and service to those who sacrificed for our country.  With DAV, ten members of our godless group raised nearly $500 at two Golden Corral locations in Greensboro.
Awesome.
And here are some pictures: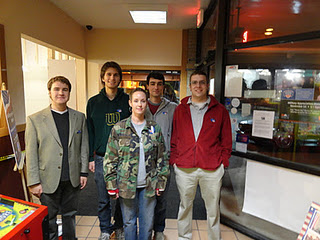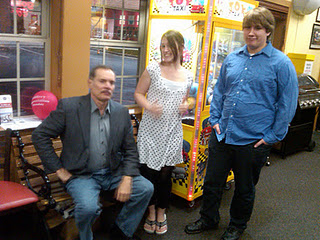 I know for sure that James Muldoon, seen sitting down near the claw machine, is a veteran!
Anyway, 10 students raising $500 is definitely not an easy thing to do. I've read about many student organizations that consider raising 20 bucks a 'huge success', so hat's off to you!
Daniel Foster (grey hoodie in the first picture) wrote to me on facebook:
"Thanks for all your hard work to organize rock beyond belief. Our group is really excited about going to it next year."
RIGHT ON!
Daniel wasn't aware that I had actually attended their events in the past (it is a bit of a drive) – and I have to tell you I was impressed. Look what they've been doing at Greensboro City Council meetings:
UNCG Atheists VS City Council prayer invocations
http://www.youtube.com/embed/9nx2m39QFXI?
This was only one of their many pleas to return to the 'moment of silence' tradition that had previously been in place.
Perhaps their relentless pursuit had some real world effect. Daniel tells me that the new Greensboro Mayor has promised the area's atheists that he would put a stop to the opening prayers at City Council. He will give me an update next month, as the new Mayor takes office on Dec. 7th.
UNCG Atheists VS Crazy creationists (over a hundred in attendance including ME!)
This thing was packed. And the Atheists absolutely wiped the floor with the other side. The atheists were represented by military veteran and group founder Staff Sergeant Phillip Drum, as well as Josh Deaton from the City Council video above).
I actually got in a question at the end. I asked the creationists a question about science – and the results were hilarious. I mentioned that Leviticus speaks of 4-legged insects.
Leviticus 11:20-23
New International Version (NIV)
 20 "'All flying insects that walk on all fours are to be regarded as unclean by you. 21 There are, however, some flying insects that walk on all fours that you may eat: those that have jointed legs for hopping on the ground. 22 Of these you may eat any kind of locust, katydid, cricket or grasshopper. 23 But all other flying insects that have four legs you are to regard as unclean.
Watch what happens, and note the unfortunate acceptance of the extremely weak answers by the applauding religious half of the audience.
You'll have to fast forward to 7:33 – (edit: should play from correct spot now)
httpv://www.youtube.com/watch?v=GqnaIQVZ3tQ&start=453
The creationists missed the entire point of the question. They thought that explaining that 'the verse was only talking about *some* insects having 4 legs' that everything was just fine.
Sorry, fundies. If such a creature existed, it wouldn't be an insect. Arachnids have 8 legs. Insects have 6. An arthropod with 4 legs would simply be called something else (and I can't find an example).
From wikipedia:
Other terrestrial arthropods, such as centipedes, millipedes, scorpions and spiders, are sometimes confused with insects since their body plans can appear similar, sharing (as do all arthropods) a jointed exoskeleton. However, upon closer examination their features differ significantly; most noticeably they do not have the six legs characteristic of adult insects.
So even a single species of insect, whether still extant or not, simply can't have 4 legs.
I've seen dozens of other translations of this passage. Many translations make the problem even worse, saying things like 'winged creatures with four feet'.
These guys fumbled hard, both admitting that a scientifically impossible creature must surely exist because the Bible is never wrong.
Keep an eye on this group.
I think UNCG has distinguished itself as a group that actually does grass roots activism, and does it well. If you live in the greater Greensboro area, you should support this group.
I'm adding their blog to my RSS reader for updates – you should too.
This is just one of those groups you need to pay attention to.
Side note: Many of you need to update your RSS subscriptions to my blog. I'm still getting a lot of traffic from the old site. The blog is going away there entirely. Please subscribe to me HERE.