A jarring picture has surfaced after being mailed to reporters at Military Times.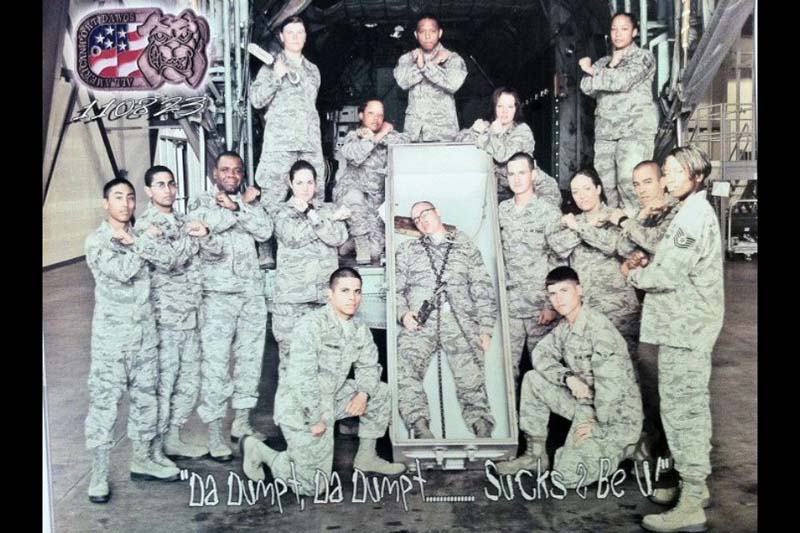 This is extremely offensive to many of the families of fallen soldiers here at Fort Bragg, NC. A Non-Commissioned Officer, and friend of mine told me about this story. He described the situation, and both of us just thought "What the hell were they thinking?"
David Larton, staff writer at Military Times stated:
The commander of the 37th Training Group at Lackland Air Force Base, Texas, has launched an investigation into a photo of 15 airmen posing with an open casket, in which another airman is posed with a noose around his neck and chains across his body.

"Da Dumpt, Da Dumpt …. Sucks 2 Be U" is written under the photo, which was emailed to Air Force Times.

In the picture, tech sergeants and staff sergeants stand with junior airmen surrounding the metallic casket, similar to those used to carry war dead home to the U.S.

The purpose of the photo, its inscription and its intended audience are not known. It surfaced one month after the public disclosure that the Air Force's Port Mortuary at Dover Air Force Base, Del., had lost and mishandled the remains of hundreds of fallen troops.
So this picture surfaces at exactly the wrong time for the Air Force. The safe transport of the remains of fallen heroes is a no-fail mission. When hundreds of instances of serious neglect result in lost remains, heads are going to roll.
Scapegoat or not, I'm fairly certain that all NCO's pictured are going to be among the heads rolling. The junior enlisted were not without fault either, but I doubt they will be sacked simply for being where they were told. It's difficult to tell how culpable they are without more information, so who knows.
The Military Times piece did not offer a reason why such a picture was taken. It looks to me like a 'team picture', for a particular graduating class, or squadron from the training school. These people likely thought it was just going to be used for their own team-building efforts. It just seems like a bad idea got out of hand, but nobody realized how far it would go outside the school house.
Judgement calls like this are difficult to make preemptively. We sing cadences about pretty horrific stuff – 'Napalm Sticks to Kids' comes to mind. Some of the reason for using humor is to normalize and relieve stresses associated with the military lifestyle.
But clearly something needs to be done to stop whatever 'humor' was supposed to be portrayed here. If you have to explain a joke, it wasn't very funny. And this is probably one of those 'bombs and airports' situations, where there is little room for humor at all.
The noose is likewise disturbing, and equal parts puzzling.
I don't even understand the caption. It's conceivable that the caption "Da dumpt, da dumpt… Sucks 2 Be U" was their motto or some catch phrase or inside joke. It didn't translate well in writing.
An investigation was launched, but details have not emerged.