President Obama came to Fort Bragg yesterday to announce the news. All of our troops are scheduled to arrive home before Christmas day. This is ahead of the previously planned December 31st 'final out' date.
How does a foxhole atheist feel about this? The same as my religious brothers in arms – elated. Nothing could possibly be more appropriate than John Lennon's "Happy Xmas, (War is Over)"
http://www.youtube.com/embed/yN4Uu0OlmTg?
John Lennon, of course, was an atheist. His music, and his life greatly influenced so many of us. Even people like myself who were born years after he was murdered.
I think this music video really captures all sides of war. Intertwining the terrors of war, so they aren't lost or forgotten, with the smiling faces of fighters returning home… it makes for quite a moving display.
The subtext about Christmas is an excellent way for atheists to deal with the holiday season. It's a time to reflect on the past year and make improvements for next year. This is deeper than a simple New Year's Resolution. He's speaking about equality, tolerance, and understanding. Coupled with his every-man's appeal, this is closer to a New Years Revolution.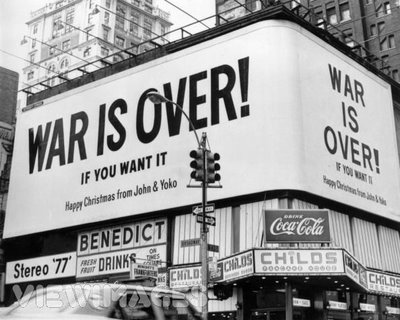 I don't celebrate Christmas, and I don't celebrate war. Every Christmas, I volunteer for 24 hour staff duty so that a Christian can be with his or her family. It's one of my methods of taking my fight for respect, tolerance, and acceptance to a face to face level.
War is over, happy Xmas!