Christopher Hitchens has died.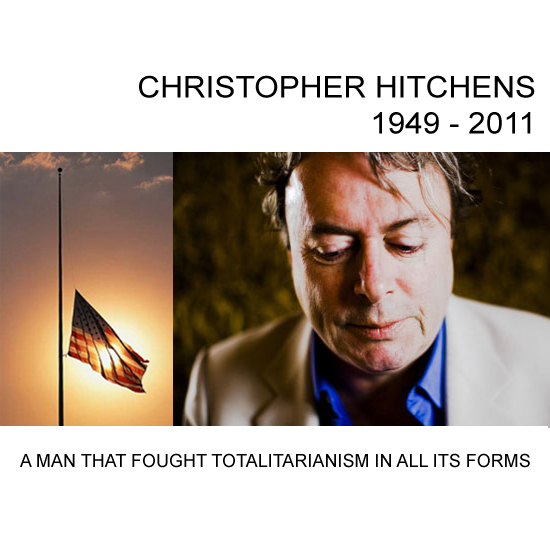 When asked about his own death, he was understandably concerned about his legacy.
In November 2011 George Eaton wrote in the New Statesman:
"The tragedy of Hitchens' illness is that it came at a time when he enjoyed a larger audience than ever. Of his tight circle of friends – Amis, Fenton, McEwan, Rushdie – Hitchens was the last to gain international renown, yet he is now read more widely than any of them." Eaton said, Hitchens would like to be remembered as a man that fought totalitarianism in all its forms but many remember him as a "lefty who turned right", remembering his support of the Iraq War and not, say, his support of the War in Bosnia on the side of the Moslems. Eaton concluded, "The great polemicist is certain to be remembered, but, as he is increasingly aware, perhaps not as he would like."
With significantly more time in combat zones than many military members will ever rack up, it only seemed fitting to put the flag at half mast for him.
The somber irony of his passing just as the Iraq War is ending is hard to miss. I think he already escaped the pigeon hole he lamented about in his final weeks.
To that end, with my head held low and glass held high, I am celebrating this mans lifelong passion for confronting totalitarianism in all its forms.