This display will be going up as early as tomorrow morning at Travis Air Force Base, courtesy of American Atheists.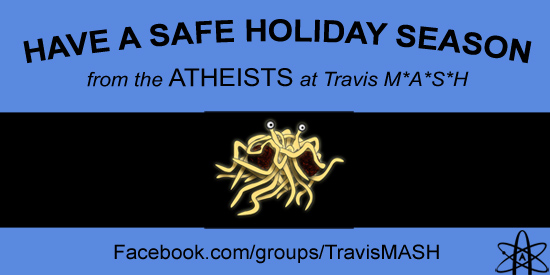 Rawlings says the artwork including images of the Flying Spaghetti Monster is playful. Civilians will probably miss out on the real in-joke here. The entire military has inescapable and seemingly endless 'safety briefings'. It was pretty hilarious when Travis AFB officials seemed to side against 'safety' at first.
As a tradition, every squadron on Travis AFB submits a Holiday card in 4 ft x 8 ft hand painted displays. Each 'card' therefore represents dozens, perhaps hundreds of people. Somehow this year two squadrons broke with tradition. One 'card' was actually a full-on nativity scene – with figurines, not some painting. A hastily prepared Menorah was added, I guess because they think we are idiots. They are apparently suggesting that an entire unit is Jewish.
I asked the relevant players in the story how I could get into contact with the statistically miraculous all-Jewish unit. The Chaplain told me that he could not answer that question at this time, and directed me elsewhere. Mr. Monroe, Public Affairs for Travis AFB did not return my calls.
An active duty atheist, Staff Sergeant Dan Rawlings' request to put up a display at Travis AFB was initially denied by his chaplain. The reason given was that Air Mobile Command, the 'higher headquarters' for the base, was investigating the situation and could not alter the existing controversial display. This nonsensical answer suggested some sort of 'crime scene preservation' strategy.
As the Military Director of American Atheists, I immediately got involved – supporting Staff Sergeant Rawlings noble struggle. Within 24 hours of our outreach, things started changing. The extremely innocuous message – "Have a safe holiday season" – is now allowed. It's quite puzzling why such a sign was denied in the first place.
Also, aren't we now disturbing the supposed crime scene? YES.
The Military Religious Freedom Foundation had been fighting the illegal Nativity Scene / token Menorah display since even before Staff Sergeant Rawlings contacted American Atheists. Mikey Weinstein, President of MRFF, says the Nativity (crime) Scene, and token Menorah still need to go.
And Mikey is absolutely right. Due to the fact that the base was only willing to actually be pluralistic when the media came around, this new sign does not fix their discrimination. Nor does it remotely come close to making this constitutional. If people are worried about preserving the 'holiday card' tradition, they better start calling Travis Air Force Base and demand they remove the Nativity (crime) Scene and Menorah.
American Atheists are proud of Staff Sergeant Rawlings' efforts. He is not a squadron, but his holiday card efforts have alerted 25 other atheists on base that each seemed to think they were 'the only one'. They are now organizing on the Travis MASH facebook group, and other efforts are coalescing in the larger 'national American Atheists Military' facebook group. Please click both and show these people some love!
So Dan Rawlings truly does represent enough people to earn a holiday card. Still waiting to hear back about the Chosen Platoon of all practicing Jews. Or the entire unit full of Nativity Scene doll and figurine enthusiasts.
If our efforts at American Atheists and MRFF haven't fixed the situation already, next year's holiday card will just have to step it up a notch.
"Have a safe holiday season, and you know it's a myth…?" Eh, we've got time.