Air Force officials have at Travis AFB are at it again, but probably not in the way you'd expect. Take a look.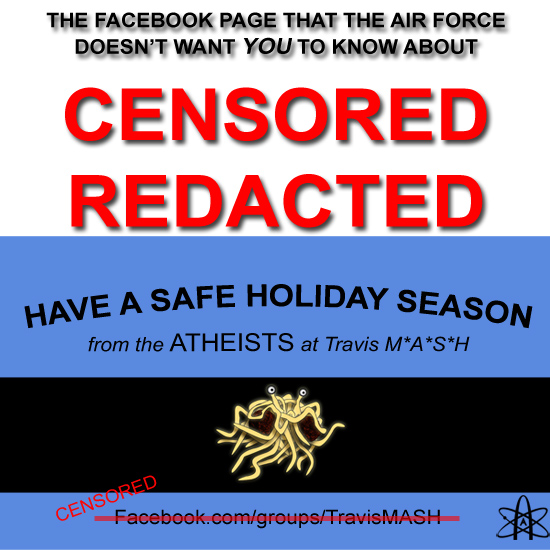 This sign was at first banned by the chaplaincy. Then the media and legal attention made them reverse their decision a few days later. Now they want the (already printed) sign to be changed – once again moving the goalpost.
They correctly assume that this thing will be in many newspapers, as the brave local atheist Staff Sergeant Dan Rawlings champions it. They must surely be thinking about how much free publicity the atheist community at Travis is going to get. They can't have any of that, so the facebook URL must be covered up with tape!
They claim it's an advertising rule, but have no problem with the other symbols and messages, or the mention of Travis MASH on the top side. It's BS. They simply want to stop people from joining the Travis MASH facebook page.
They are a new start up in the larger MAAF Network, and all other bases should start something like it (or join the existing one). Any and all military atheists can contact me at American Atheists for this type of real world support. Those interested in getting rid of the entire display altogether (including us) should get with MRFF for more details.