Foxhole atheists are taking notice of the rapid changes made at Travis Air Force Base nativity scene, spearheaded by Staff Sergeant Dan Rawlings.
Fort Campbell needs to rapidly respond to the atheists that want to put up a holiday display there. Early reports are stating that this was put up today.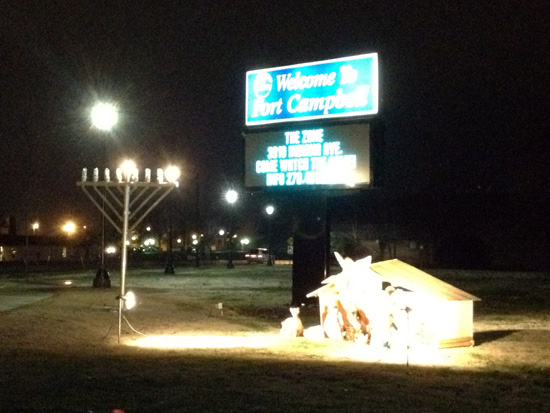 This is an absolutely inappropriate place. This is nowhere near a chapel, which is still inappropriate if they refuse to support an atheist group. Travis AFB officials blocked the efforts of the atheist groups initially. But once the press, media, and frankly the internet atheist community rallied – they quickly changed their mind.
It reads like "Welcome to Fort Campbell, where you better love Jesus…"
I just spoke with Chaplain Latrell, the on-call Chaplain. Admittedly, he is too far down on the totem pole to make these decisions. But he didn't stop himself from letting me know how he felt about atheists.
He stated that "This sign simply says Merry Christmas… why do you want to stop people from saying happy holidays?" (Obviously missing the point about equal representation, and being religiously neutral.)
I demanded that an atheist sign be put up nearby (to be donated by American Atheists). The sign would say "Have a safe holiday season – from the atheists at Fort Campbell"
Chaplain Latrell responded very negatively. He made rude jokes. Such as,
"You guys want a blank sign in my office?"
He also repeatedly exposed the intent of having a token Menorah near the nativity scene. It is simply an excuse to put up their Christian artifacts, in a legally 'cover your ass' way.
"You're attacking Christians…"(I asked him how "Have a safe holiday" attacked Christians.)

and…

"This is a holiday for Christians. Why don't you guys come up with your own holiday?" (I replied that every day is an important day to an atheist.)
But their strategy doesn't cover their ass if they aren't *truly* willing to put up a display from all points of view.
The dust is still settling, and calls are being made behind the scenes. I'll update you as the story develops.
Jason Torpy, at the Military Association of Atheists and Freethinkers (MAAF) is responsible for getting the first of these atheists in contact with me. They had seen the American Atheists efforts to get a sign up at Travis Air Force Base, and wanted to pounce locally.
Torpy responded to the situation, "Atheists and humanists service members can't be full and equal members of the Fort Campbell team when the post has an official Christian Nativity Scene and Menorah."
Mikey Weinstein at Military Religious Freedom Foundation (MRFF), was the first to champion the Travis Air Force Base situation. He is 100% supportive of the idea that we take the same successful strategy to Fort Campbell.
All of us would like to offer Fort Campbell a chance to get ahead of this story. They need to either remove the display, or at the very least let all the other points of view have an equal level of support.
If officials at Fort Campbell return my phone calls with a positive message and rapid plan in place, a crisis may be averted. The atheists at Fort Campbell would likely be willing to drop the Equal Opportunity objections that officials like Chaplain Latrell, and the garrison itself are racking up.
No military lawyer worth his salt would possibly recommend that the Fort Campbell commanders continue to pursue this. The cat is out of the bag, and it's time to clean house. Tomorrow morning is their first real chance to correct the situation. More to come.