This happened sometime before dawn, and is the second definitive act of vandalism.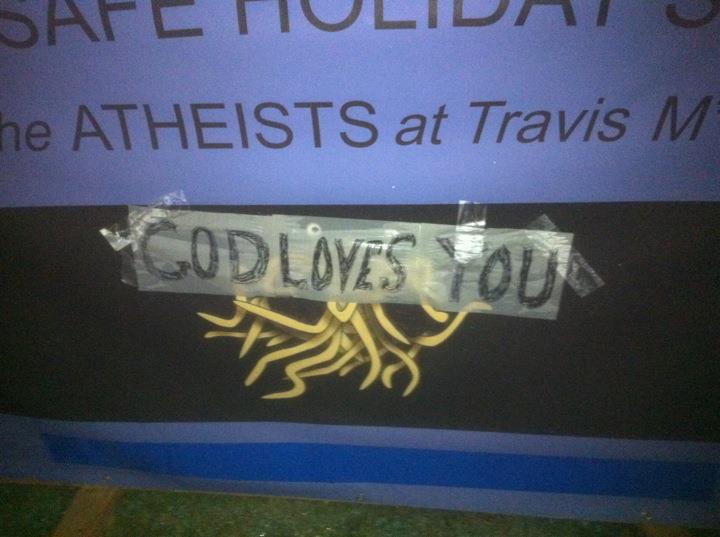 A piece of paper was scotch taped to the sign that said "GOD LOVES YOU". In case this had to be said, this was not part of the sign.
At least the vandals did not do permanent damage, but this is troubling to say the least. What does this say about the perpetrators? It says they don't respect other's or their property, fail to understand humor and irony (FSM is a 'god' of sorts), and lack the courage to say anything in person.
Disrespectful, cowardly, unintelligent.
What will the atheists at Travis AFB do in response?
Nothing, obviously. I don't even have to launch into a diatribe a la 'eye for an eye, and we'll all go blind'. It goes without saying.
But if the perpetrators have struck one minority's holiday sign (atheists), it's time to start protecting the little guy. Self-identified "atheists" overwhelmingly outnumber Jewish service members. The Jewish Menorah is doomed to be vandalized by these pasta-hating potential anti-Semites, statistically speaking.
I'm so sick and tired of these radical pastaphobic Christians and their relentless War on Hanukkah.