Apparently, there is a tradition involving a raffle with an interesting prize: first person off the ship! 
Petty Officer 2nd Class Marissa Gaeta, an 'out' lesbian, won the raffle shortly before returning from 80 days at sea on Wednesday.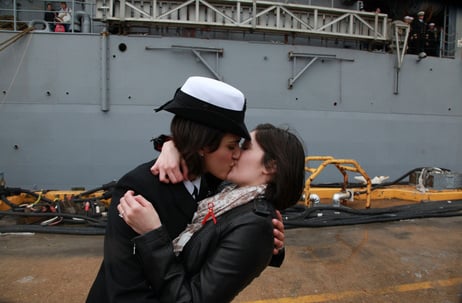 (Brian J. Clark/The Virginian-Pilot/AP)
This photograph captured an amazing moment at the Joint Expeditionary Base Little Creek in Virginia Beach, VA. No longer shackled by DADT, Gaeta enjoys a moving kiss with her girlfriend of two years, Petty Officer 3rd Class Citlalic Snell.
This moment was brought to you by Christmas!
"Sailors and their loved ones bought $1 raffle tickets for the opportunity. Gaeta said she bought $50 of tickets ['fewer than many people buy,' she told the Virginian-Pilot]. The Navy said the money would be used to host a Christmas party for the children of sailors."
Evangelicals in the Chaplaincy, and elsewhere are notoriously the most outspoken
critics of allowing homosexual heroes
like these two to even 'admit' they are gay.
Evangelicals are extremely over-represented
in the chaplaincy, compared to the service members that they supposedly serve.
It's entirely possible, if not likely that an evangelical just 'turned Christmas gay' in Virginia Beach.
Read more at NPR. Thanks to reader, Reenie for the head's up!