American Atheists donated the twice-vandalized holiday sign to Staff Sergeant Dan Rawlings and the atheists at Travis MASH. The sign simply says "Have a safe holiday season – from the atheists at Travis MASH".
Rawlings remained in constant contact with me and described each step of his wildly successful efforts for equality. As we mentioned earlier, one of the remaining disparities was the lighting for the different displays.
The Nativity Scene was permitted much more lighting than anyone else.
This short (eight second) video describes how many lights the Nativity was provided, versus everyone else's one (or zero).
http://www.youtube.com/embed/EAdGhMRBbzY?
Additionally, Staff Sergeant Rawlings' light was confiscated (after at first being vandalized), and replaced with a much dimmer light. Dan called to let me know the situation changed shortly after our post came out.
The lighting is now uniformly applied.
Although it is extremely promising to see such rapid progress from commanders at Travis AFB, it's bittersweet…We can't help but agree with Military Religious Freedom Foundation (MRFF) president Mikey Weinstein that this needs to be moved at the very least. Frankly, removing all the displays is the best course of action when minority groups have to fight tooth and nail for equality.
We hope that commanders at Travis continue to learn how to provide equal support to Staff Sergeant Rawlings and his
enthusiastic local group
.
Keep in mind that they are still banned from meeting on post,
mirroring the nationwide crisis that atheist groups face when the chaplaincy refuses to support them.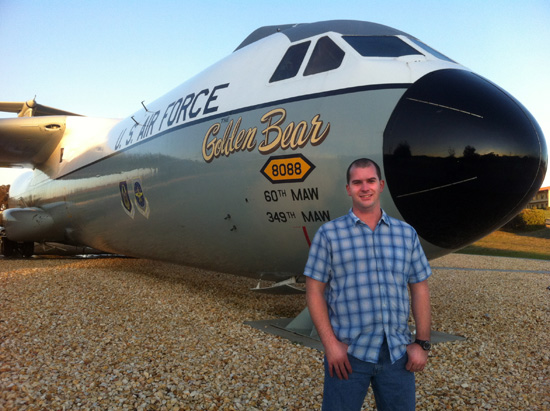 Travis AFB is actually a good lesson for all other startup military atheist communities. You can demand equality. And a situation can get fixed quite rapidly. American Atheists and many other organizations will help. All you have to do is contact us.
Meanwhile, in Kentucky…
The nativity scene at Fort Campbell, Kentucky is ridiculous. You really need to see it to believe it. It's so well lit that you can probably see it from space.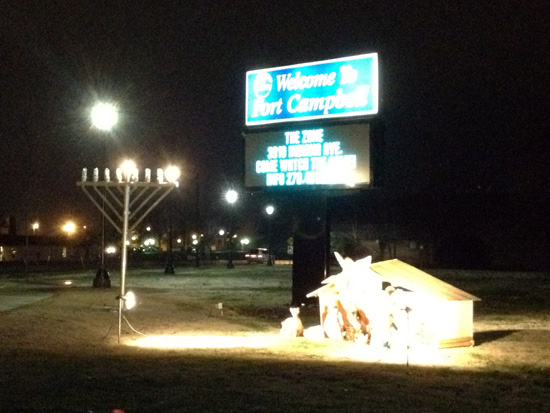 They seem to be 'lawyering up', which is very unfortunate. More to come, as that story develops.