Bryan Fischer at the American Family Association has lost his damn mind.
http://www.youtube.com/embed/24CS5YIOAxc?
"…every homosexual represents a heightened security risk"
This guy is ridiculous. Obviously he is way off and unethical here. You can expect that from this bunch. But let's just follow his premise and statements to their logical conclusion.
He is referring to the repeal of DADT as treasonous. He states that the threat gays pose to national security is "just one more reason they shouldn't be allowed to serve." But he fails to remember that DADT wasn't about allowing them to serve, it was about forcing gays and lesbians to lie about it – and always worry about slipping up just that once.
Apparently he wants to go way beyond DADT, he wants to pass YES ASK YES TELL AND GTFO YOU HOMOS legislation. He also apparently cares deeply about the LGBT community, and simply wants them to seek mental help.
How can someone be so simple-minded so as not to recognize the beautiful civil rights victory that continues to play out? How can you look at this incredibly moving picture from last week – the so called 'Navy's first gay kiss' photo and only see two threats to national security?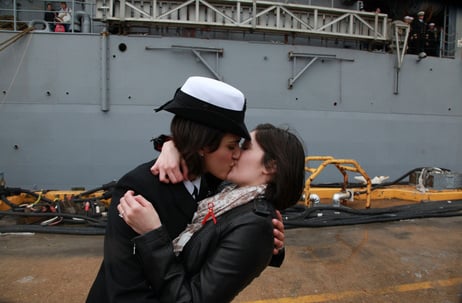 This is what Bryan Fischer says threatens our national security.
From King Lear: "Thou rascal beadle, hold thy bloody hand! Why dost thou lash that whore?… Thou hotly lust'st to use her in that kind, for which thou whip'st her."

This is why, whenever I hear some bigmouth in Washington or the Christian heartland banging on about the evils of sodomy or whatever, I mentally enter his name in my notebook and contentedly set my watch. Sooner rather than later, he will be discovered down on his weary and well-worn old knees in some dreary motel or latrine, with an expired Visa card, having tried to pay well over the odds to be peed upon by some Apache transvestite.

Christopher Hitchens Hitch-22: A Memoir
The American Family Association has pissed me off before. They put out a massive email campaign to get a Veterans Affairs worker fired for doing the right thing. She was simply making 4 local Texas groups to get permission before praying over the bodies of military veterans, during their official funerals.
I'm likely to be buried in Texas, and they literally wanted to force prayer over my dead body. Thousands of you read about the sneaky AFA campaign here, and we successfully countered their tactics. (Or they didn't work this time for other reasons… but nobody else was responding to the thousands and thousands of letters that AFA is capable of generating. Take a bow, internet atheists – you did good.)