A 900 year old alien says crazy things about time. I'm referring to Pat Robertson, obviously.
http://www.youtube.com/embed/yjTcFz5BPuM?
I dare Pat Robertson to make less sense.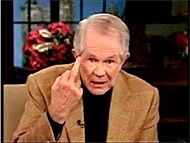 He's babbling aimlessly about a topic he clearly doesn't understand. He's an inexplicably powerful man in the United States. Everything he says is some combination of shocking and stupid.
You guys are usually brutally honest. I just made this video, what do you guys think?
Any physicists that can comment on the 'universe has a skin around it' would be appreciated. I suspect this is a misunderstanding of string theory or m-theory. Perhaps it was a reference to chaotic inflation's bubble universes forming in the multiverse. Possibly something analogous to D-branes… and I'm being very generous for even suggesting he 'heard it somewhere'.
Update:
Thanks to reader John Morales for the following transcript:
You know, when ye get down right inta it, I don't wanna get too spooky about this, but: what is time?

Where does time come from?

Before there was a creation, there was no time — before there was matter, there was no time.

Time is a continuum, and there's some people that think there's a skin over all the universe, and everything is there, all laid out — umm, but what's time?

So, you say, "well, I had a feeling about something — well… it coulda happened in time, and there is no time! And God says there is no time, and so, if he lets you enter into his feeling, there's no time — so things happen, and you say: "well, you know, A went first, and B went second and C went third and D went fourth — it doesn't happen that way in eternity