Pagans at the Air Force Academy in Colorado now have an outdoor equivalent of a chapel to practice their religion(s). Immediately, Christian groups expressed concern over the $50,000 Falcon Circle at USAFA.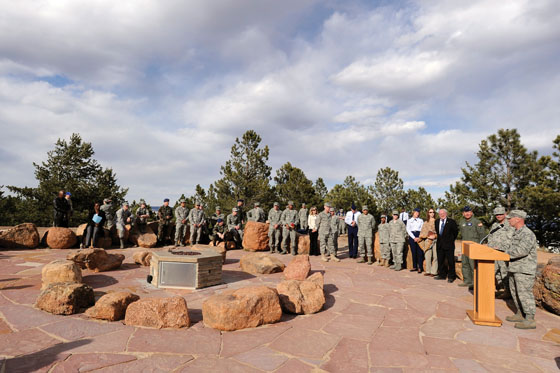 Col. Robert Bruno, the academy's senior chaplain said:
"The First Amendment guarantee of freedom of religion does not just apply to the mainstream faith groups. It also applies to atheists, secularists, freethinkers and those whose belief systems are usually classified under the umbrella term 'Earth-centered spirituality,'

"A denial of constitutional rights to one threatens the constitutional rights of all."
Awesome.
Don Branum wrote a surprisingly brilliant article about the situation on the USAFA's website back on Dec 27th. I really appreciated this tidbit:
By way of comparison, the Cadet Chapel that now houses Protestant, Catholic, Jewish, Muslim and Buddhist worship areas cost $3.5 million to build — in 1959. That would be more than $25 million in today's dollars, or enough to build 500 Falcon Circles.

…

So let's revisit the original question: Why did the Air Force Academy build an "outdoor Stonehenge" for just a handful of cadets?

The Air Force Academy did it because it's the right thing to do. The Academy did it because those cadets will spend years of their lives putting service to their country before themselves. The Academy did it because those cadets asked for nothing more than what some 80 percent of Americans take for granted: the freedom, as illustrated in Norman Rockwell's "Freedom of Religion" war bonds painting, to worship "each according to the dictates of his own conscience." And the Academy did it because they may one day be asked, as Army Sgt. Patrick Stewart was asked, to give the last full measure of devotion.
The unwavering efforts of people like Rev. Barry Lynn and Mikey Weinstein have surely paid off.
And atheists are desperately trying to get our place at the table too. It's hard for us because so many civilians just don't understand how the chaplaincy works. We're making progress, but even atheists like Penn Jillette need to educate themselves about what is admittedly a bit of a head-scratcher.
Atheist groups are still currently banned from meeting in a meaningful way on every Army base, as per chaplain regulations.
The DFGLs seeking to provide religious services in U.S. Government controlled facilities must submit an

application with the approval and sponsorship of a local Chaplain to either the SrCH or the senior command Chaplain

at the division or higher level in deployed situations. The SrCH or appropriate command Chaplain endorses the request

and forwards to the appropriate IMCOM or MEDCOM Chaplain for approval. DFGLs will not conduct services before

approval by the IMCOM or MEDCOM Command Chaplains
My application fulfilled all of the requirements a year ago. The second wave of applications are similarly stuck in the mud. We can't raise funds (read: be self-sufficient). We can't advertise on the same scale. And we sure as hell can't use the 'religiously neutral' chapels for our meetings (like many Unitarian churches that allow 'interfaith' use of their buildings to atheist groups).
Comments from people like Colonel Bruno keep people like me going. I know for a fact that there is a silent majority that willingly accepts atheists. This is a rare example of a religious person vociferously demanding equality for all – including atheists.