Dishonored ex-chaplain Gordon Klingenschmitt was fired from the Navy. His leadership documented him violating regulations about wearing the military uniform to protests and political rallies.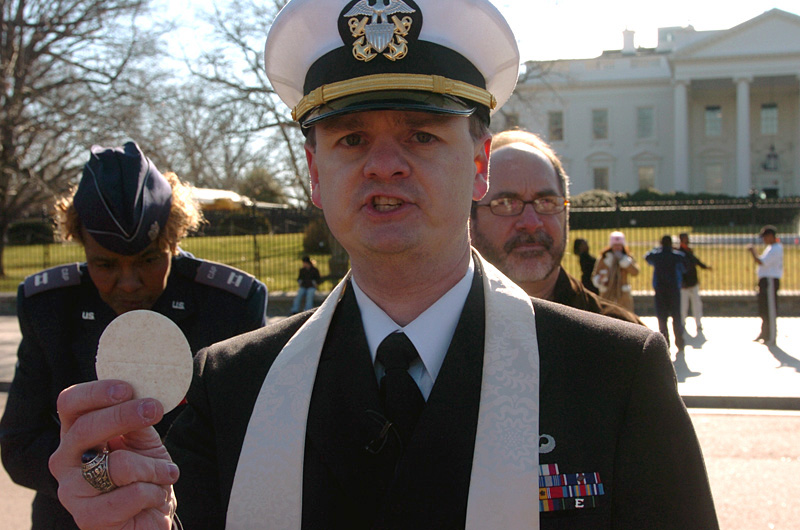 It was not about 'In Jesus Name', it was about protesting in front of the White House.
But Klingenschmitt makes a living lying about his situation. He's one of those evangelicals who are so blinded to reality that they kind of lose their grip. His single-minded focus and passionate drive are responsible for conning countless people into believing him. He purposely misrepresents the circumstances regarding his dismissal.
His big claim is that he was fired for saying 'in Jesus' name' at the end of prayers. His own website is called "InJesusName", and he prominently touts his willingness to accept offers to speak to congregations around the country. Over the years, he's actually poisoned the google search results thoroughly enough to make it look like his version of the story is true at a glance.
The facts are still being obscured because Chaplain (Ret.) Holcomb set the record straight years ago:
As reported by AU, Norm Holcomb, a retired Navy chaplain who was Klingenschmitt's boss, sent an e-mail in March 2007 to Kentucky state officials after he discovered the House of Representatives passed a resolution lauding the disgraced Navy chaplain for "service to God, country and the Commonwealth of Kentucky" and invited him to lead a prayer session.

"I was the dishonored ex-chaplain's supervisor for the past 2 years," Holcomb wrote in his message. "I found him to be totally untruthful, unethical and insubordinate. He was and is contemptuous of all authority. He was not court-martialed for praying in Jesus' name. I sent him out in uniform every week to pray at various ceremonies and functions. He always prayed in uniform and in Jesus' name.

"He was never told that he could not pray in Jesus' name. In fact, the issue of prayer had nothing at all to do with his dismissal from the Navy. He disobeyed the lawful order of a senior officer. I am sure that you understand that Navy Regulations forbid any of us, regardless of rank or position, to appear in uniform in support of any political or partisan event.

"We have been relatively quiet regarding our ex-chaplain's untruthfulness and lack of honor because we are embarrassed that one of our own could display such behavior in the name of our Lord. We wanted to spare all concerned the embarrassment associated with his dishonesty. However, it now seems that it would be wrong for those of us who know the truth to remain silent. I served with him and supervised him (as best as it was possible to supervise a person who refused to submit to lawful authority) and I know about his daily dishonesty and 'spin' of the truth."
The rest of that article by Jason Leopold is informative and shocking. It even goes on to mention that Klingenschmitt lead prayers begging god to kill Mikey Weinstein (MRFF) and Rev. Barry Lynn (AU). Video is available.