A long time ago, in a galaxy redundantly far away… humans evolved (somehow.) One of the earliest foxhole atheists was Han Solo. Potentially the first foxhole atheist.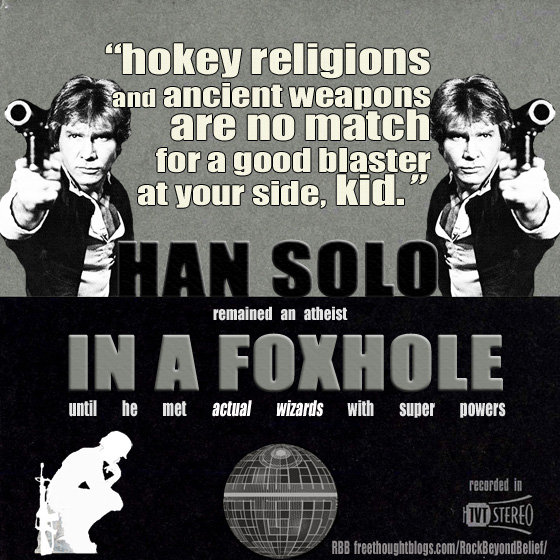 Click image to emwiden and embiggen. (For the wallpaper at 1680 x 1050)
or click here to just embiggen
"Hokey religions and ancient weapons are no match for a good blaster at your side, kid."
The artwork itself is inspired by The Brian Jonestown Massacre's cover art for their 1998 LP "Strung out in Heaven". In case you are unfamiliar, they are probably in the top 5 bands that ever existed. They are better than the Beatles. Lead singer Anton Newcombe explains tongue-in-cheek "The Beatles were for sale. I give it away."
…
Brian Jonestown Massacre – Got My Eye On You
http://www.youtube.com/embed/hp3qM7PwyrI?
All of their songs fit into one or more of these categories:
Heroin/other drugs but mostly heroin
Jesus/God (close second)
Girls (distant third)
Perhaps not bigger than the Beatles, but certainly bigger than Jesus. In the vein of Spacemen 3's Taking Drugs to Make Music to Take Drugs To, BJM mainline proto-punkers like Velvet Underground too.
Here's a good song that seems to touch on all three.
Brian Jonestown Massacre – Oh Lord