Please, if you have 10 minutes. We need your help fighting the unconstitutional nonsense behind the military's mandatory Spiritual Fitness testing and training.
Researchers are doing actual science to combat this corporate zombie nonsense psychology that the Army got suckered into. You can help.
-or-
U.S. Military Personnel and Veterans' participation wanted for national online survey study about Military Spiritual Fitness

The Army's Comprehensive Soldier Fitness program includes a training module designed to enhance military personnel's "spiritual fitness". The Center for Atheist Research is conducting an online research study to evaluate the perceived usefulness of this training. Whether or not you participated in our earlier survey study (which investigated the validity of a test designed to measure spiritual fitness), you are eligible to participate in this study.

This study is being conducted with the authorization of the University of Tampa Institutional Review Board, and is open to all U.S. Military Personnel and Veterans.

To participate in, or learn more about, this survey please visit the appropriate link above (Civilian or Military)

If you would like to speak with the principal investigator, Dr. Ryan Cragun, about this survey, please contact him at rcragun@ut.edu. Thank you for your consideration.
Anatomy of a 140 million dollar lie
Part 1 THE SET UP
Here is the pitch to keep this craziness legal: "Spiritual Fitness is not about religion. It's about team spirit and human spirit."
www.youtube.com/embed/vzMkchJi_Io?
They repeat this every time journalists and lawyers are around. But the training suggests otherwise. The whole thing is absolutely swimming in religion. But the journalists eat up their claims otherwise. Despite a mountain of evidence to the contrary!
Part 2 HOW DO THEY SLEEP AT NIGHT?
This mind-numbing vignette is entirely representative of the whole.
www.youtube.com/embed/Fjuf81fdIOA?
Seriously, this thing needs to go.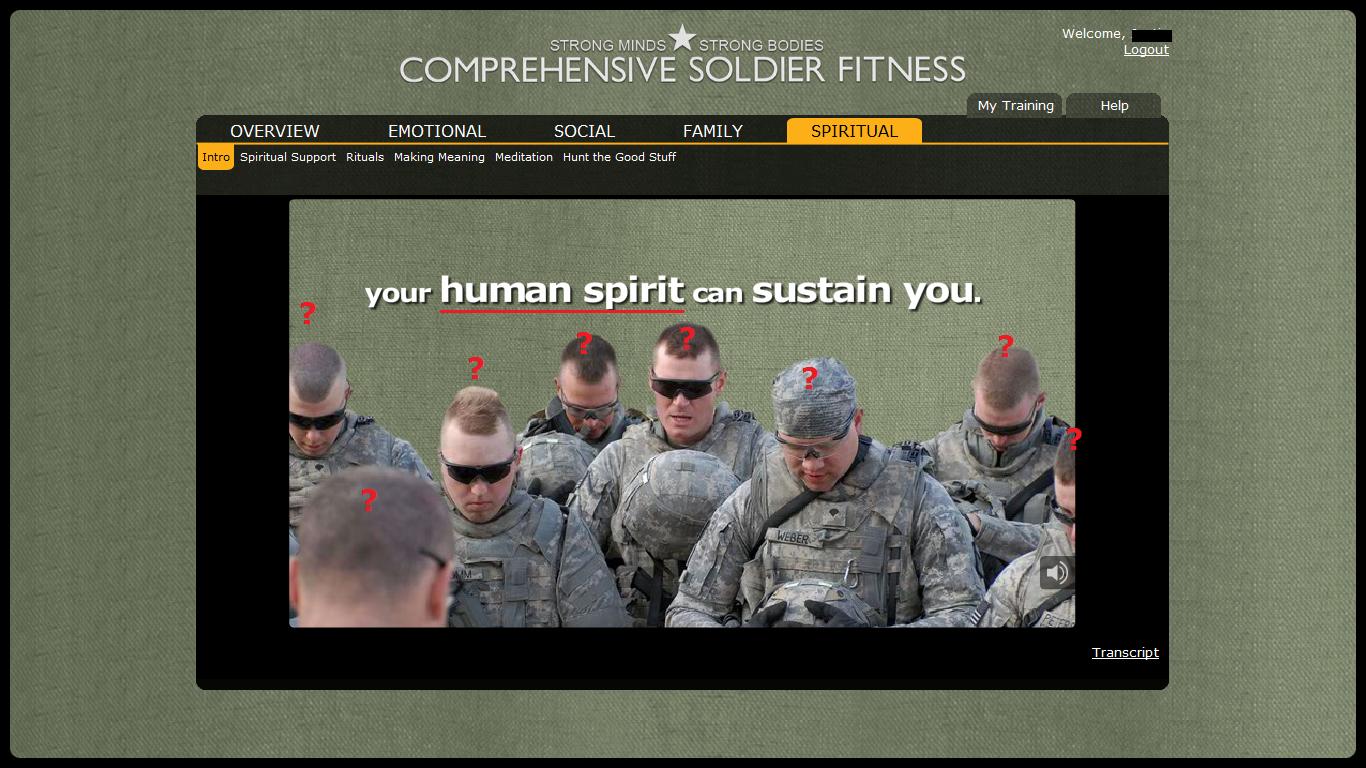 Here are some more examples of Team Spirit and Human Spirit:
(below the fold)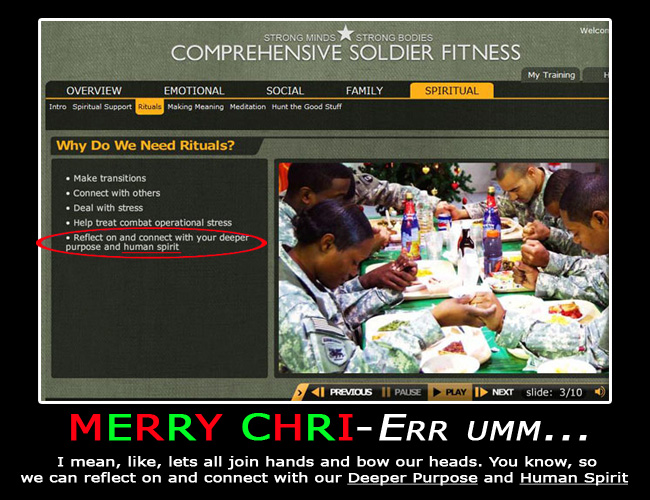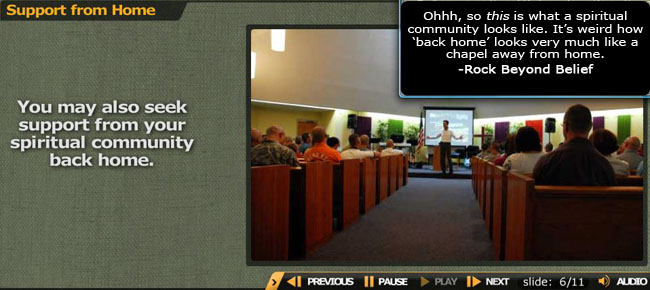 Are you a Christian wondering how this affects Christians? Well it really fucks them over too. Are you wondering how much tax-payer money was spent on this? A criminally insane amount of money (brace yourself- you are warned.)
This survey actually embeds a tiny sample of the religious crap that permeates this thing. The people behind the Spiritual Fitness concept push out a smokescreen. They intend to give the impression that it's not about religion at all (thereby admitting that such a thing would be illegal!) The good folks at the Military Religious Freedom Foundation have also been sitting on this same information for quite some time. I asked them to make it available for this post.
A few thousand participated in their last sample, and those people should still participate in this new one too. FYI- they check for people just 'clicking through'. So don't waste your time. This one should only take 10-15 minutes, as they intentionally kept it short this time. It seems a frighteningly large people answered this question wrong last time: "Please select answer 5".
Seriously, it's short. You can do this. Please, these researchers need a large sample. Use those buttons at the bottom, and share this!